Denmark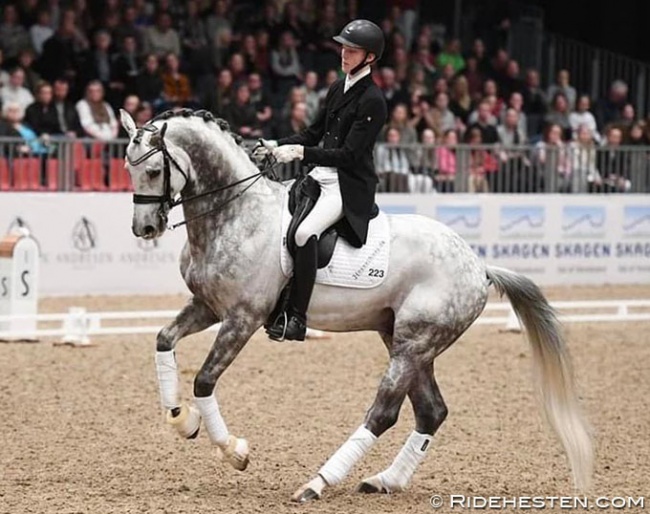 The Danish equestrian federation and Danish warmblood society will be hosting their first team selection trial for the 2022 World Young Horse Championships in Ermelo at the Danish Dressage Championships on 2 - 3 June 2022. 
The trial and National Championships are held at Andreas Helgstrand's yard in Uggerhalne and the selection takes place over two days. The entered combinations have to ride the preliminary test on day one and the finals test on day two. 
The Danish Equestrian Federation will announce a long-list of pairs that are eligible to move to the second round.
Ridehesten reported that 32 horses in total in three age divisions are entered for round 1: fourteen 5-year olds, nine 6-year olds and nine 7-year olds. 
They are:
5-year olds
Blaze Von Rosing   (by Revolution / Elkiærs Birage / Blue Hors Zack) - rider: Merita Hagren
Danésa Nord (by Hesselhøj Donkey Boy / Best Bellis Nord / Belissimo M) - rider: Anne-Marie Hosbond
De Niro Fashion M (by De Niro / Polka Sensation Nexen / Sandro Hit) - rider: Dennis Kjær
Donkey King (by Hesselhøj Donkey Boy / Romance Hit / Blue Hors Don Schufro) - rider: Anders Hoeck
Francisca-D (by Franklin / Ronja - D / Blue Hors Romanov) - rider: Lovisa Wessblad
Gandhi SS (by Grand Galaxy Win / Frau Holle / Florencio) - rider: Merita Hagren
Højgaardens Zacksmir (by Blue Hors Zack / Højgaardens Donna Hit / Sir Donnerhall) - rider: Cristian Tudela Ruiz
Lyngbjergs St. Paris (by Blue Hors St. Schufro / Lyngbjergs Pari D'Oro / Blue Hors Rockefeller) - rider: Victoria Vallentin
Rally Von Rosing (by Revolution / Højgaardens Miss Unique / Tailormade Temptation) - rider: Simone Blomme Rasmussen
Sandbæks Rio-De Chanell (by Revolution / Sandbæks Rio-Fabriell / Fürstenball) - rider: Mette Riisager
Slangerupgaards Flottenheimer (by Franklin / Serafina / Scolari) - rider: Eric Guardia Martinez
Springborgs Abiza (by Ibiza / Springborgs Acacie / Rubin-Royal) - rider: Kathrine Springborg
Søbakkehus Maud (by Hesselhøj Donkey Boy / Søbakkehus Mia-Amore / Wilkens) - rider: Allan Grøn
Vestermarkens Shakira (by Sezuan / Vestermarkens Tequila / Tailormade Temptation) - rider: Merita Hagren
6-year olds
Ambjergs Delgadino (by Hesselhøj Donkey Boy / La Donna Rossa / Blue Hors Don Romantic) - rider: Emma Ahlberg
Dúné Nec (by Hesselhøj Donkey Boy / De Likat / De Noir) - rider: Sissel Bille Jakobsen
Ellely's Pinell (by  Hesselhøj Donkey Boy / Pamill / Jazz) - rider: Cecilie Hedegaard
Figaro-D (by Franklin / Ivita-DN / Bøgegårdens Laurino) - rider: Maria Vasconcelos e Sa
Hesselhoej Down Town (by Hesselhøj Donkey Boy / Boogie Woogie / Blue Hors Zack) - rider: Jeanna Högberg
Hesselhøj Dream (by Hesselhøj Donkey Boy / Søbakkehus Miami / Tailormade Lancelot) - rider: Jan Møller Christensen
Hussmanns Topgun (by Totilas / Atterupgaards Demi / Belissimo M) - rider: Moises Azura
Polka Fascination M (by Fürstenball / Polka Sensation Nexen / Fürstenball) - rider: Dennis Kjær
Skovsbogaards Lord Franklin (by Franklin / Melodies Wondergirl / Windsor) - rider: Ruby Marion Pedersen
7-year olds
EVO Schubidoo (by Blue Hors St. Schufro / Fleur / Blue Hors Hotline) - rider: Anne-Marie Hosbond
Highfive Fuglsang (by Grand Galaxy Win / Holiday / De Niro) - rider: Anders Hoeck
Kamar's Express Noir Hit (by Escolar / Stenagers Duchess / De Noir) - rider: Morten Kappel
Logos Gaya (by Grand Galaxy Win / Logos Donjana / Blue Hors Don Romantic) - rider: Emma Ahlberg
Nice Melody (by Sezuan / Naomi / Schwadroneur) - rider: Karoline Rohmann
Peggy Sue Nexen (by Blue Hors Don Olymbrio / Pilinka II Nexen / Andiamo) - rider: Søren Wind
Pilegårdens Dreamer (by Dream Boy / Dior / De Noir) - rider: Eric Guardia
Poseidon Majlund (by Tailormade Temptation / Frydendal's Celina / Solos Landtinus) - rider: Lone Bang Larsen
Stenagers Faramir (by Franziskus / Stenagers Wencke / Wilkens) - rider: Cecilie Lyndrup
Blue Hors Santiano (by Sezuan / Romanik / Blue Hors Romanov) - rider: Renate Van Uytert
Related Link
Eurodressage Coverage of the 2022 World Championships Young Dressage Horses