Denmark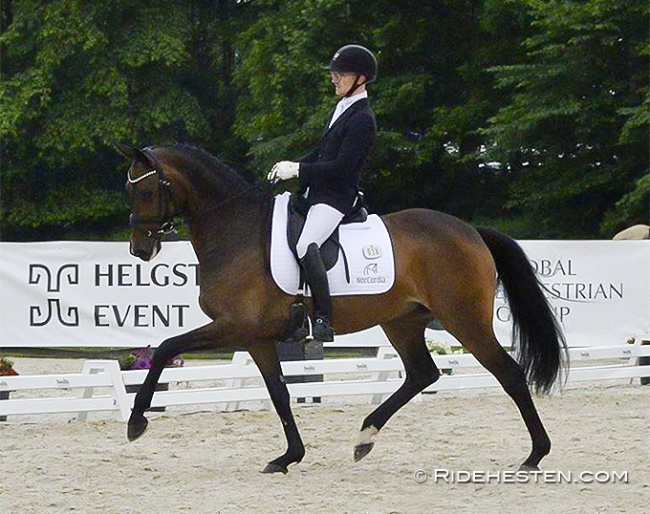 Following the first team selection trial at the 2022 Danish Dressage Championships in Uggerhalne, the Danish equestrian federation and Danish warmblood society announced the names of the horses which are through to the second round. 
At the first trial the entered pairs had to ride the preliminary test on day one and the finals test on day two. Thirty-two horses in total were entered for the three age divisions.
Judges Gunilla Nyman, Birthe Lyder Nielsen and Danish youth team trainer Dennis Fisker made their choice in horses which are now eligible to move to the second round.
 In the 5-year-old group we have picked many because there is, after all, time to improve their balance, strength in canter and transitions," the panel told Ridehesten.com. "For them three good gaits are required first and foremost. The 6-year olds make an even group and among them is our world champion from last year (Hesselhoj Down Town), who has improved tremendously from yesterday to today. Several of the horses and especially the stallions were very impressed with the surroundings yesterday. The 7-year olds were clearly better today all together. To go to Ermelo, it is not enough to have three good gaits. You also have to be able to really show your transitions, tempo changes and rode on the letter. There are 5-star dressage judges there."
Twenty-four horses will move to the second round on 19 - 20 July 2022 in Vilhelmsborg. No less than 7 of them are sired by Hesselhøj Donkey Boy.
5-year olds
Blaze Von Rosing (by Revolution x Blue Hors Zack) - Merita Hagren
Danésa Nord (by Hesselhøj Donkey Boy x  Belissimo M) - Anne-Marie Hosbond
De Niro Fashion M (by De Niro x Sandro Hit) - Dennis Kjær
Francisca-D (by Franklin x Blue Hors Romanov) - Lovisa Wessblad
Gandhi SS (by Grand Galaxy Win x  Florencio I) - Merita Hagren
Lyngbjergs St. Paris (by Blue Hors St. Schufrox Blue Hors Rockefeller) - Victoria Vallentin
Rally Von Rosing (by Revolution x  Tailormade Temptation) - Simone Blomme Rasmussen
Slangerupgaards Flottenheimer (by Franklin x Scolari) - Eric Guardia
Springborgs Abiza (by Ibizax Rubin-Royal) - Kathrine Springborg
Søbakkehus Maude (by Hesselhøj Donkey Boy x  Wilkens) - Allan Grøn
6-year olds
Dúné Nec (by esselhøj Donkey Boyx De Noir) - Sissel Bille Jakobsen
Ellely's Pinell (by Hesselhøj Donkey Boy x  Jazz) - Cecilie Hedegaard
Figaro-D (by Franklin x  Bøgegårdens Laurino) - Maria Vasconcelos e Sa
Hesselhoej Down Town (by Hesselhøj Donkey Boy x Blue Hors Zack) - Jeanna Högberg
Hesselhøj Dream (by Hesselhøj Donkey Boy x ailormade Lancelot) - Jan Møller Christensen
Hussmanns Topgun (by Totilas x Belissimo M) - Moises Azura
Polka Fascination M (by Fürstenball x Fürstenball) - Dennis Kjær
Skovdals Dexter (by Hesselhøj Donkey Boy x Blue Hors Romanov) - Susanne Barnow
7-year olds
EVO Schubidoo (by Blue Hors St. Schufro x Blue Hors Hotlinev) - Anne-Marie Hosbond
Highfive Fuglsang (by Grand Galaxy Win x De Nirov) - Anders Hoeck
Logos Gaya (by Grand Galaxy Win x Blue Hors Don Romanticv) - Emma Ahlberg
Nice Melody (by Sezuan x Schwadroneurv) - Karoline Rohmann
Peggy Sue Nexen (by Blue Hors Don Olymbrio x Andiamov) - Søren Wind
Pilegårdens Dreamer (by Dream Boy x  De Noirv) - Eric Guardia
Photo © Ridehesten
Related Links
Eurodressage Coverage of the 2022 World Championships Young Dressage Horses
Danish Entries for First Selection Trial 2022 World Young Horse Championships