2022 Danish Dressage Championships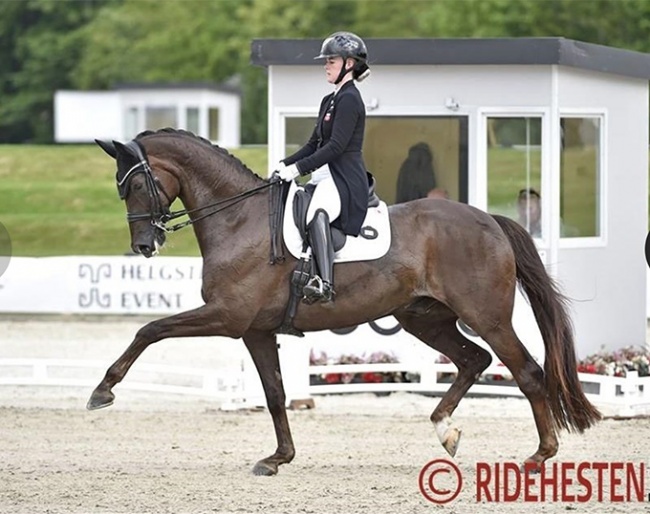 Under 25 rider Josefine Hoffman and senior Grand Prix rider Cathrine Dufour became the winners of the 2022 Danish Dressage Championships in Uggerhalne on 3 - 5 June 2022. 
The event was hosted by Andreas Helgstrand at the show ground yard across the road from the sales yard, which is officially located in Vodskov. The Danish Nationals included the Para Championship, a World Young Horse Championship selection trial, several national level classes as well as the Championships for Under 25 and Seniors. 
U25: Josefine Hoffmann
Thirteen riders competed in the Under 25 Championships and twelve of them rode both rounds. It was routinier Josefine Hoffmann who climbed the highest step of the podium for the title on Anna Kasprzak's 18-year old Danish bred Honnerups Driver (by Romanov x Don Schufro). She won the Intermediaire II with 72.465% and the Kur to Music with 78.350%. 
Karoline Rohmann followed in Hoffmann's wake aboard American Kyle Kuvalanka's 13-year old Jakas Don Louvre (by Don Romantic x Lauries Crusador xx). The pair was each time one percent behind the gold medalist with 71.465% in the Intermediaire II and 77.250% in the Kur to Music to get silver with 148.715 points. 
Laura Kristine Thorup and Blue Hors Veneziano (by Vivaldi x Donnerhall) scored the bronze with 144.744 points. This rookie combination produced 70.419% in the Inter II and 74.325% in the freestyle for her first major medal in her career. 
Seniors: Dufour Untouchable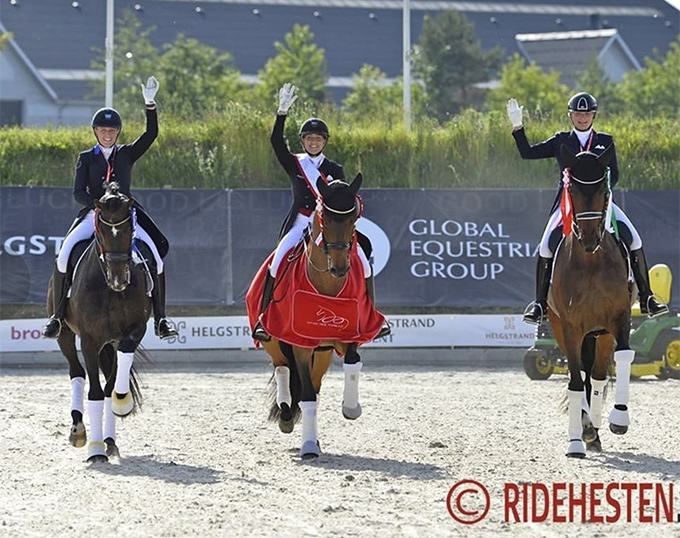 Dufour is Denmark's leading dressage lady since 2017 and she remains untouchable even after the (top sport) retirement of Atterupgaards Cassidy. The sympathetic young professional is scoring higher than ever before with her 'new' horses Bohemian and Vamos Amigo and is seen as the favourite for the World Champion's title this summer in the absence of Olympic champion Jessica von Bredow-Werndl. 
 At the Danish Nationals she opted to ride Sarah Pidgley's 10-year old Westfalian gelding Vamos Amigos (by Vitalis x Hotline), while Bohemian is scheduled to appear in Aachen, Denmark's last team selection trial. Vamos Amigos, who was her 2022 World Cup Finals horse, lived up to the expectations and mesmerized the all-Danish judges' panel, consisting of Niels-Erik Bøchman, Jesper Holst Hansen, Kurt Christensen, Helle Krasnik Trolle, and Hans-Christian Matthiesen. He scored 83.180% in the Grand Prix, with most judges having their marks round 81-82% and one judge inflating it to an 86.500%. In the Kur to Music they sprinkled with even more points for a very precisely ridden test to the music, but with still too much electricity in the trot and piaffe/passage work. The panel rewarded the pair's freestyle with 90.850% (the same judge again was the high scoring one with 94.125%, while 87.500% was the low score). There's no denying Dufour, who has always steadily steered her course, loyal to her Grand Prix coaches Nathalie zu Sayn-Wittgenstein and Kyra Kyrklund. 
"Today was another crazy day at the office!! 90.8% and a title for Vamos Amigos," Dufour took to social media. "I can't believe what just happened. Thank you to my amazing team, you guys mean the world."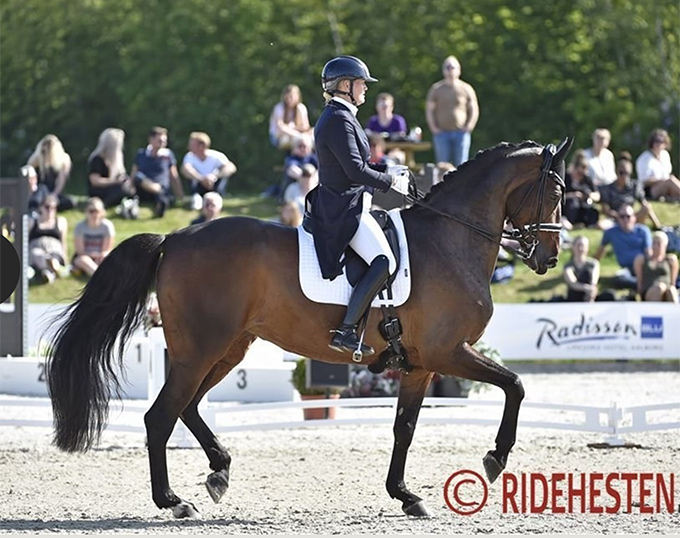 The silver medal went to Nanna Skodborg Merrald on Blue Hors stud's 18-year old KWPN stallion Zack (by Rousseau x Jazz). It was Zack's first major show in eight months time since the 2021 CDI-W Herning last October. The stallion has not lost any of his scoring potential and although the bridle contact was strong at times, they posted a personal best of 79.140% in the Grand Prix and 83.700% in the freestyle for a second place overall with 162.840 points. Since her pony time, Merrald has been trained by Michael Sogaard.
The biggest surprise on the all female podium was Lone Bang Larsen with her 12-year old Danish mare Thranegaardens Rostov (by Romanov). Bumping her trainer Andreas Helgstrand off the podium, Bang Larsen was fifth in the Grand Prix with 73.340% and rose to third place in the freestyle with 82.000%. This put her on the bronze medal earning step of the podium with 155.340 points, ahead of Helgstrand, who on the 8-year old Queenparks Wendy (by Sezuan x Soprano) totalled 154.070 points after receiving 75.220% and 78.850%.  This is not Bang Larsen's first time in the podium. In 2014 she won the title with Fitou L.
Photos © Ridehesten
Results - 2022 Danish Dressage Championships
Under 25 
1. Josefine Dahl Hoffmann - Hønnerups Driver - 72.465 78.350 --- 150.815
2 Karoline Rohmann  - Jakas Don Louvre  - 71.465 77.250 --- 148.715
3 Laura Kristine Thorup - Blue Hors Veneziano  -  70.419 74.325 --- 144.744
4 Sandra Aagaard Hyrm - Heslegård's Rismon - 69.535 73.325 --- 142.860
5 Thea Bech - Dionisos - 68.512 73.100 --- 141.612
6 Caroline T. Elsner  -  Alskenz Firfod  - 67.744 72.475 --- 140.219
7 Camilla Lærke Stubberup - Zun Dance  -  69.070 69.325 --- 138.395
8 Adam Sparlund Olesen - Feldborgs Lantano - 64.256 67.375 --- 131.631
9 Pernille Korsgaard Madsen -  Tailormade Tomcat  -  64.047 67.300 --- 131.347
10 Signe Haubjerg Winther  - Søkjær's Romeo  -  62.977 65.700 --- 128.677
11 Julie Gasbjerg  - Red Rose - 62.814 65.350 --- 128.164
12 Cisca Gia Hughes Øvlisen - Pimpollo  -  60.791 55.525 --- 116.316
Karoline Rohmann - Aagaardens Lianne  -  64.442 0.000 --- 64.442
Seniors
1 Cathrine Laudrup-dufour - Vamos Amigos - 83.180 90.850 --- 174.030
2 Nanna Skodborg Merrald -  Blue Hors Zack - 79.140 83.700 --- 162.840
3 Lone Bang Larsen - Thranegaardens Rostov -  73.340 82.000 --- 155.340
4 Andreas Helgstrand - Queenparks Wendy -  75.220 78.850 --- 154.070
5 Anna Kasprzak - Addict De Massa -  73.480 80.050 --- 153.530
6 Anna Zibrandtsen -  Detroit  -  71.260 76.675 --- 147.935
7 Marianne Helgstrand - Super Mario  - 70.600 75.800 --- 146.400
8 Nadja Aaboe Sloth - Favour Gersdorf  -  70.520 74.400 --- 144.920
9 Joachim Chr. Thomsen - Aarø's Gandhi  -  68.140 73.900 --- 142.040
10 Lone Madsen -  Heslegård's Rosmarin  - 68.700 71.800 --- 140.500
11 Trine Mittag - Gammelenggårds Easy  - 68.980 71.200 --- 140.180
12 Helene Melsen -  Adrenalin Firfod  - 67.800 71.825 --- 139.625
13 Karoline Louise Skøt - Midtgaards Zamir  - 67.000 71.000 --- 138.000
14 Ditte Himmelstrup -  Romance  -  67.360 70.325 --- 137.685
15 Rikke Mandrup - Elmegårds Hearty - 66.980 70.600 --- 137.580
Related Links
Vallentin and Dufour Win 2021 Danish Dressage Championships
Strandby Hansen and Dufour Win 2020 Danish Dressage Championships
Vallentin and Bachmann Win the 2019 Danish Dressage Championships
Engermann and Dufour Win 2018 Danish Dressage Championships
Engermann and Dufour Go for Gold at 2017 Danish Dressage Championships
Kasprzak Withdraws Donnperignon from 2017 Danish Championships
Cathrine Dufour Wins 2016 Danish Dressage Championships
Anna Kasprzak Wins 2015 Danish Grand Prix Championships
Lone Bang Larsen Wins 2014 Danish Dressage Championships
Anna Kasprzak Toasts Triple Victory and Wins 2013 Danish Dressage Championships
Scores: 2012 Danish Dressage Championships 
Scores: 2011 Danish Dressage Championships
Scores: 2010 Danish Dressage Championships
Scores: 2008 Danish Dressage Championships
Andreas Helgstrand, 2007 Danish Dressage Champion
Andreas Helgstrand and Matine, 2006 Danish Dressage Champions
Scores: 2004 Danish Dressage Championships