2022 Swedish Dressage Championships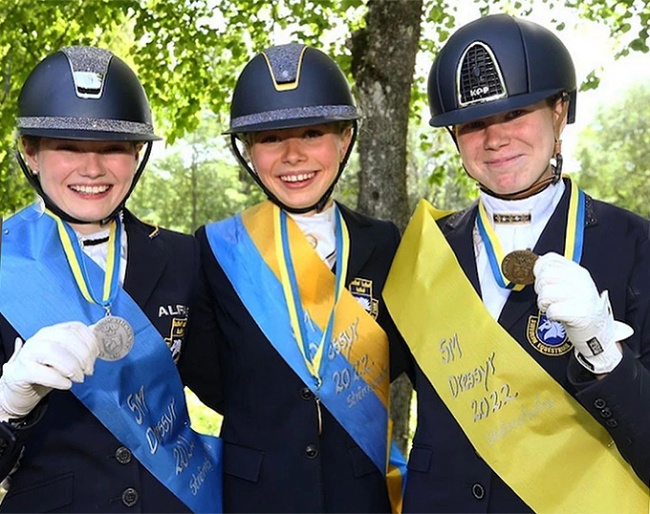 Children rider Ronja Kardos, junior rider Laura Laustsen, young rider Hedda Thungberg, Under 25 rider Jennifer Lindvall, and senior Grand Prix rider Patrik Kittel were the winners of the 2022 Swedish Dressage Championships held in Stromsholm on 3 - 5 June 2022. 
Kardos, Laustsen, Thunberg Win Youth Titles
In the children division the podium was a very clear matter with all three podium place-getters quite separated from each other in total points. Ronja Kardos and the 8-year old Holly's Final (by Floricello x Bernstein) topped the board three times and took the title with a total of 241.034 points. The pair scored a winning 80.982% in the preliminary test, 82.450% in the team test, and 77.602% in the individual test. The silver medal went to Juni Skobe Rosen on the 9-year old Darthula VH (by Dalwhinnie x Corrado WL) with 229.450 points (79.732%, 74.625%, 75.093%), while the 13-year old Tilde Garmark and the 12-year old Atterupgaards Foxtrot (by For Compliment x Gribaldi) got bronze with 214.505 points (68.929%, 74.775% and 70.801%). 
"It's great. I really had not thought of winning when I came here," said the 12-year old Kardos. 
Junior Laura Laustsen successfully took over the ride on Ellen Linden Urnes' young riders horse Fairy Tale (by Friedensritter x Rosenkavalier) and now claimed the national junior title on the 15-year old. Laustsen and Fairy Tale were second in the first round (70.455%), won the individual tst (72.109%) and were third in the freestyle with 71.510%. Their total of 214.073 points was good for gold. Laustsen had Mary-Sophie Haid-Bondergaard on her heels who earned silver with 212.722 points. Mary and the 12-year old Hanoverian mare Adora Nightingale (by Ampere x Regazzoni) posted 72.374% but dropped significantly in the ranking in the individual test with 64.608% to return with a big winning freestyle score of 75.740%. Filippa Wallqvist and the 15-year old Swedish mare Fairy (by First Wish x Londonderry) got bronze with a total of 208.343 points. They received 68.687%, 68.186% and 71.470% from the judges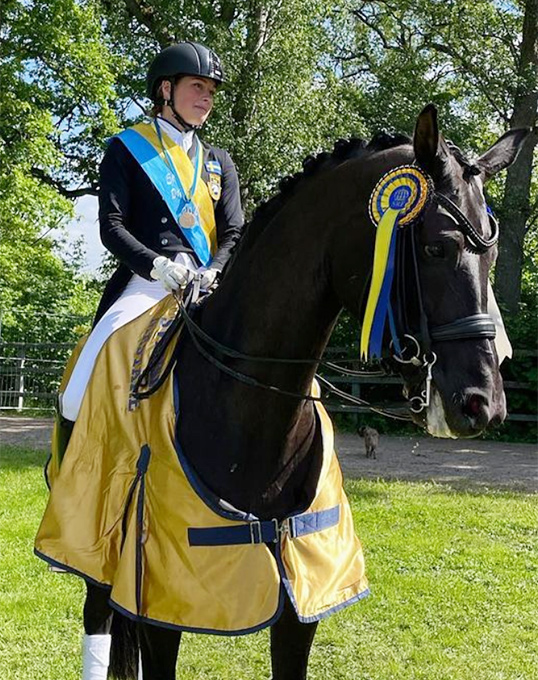 "It feels great, I'm so happy," said winner Laura. "I came here just to have fun and learn, I have only had him for three months so I did not expect to take gold." The runner up Haid-Bondergaard was on gold medal course but ended up with silver after a minor second round. "After yesterday's less good round, it felt great to be able to show her best sides today (kur day)," said Mary. "Last year I got an unexpected bronze medal and this year it was silver."
Young rider Hedda Thunberg and Lyndal Oatley's former FEI ride, 14-year old Swedish bred mare Diva (by Richfield x Silvano) are dominating Swedish YR sport and won their first national title in their first season as a pair. They won all three rounds with scores of 73.774%, 74.265% and 76.730% to get the gold, champion sash and title. Routinier pair Linnea Holmgren and her 12-year old Oldenburg gelding QC Dennis (by Sir Donnerhall x De Niro) were in pursuit, placing third in the team test (69.167%) and second in the individual test and kur (72.157% and 75.850%). They finished with silver seven percentage points behind Thunberg. The bronze was for Ellen Hedbys on the 14-year old Swedish gelding Quentin SV (by Quaterback x De Niro), who produced three consistent tests with 71.863%, 70.147% and 72.790%
"It's crazy! It's so funny, I'm so proud of Diva," said a thrilled Thunberg. "She felt great and has behaved in an exemplary manner all weekend." Silver medalist Holmgren stated, "it's fantastic. Of course I had the goal to take gold because I am a competitive person but I am so happy and grateful for this horse.
Lindvall and Kittel Win Grand Prix Titles
Fourteen riders competed in the Under 25 division which consisted of two rounds and was won by Swedish U25 team rider Jennifer Lindvall on the 18-year old Danish gelding Midt-West Casino (by De Niro x Rubinstein). She was second in the first round with 68.333% and posted the high score in the second round, the freestyle (71.850%), to win gold. Lina Dolk and Anna Edling's 19-year old Westfalian gelding Languedoc (by Laomedon x Francisco) got silver after winning round 1 with 69.231% and placing fifth in the kur with 69.690%. Evelina Soderstrom and the 15-year old Swedish gelding Cilantro (by Johnson x Hertug) got bronze with a 67.051% and 71.430% test.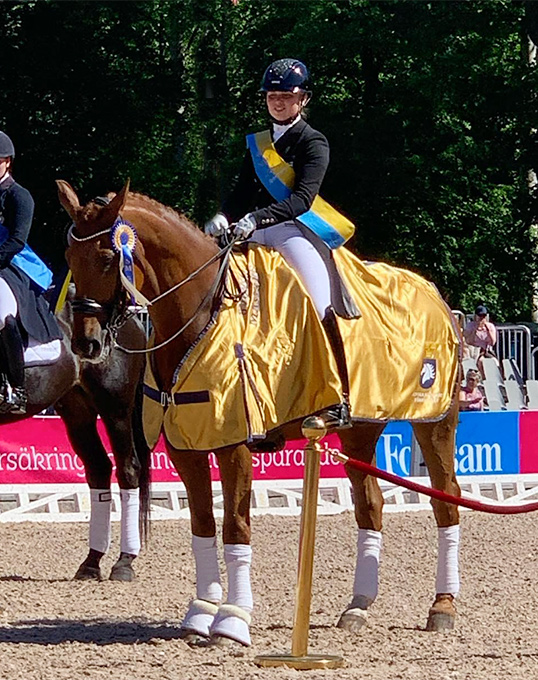 "I didn't expect this," said Lindvall. "I am very happy and very surprised. My horse has been very good all weekend. In the freestyle we raised the bar a bit and wanted to invest extra for the final and I had a great feeling." Lindvall rode to a freestyle  to music of Imagine Dragons, which she designed by Lyndal Oatley. She has been riding Casino for 1.5 years. "He is a gentleman in his best years and I have learned an incredible amount from him. He is fantastically kind and always does his best."
Year after year the Swedish Dressage Championships are a major celebration of national dressage sport, but at top level the event fails to convince the best Swedish international Grand Prix riders into to the country to battle it out for the title. Team riders and Olympians Therese Nilshagen and the Ramel sisters hardly ever go, so the field continues to be wide open for Patrik Kittel to rake in title after title, this year his ninth one.  For the 2022 edition of the Nationals, Kittel brought along Hanni Toosbuy Kasprzak's  Fuhur, a 13-year old Russian bred gelding by Furstenreich x Nagat which was intended for Anna Kasprzak but she did not click with the horse. Kittel and Fuhur posted wins in the Grand Prix (73.109%) and freestyle (77.635%) for another title.  The silver went to Johanna Dueboje on the 14-year old Mazy Klovenhoj (by Bocelli x National Zenith xx). DueBoje's silver was a wonderful celebration of a glorious come back after the mare was sidelined due to injury and the rider giving birth to her first child. Johanna and Mazy scored 72.609% in the Grand prix and 75.670% in the Kur. The bronze went to Natalia Oldfors on the 16-year old Swedish stallion Mickey M (by Metall x Bonaparte), who got 70.978% and 74.110% from the judges. 
"The girls were on my heels, so I was nervous! In addition, it was our first freestyle together, but Fuhur did it flawlessly and I am very happy with my horse," said Kittel after winning his ninth title. He has not made it a secret that he's in pursuit of beating Ulla Hakanson's record of 12 titles. "It is always nervous to ride in with a new horse but I know the program very well, it helps a lot." Dueboje was thrilled with her silver medal. "It feels great that I managed to keep my silver. I was surprisingly close in the Grand Prix class so then you start to dream a little about the gold," she said. "But I made a little mistake and Patrik rode flawlessly and I am very happy with my silver."
Results - 2022 Swedish Dressage Championships - Stromsholm
Children
1 Ronja Kardos - Holly's Final - 80.982 82.450 77.602 --- 241.034
2 Juni Skobe Rosén  - Darthula VH  -  79.732 74.625 75.093 --- 229.450
3 Tilde Garmark  - Atterupgaards Foxtrot  - 68.929 74.775 70.801 --- 214.505
4 Mimi Letzén  - Zappa SV - 68.732 72.100 71.408 --- 212.240
5 Annie Walfridsson  - Casillas -  65.107 70.400 71.019 --- 206.526
6 Tilda André Hokfelt  - Rakeback VH  - 67.500 72.275 62.158 --- 201.933
7 Siri Andersson - Bis  - 66.268 69.725 61.672 --- 197.665
8 Tova Mader  - Perfect Stranger  - 60.607 66.825 67.324 --- 194.756
9 Hilma Jansson - Viadeira  - 62.625 63.775 64.996 --- 191.396
10 Meja Kinde Ljungh  - Rondo  - 62.607 66.225 59.505 --- 188.337
11 Mimi Letzén  - Cassio  - 62.875 69.525 0.000 --- 132.400
Junior Riders
1. Laura Laustsen - Fairy Tale  - 70.455 72.108 71.510 --- 214.073
2 Mary-Sophie Haid-Bondergaard - Adora Nightingale -  72.374 64.608 75.740 --- 212.722
3 Filippa Wallqvist - Fairy  -  68.687 68.186 71.470 --- 208.343
4 Nellie Liljegren - Concannon - 69.243 66.814 71.975 --- 208.032
5 Olga Fischer -  Grevens Sa´va´ - 69.091 66.324 71.490 --- 206.905
6 Emma Kåberg - Carla -  63.384 68.431 70.720 --- 202.535
7 Emilia Berglund Bergåkra - Primavera - 67.727 66.029 68.165 --- 201.921
8 Ebba Johansson - Leo CML  - 64.141 65.686 69.350 --- 199.177
9 Ella Calamia - Alive -  65.808 64.657 68.600 --- 199.065
10 Clara Bergvall  -  Sevillano - 63.434 66.127 68.985 --- 198.546
11 Stella Hoff - Jazztime VDT  - 66.061 63.039 68.875 ---  197.975
12 Maja Dalersjö -  Givenchy SEQ  - 63.990 65.735 67.520 --- 197.245
13 Ida-Maria Tanner - Quite Swift - 65.252 62.843 68.405 --- 196.500
14 Amalie Ubbesen - Anzpring Firfod  -  65.555 64.167 64.220 --- 193.942
Young Riders
1. Hedda Thunberg - Diva - 73.774 74.265 76.730 --- 224.769
2 Linnéa Holmgren  - QC Sir Dennis  - 69.167 72.157 75.850 --- 217.174
3 Ellen Hedbys  - Quentin SV  - 71.863 70.147 72.790 --- 214.800
4 Moa Uhlin - Roswell  - 70.637 71.030 --- 209.853
5 Blanca Bosson - Cardon M  - 68.088 68.676 72.580 --- 209.344
6 Siri Ehrnrooth - Elverhöjs Olympia  -  67.059 67.353 70.340 --- 204.752
7 Cecilia Bergåkra  - My Friend  -  65.588 69.412 68.570 --- 203.570
8 Clara Egholm Hebsgaard - Brilliant  - 67.304 65.539 68.345 --- 201.188
9 Tindra Alricsson - Adobe MB  - 66.373 65.686 68.950 --- 201.009
10 Cecilia Korva-Johansson  - Fredman  - 64.216 65.882 70.300 --- 200.398
11 Siri Ryrstedt  - Linghson RS  - 65.784 65.588 68.360 --- 199.732
12 Nora Einerth - Sirello -  63.823 67.255 68.470 --- 199.548
13 Maxime Kjellvertz - Heuberger TSF  -  64.314 65.637 69.455 --- 199.406
14 Olivia Falk  - Freo -  64.314 64.559 68.245 --- 197.118
15 Sofia Heimburg  - Guanaja  -  62.500 66.716 67.180 --- 196.396
Under 25 Riders
1. Jennifer Lindvall - Midt-West Casino  - 68.333 71.850 --- 140.183
2 Lina Dolk - Languedoc  -  69.231 69.690 --- 138.921
3 Evelina Söderström - Cilantro  - 67.051 71.430 --- 138.481
4 Victoria Karlsson - Cum Laude SVU - 65.727 71.220 --- 136.947
5 Mary-Sophie Haid-Bondergaard - Roberto Des Frettes - 66.496 70.225 --- 136.721
6 Cecilia Bergåkra - Izack  -  66.496 69.600 --- 136.096
7 Filippa Norrman  - H.S Indigo  - 66.154 69.680 --- 135.834
8 Nathalie Wahlund - Cerano-Gold  - 67.051 68.105 --- 135.156
9 Lo Dahlquist Mörkenstam - Welton Five - 64.915 68.480 --- 133.395
10 Klara Svanberg - Bon Geste - 63.419 66.365 --- 129.784
11 Hannah Rosendal -  Beau-Amor - 62.778 66.285 --- 129.063
12 My Sandgren  - Hampuz M. -  60.385 66.810 --- 127.195
13 Elize Idén - Schneekoppe Dot Com   - 62.350 0.000 --- 62.350
14 Emma Brunfelter  - Entutu - 57.906 0.000 --- 57.906
Seniors
1. Patrik Kittel  - Fuhur - 73.109 77.635 --- 150.744
2 Johanna Due Boje  - Mazy Klövenhöj -  72.609 75.670 --- 148.279
3 Natalie Oldfors - Mickey M - 70.978 74.110 --- 145.088
4 Jacob Nörby Sörensen  - Sheeran - 69.826 74.330 --- 144.156
5 Carl Hedin  - Van der Veen  - 69.652 73.815 --- 143.467
6 Jennie Larsson  - Zircoon Spring Flower  -  68.848 74.360 --- 143.208
7 Emma Jönsson  - Gerion - 69.544 71.915 --- 141.459
8 Elin Aspnäs  - Boukefallos - 68.391 70.800 --- 139.191
9 Ebba von Essen - Dora - 68.282 70.880 --- 139.162
10 Maria Eriksson  - Mc Gordon -  69.304 69.835 --- 139.139
11 Matias Jansson  - Constantine P -  67.370 71.245 --- 138.615
12 Jennifer Svensson  - Sibelius - 67.565 69.050 --- 136.615
13 Åsa Nyström  - Kopparkulla Malovana-  67.000 68.610 --- 135.610
14 Emilie Nyreröd - Floppy Disc - 67.500 67.680 --- 135.180
15 Josefin Rudolfsson  - Canon - 65.630 67.760 --- 133.390
Related Links
Walfridsson, Sandgren, Linden Urnes, Dolk, Kittel Win 2021 Swedish Dressage Championships
Mattsson, Jonsson, Kittel Win 2020 Swedish Dressage Championships
Olofsson, Soderstrom, Mattsson, Kittel Win 2019 Swedish Dressage Championships
Olofsson, Soderstrom, Mattsson, Kittel Win 2018 Swedish Dressage Championships
Pettersson, Bergakra Berglund, Gyllensward, Mathisen Win 2017 Swedish Dressage Championships
Isaksson, Soderstrom, Tovek, Mattsson, Kittel Win 2016 Swedish Dressage Championships
Ivarsson, Mattsson, Kittel Win 2015 Swedish Dressage Championships
Patrik Kittel Wins the 2014 Swedish Dressage Championships
Patrik Kittel Wins the 2013 Swedish Dressage Championships
Eva Ulf Wins 2012 Swedish Grand Prix Championships
Tinne Vilhelmson Wins 2011 Swedish Grand Prix Championships
Tinne Vilhelmson Wins 2009 Swedish Grand Prix Title with Favourit
Tinne Vilhelmson Captures Second Grand Prix Title at 2004 Swedish Championships
Marina Mattsson Wins 2014 Swedish Young Riders Championships