Spain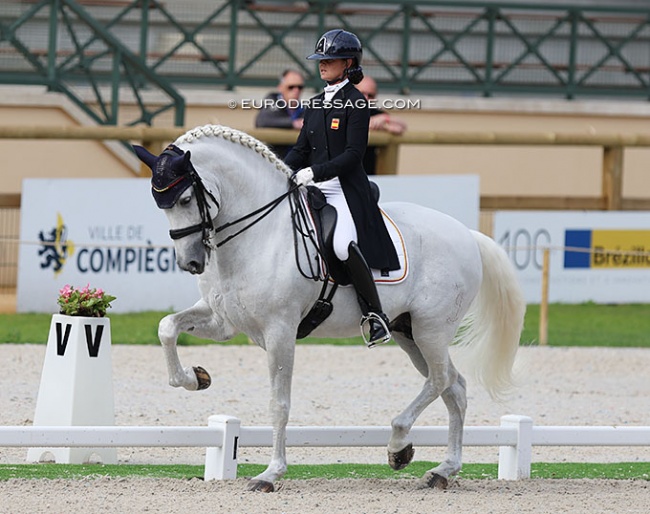 The Spanish equestrian federation has announced the team that will represent Spain at the 2022 World Championships Dressage in Herning (DEN) on 6 - 11 August 2022.
2022 became a year of change for the Spanish team after the departure of team trainer Rudolf Zeilinger. The RFHE no longer sought to appoint a new team trainer but instead hired a team captain / Technical advisor. They chose Dutch 5* judge Francis Verbeek, who ended up closely coaching the riders at shows in Spain, in private sessions at Spanish stables, as well as at selection events across Europe.
Shock Wave after Nominative Entry List
The Spanish "road to Herning" went via the National Championships in Barcelona, followed by a ride-off in Aachen and Fritzens.
After Aachen a nominative entry list was announced and it surprised many that several clear team contenders were absent from that list, while other pairs were included. 
The absence of the consistently performing Juan Antonio Jimenez on Euclides MOR (this season Grand Prix scores 69,826%, 71.282%, 70,196% - 70,565% and 71,565% in Aachen) was remarkable. Also Tokyo Olympic horse Sorento (Jose Antonio Garcia Mena - 72.304%, 70.000%, and 69.957% in Aachen) was not on the list, and neither was 2022 World Cup finalist Juan Matute Guimon (Quantico - 71.304%, 69.848%, 70.808%, and 67.913% in Aachen). 
However, the nominative entry list did include, for instance, Jordi Domingo Coll on Esprit Dond D (68.522% at the Nationals, 70.848% in Compiegne, 65.174% in Fritzens), as well as Agusti Elias on Altaneiro (69.761% at Nationals, 68.196% and 65.978% in Jerez, 68.935% in Compiegne, 69.043% in Fritzens). 
Eurodressage contacted Verbeek for a statement but received no reply.
The Team
Following the results achieved at the 2022 CDI Fritzens, the final team selection was made. 
For the first time since the 2010 World Equestrian Games in Lexington, Spain has three PRE bred horses back on the team. 
Jose Daniel Martin Dockx - Malagueño Lxxxiii
Jose Antonio Garcia Mena - Divina Royal
Alejandro Sanchez Del Barco - Quincallo De Indalo
Teia Hernandez Vila - Romero De Trujillo
The reserves are
Borja Carrascosa - Laponia
Agusti Elias - Altaneiro 
Photo © Astrid Appels
Related Links
Eurodressage Coverage of the 2022 World Championships Dressage
Francis Verbeek and Bernadette Pujals Join Technical Staff at Spanish Equestrian Federation