Great Britain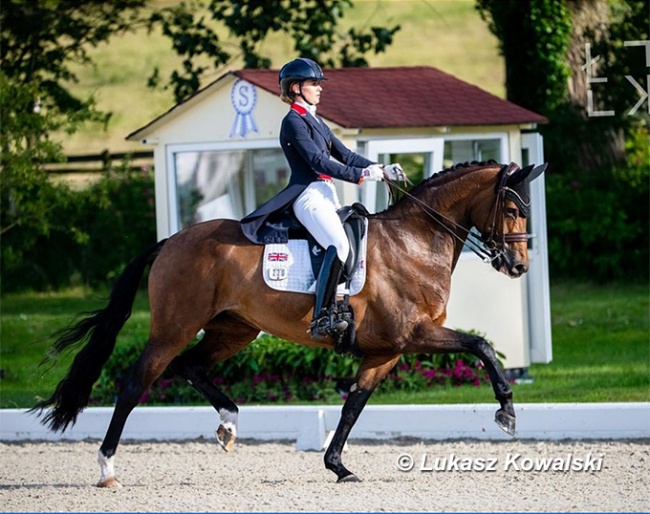 British Dressage confirm the team line-ups for the 2022 European Junior and Young Rider Championships, which take place later this month on home soil at Hartpury in Gloucestershire on 25 – 31 July 2022.
The British junior and young riders went into pre-European training camp on 12 July, where the selectors decided on the final teams.
Pidgley and Graham
Britain's leading junior Annabella Pidgley was selected with two horses, her 2021 Euro medal winning Sultan des Paluds, and her younger star Espe. Pidgley has chosen to ride Espe. 
"Sully (Sultan) came in from the field at the beginning of the week and appeared slightly un level when trotted up," Pidgley explained. "Whilst the vet didn't find anything conclusive, he advised that we just give him a rest and re evaluate in a weeks time. He is perfectly fine on a second look, but we don't feel confident to get the training back up to speed in time for the Championships. So we have decided that given her amazing form lately and results, we will give Espe this time to shine."
Pony and junior rider Myles Graham was qualified and selected as a nominated entry for both the Pony and Junior team, with the latter expressed as first preference. "As he cannot compete in both age groups, his definite entry for the FEI Junior European Championships means that the nominated Pony First Reserve, Lauren Geraghty with WS Jackson, will now take their place on the nominated Pony Team," British Dressage communicated. 
Graham's biggest rival for a spot on the junior team was Isobel Lickley. This season Graham scored the following marks in the CDI team tests: 68.283 (Keysoe, GBR), 68.434 (Opglabbeek), 67.980 (Compiegne) and 71.061 (Wellington, GBR). Lickley scored 69.646 (Keysoe, GBR), 69.899 (Compiegne), and 69.647 (GBR). British JR/YR selectors Leanne Wall and Nikki Herbert chose Graham.
The Teams
The teams competing in Hartpury include:
Juniors
India Durman-Mills  - Escade (bay gelding, 2009, Jazz, KWPN).
Myles Graham  - Nibeley Union Hit (dark bay mare, 2007, Nibeley Union Jack x Sandro Hit, AES). 
Annabella Pidgley  - Espe (bay mare, 2014, Escolar x Dimaggio, WESTF). 
Sophie Wallace - Rosalie B  (black mare, 2006, Rubin Royal x Newcastle. WESTF). 
The first reserve  is Isobel Lickley with Mount St John Furstin Fugger , the second reserve is Ruby Hughes with Extra Time P .
Young Riders
Caitlin Burgess  - Chocotof  (brown gelding, 2007, Lord Leatherdale, KWPN). 
Anna Dalrymple - Vagabond de Massa (bay gelding, 2009, Reito x Xaquiro, LUSIT). 
Maddy Frewin - Eagle Nouvelle (bay gelding, 2009, Singapore, WBS).
Jessica McConkey -  Lady Gaga (bay mare, 2009, Quaterback x Solos Landwind, DWB) - reserve horse: Wilson Stensvang
The first reserve is Lilah Gibbs  with her own Dude III .
Photo © Lukasz Kowalski
Related Link
Eurodressage Coverage of the 2022 European Junior/Young Riders Championships