2022 Bundeschampionate Qualifier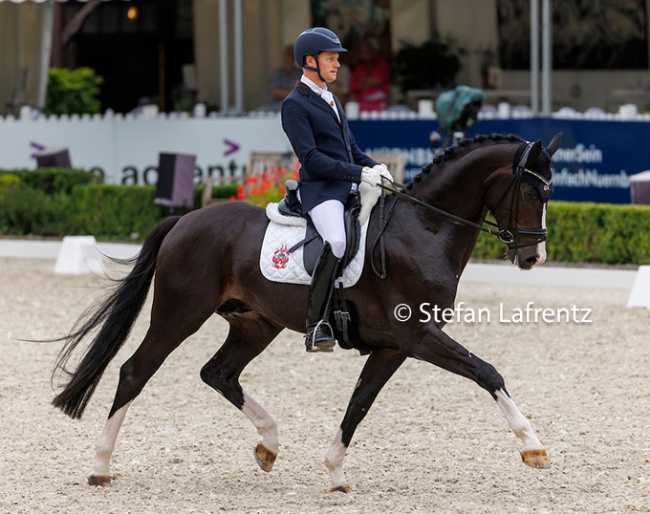 The 5-year old Fiducioso and the 6-year old L'Amore per Sempre became the winners of the Bundeschampionate qualification classes held at the Kronberg International Dressage Festival on 14 July 2022. 
Hosted at Ann-Kathrin Linsenhoff's Gestut Schafhof, these qualifiers were embedded in the international CDI programme of the event. The national young horse tests took place on the opening day of competition, Thursday 14 July 2022 
5-YO : Fiducioso
A small group of five combinations competed in the L-level dressage horse test for 5-year olds. 
It was a home victory for Matthias Rath on Ann-Kathrin Linsenhoff's Hanoverian stallion Fiducioso (by Foundation x Dancier), who posted a winning 8.2 points. His black stallion got 7.5 for walk, 8.5 for trot, 8 for canter and 8.5 for submission and general impression. Samantha Theresa Völlger and Linda Schmidt's Hanoverian mare Fayola (by Franklin x Der Designer) were the runners-up with 8.0 points. The bay mare got 7.5 for walk, 8 for trot and canter, 8.5 for submission and 8 for general impression. 
6-YO: L'Amore per Sempre
Six pairs competed in the M-level dressage horse test for 6-year olds which was dominated by German based Spaniard Santiago Damil aboard her own Oldenburg mare L'Amore per Sempre (by Livaldon x Alabaster). The chestnut mare got 7.5 for walk, 9 for trot, 8.5 for canter, 8 for submission and 8.5 for general impression to total a winning 8.3 points. 
Christine Kühn and her own DSP bred mare Chara Negra (by Negro x Rivero II) followed in the distance on 7.0. Her bay mare got 7 for walk, 7.5 for trot and canter, 6 for submission and 7 for general impression. 
Photo © Stefan Lafrentz
Results - 2022 Bundeschampionate Qualifier
5-year olds
1 Matthias Alexander Rath -  Fiducioso (by Foundation / Dancier) - 8.5 7.5 8 8.5 8.5 --- 8.2
2 Samantha Theresa Völlger -  Fayola (by Franklin / Der Designer) -  8 7.5 8 8.5 8 --- 8
3 Giulia Gasztecki -  Deine Freude (by De Sandro / Freudenstern) - 7.5 7.5 7.5 7 7.5 --- 7.4
3 Anne Sophie Müller - Frontlady GS (by Foundation / Sir Donnerhall) - 8 7 7 7.5 7.5 --- 7.4
5 Andreas Lannig - Valentino (by Silberschmied / Weltmeyer) -  7 8 6.5 6 6.5 --- 6.8
6-year olds
1. Santiago Damil -  L' amore per sempre (by Livaldon / Alabaster) - 9 7.5 8.5 8 8.5 --- 8.3
2 Christine Kühn - Chara Negra S (by Negro  / Rivero II) - 7.5 7 7.5 6 7 --- 7
3 Julia Kruft -  Secco Noir (by Sir Donnerhall I / Rubinero) -  7.5 6.5 7.5 6 7 --- 6.9
4 Julia Selua Kramer - Simply Cool (by Sir Donnerhall I / Lord Loxley) - 7 7 6.5 6.5 7 --- 6.8
5 Chantal Gärtner - Liverpool (by Livaldon / Dancier) - 6.5 7.5 6.5 5.5 6 --- 6.4
6 Miriam Mauritz - Braveheart MM (by Borsalino / Don Primero) - 6.5 6.5 6 5 6 --- 6
Related Link
Eurodressage Coverage of the 2022 Bundeschampionate