Denmark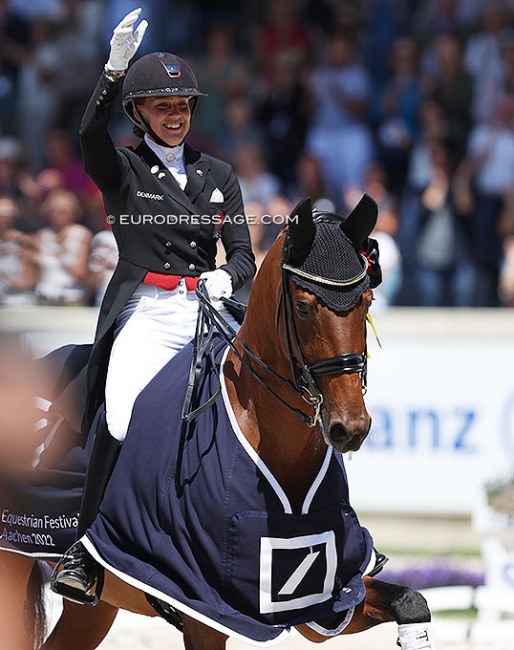 Following a final Danish team training camp at Blue Hors stud in preparation of the 2022 World Championships Dressage, the favourite for the gold has declared which horse she'll be taking down the centerline: Vamos Amigos.
As the highest scoring Danish rider of the moment and the clear contender for individual gold, Cathrine Dufour qualified both her horses for Herning: her 2021 European Championship silver medal winning Bohemian (by Bordeaux x Samarant) and her CDIO Aachen Grand Champion Vamos Amigos (by Vitalis x Hotline). 
The Danish team riders and its two reserves trained under the supervision of consistent expert coach and technical advisor Wolfram Wittig at this boot camp, where Dufour made her final pick for her younger horse, Sara Pidgley's 10-year old Westfalian Vamos Amigos. 
"It was a tough decision but in the end of the day I just had to follow my guts," Dufour stated. "I'm so proud to have such fantastic owners behind both my owners and it hurts letting one family down. Thanks to both family Zinglersen and family Pidgley for endless support. I feel very lucky and I can't wait for the future with both families. This championship will be with Vamos Amigos and I can't wait to participate to my very first WEG with such an incredible horse."
Dufour's preference for Vamos Amigos must have been strongly influenced by the top scores she achieved at the CDIO Aachen. Only two months before, the electric bay gelding blew up at the 2022 World Cup Finals, but in Aachen he kept the lid on the cooker and was generously rewarded by the judges. Bohemian - who showed more experience, relaxation and correctness in the execution of his piaffe in Aachen, yet was ridden a bit conservatively in the trot extensions there - received a fraction less of the points, still over 80%.
"Bohemian is of course reserve until the very last day," Cathrine explained. "It's been a very tricky choice between such fantastic horses and even though it's a 'luxury problem' for me, it's never fun to disappoint a family you love like I love family Zinglersen."
Dufour will be joined in Herning by team mates Carina Cassoe Kruth (Heiline's Danciera), Daniel Bachmann Andersen (Marshall Bell) and Nanna Merrald Rasmussen (Blue Hors Zack). Nanna Skodborg Merrald now rides under her married name. The reserves are Andreas Helgstrand (Jovian) and Lone Bang Larsen (Thranegaardens Rostov).
Photo © Astrid Appels
Related Link
Eurodressage Coverage of the 2022 World Championships Dressage