2022 European Junior and Young Riders Championships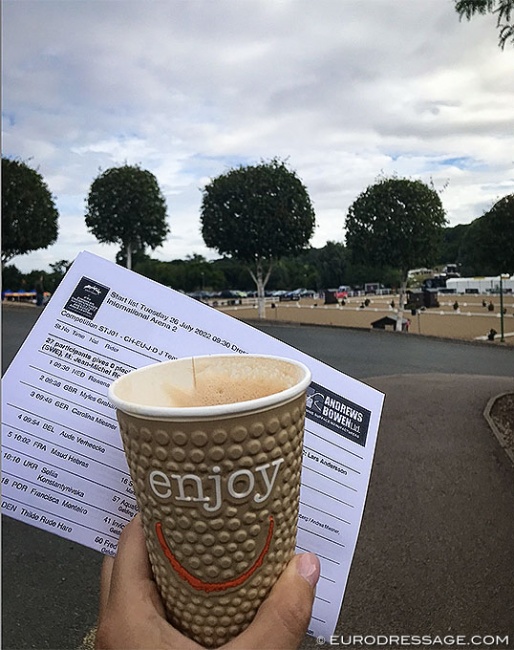 The schedule for the 2022 European Junior and Young Riders Championships in Hartpury is quite kind for the hard working press with half work days. In addition, classes are not starting at the ungodly hour of 8h00 AM, but instead there is a grace period for waking up and slowing transforming from zombie into human being. The first riders on the first day of competition went down the centerline at 9h30 and this allowed us not to rush. 
We had set our alarm for 7h50 and although I slept rather well, I woke up before the core-cringing sound of an alarm and began the day by checking messages on my cell phone, one of my bad routines. I took a quick shower and tried to beat Lily by being very well organized. The speed at which she gets up, gets dressed and is packed and ready to go is baffling. I always thought I was an efficiently working person, but she's another league.
Austrian photographer Petra Kerschbaum picked us up with her rental car and the three of us literally navigated ourselves to Hartpury equine collage, repeating out loud "left, left, left" or as Petra voiced it, "big turn to the right, small turn to the left." Driving on the wrong side of the road is brain training par excellence with a pinch of life threatening danger on top. Petra did a great job and in 7 minutes we were at the show.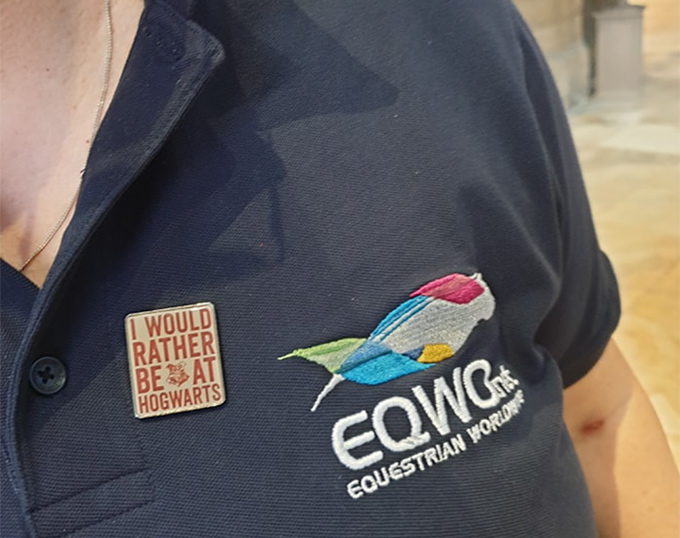 My morning ritual is the same anywhere on the planet: I need my cup of cappuccino as a "wachmacher" (wake up drink) and while Lily queued at the Al Fresco/Al Fredo barrista bar, I ran into the main building to pick up my accreditation and a paper starters' list on which i take notes. I bumped into British colleague Kevin Sparrow and had a quick chat with him (he's the official show photographer)  before I went back outside for my shot of caffeine.
The junior and young rider team test takes place simultaneously in two arenas so for us photographers it's a challenge to shoot all the riders at the same time. Fortunately with the rings so close to each other this is totally feasible. For me, however, who combines journalism with photography, it's a big ask.  I take notes of how all the tests go, so here in Hartpury I'm on quadruple duty (notes for both rings, photos for both rings). My brain is all fired up!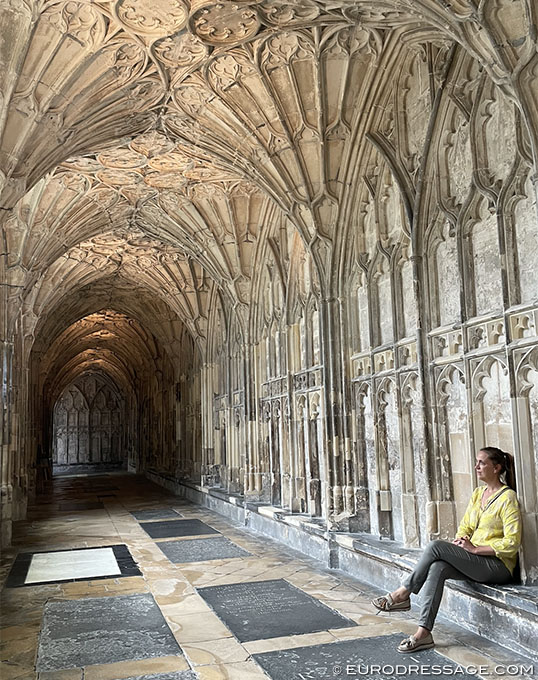 The young rider arena is beautiful with the trees and main building in the background and plenty of flower decorations round the ring, but the junior arena is a little less inspiring with the white tents of the trade fair as eye mote. Fortunately for the individual test the arenas will be swapped and the juniors get to ride in the pretty ring too. 
We were done for the day round 13h45 and instead of going straight to work, Petra, Lily and I decided to explore Gloucester. We had a simple lunch at the Comfy Inn and then visited the impressive cathedral where scenes for the Harry Potter movies were filmed. Petra bought the fun pin "I'd rather be at Hogwarts" and we had a good laugh as we nourished our brain with culture, walking round the impressive 1000 year old Norman and Gothic architecture of this mega church.
We then had a long stroll round the town and were astonished by the mixed bag of people that wandered the city: from drifters, to homeless people, alcoholics already drunk at 3 PM sitting outside on a bench at their local pub with a liter of beer in front of them. A disoriented lady followed us from the Beatrix Potter store trying to make conversation but not making any sense as she was babbling to herself. Many elderly were rolling by in scooters, many shops were closed for business, although that's no surprise as the main street seems to have at least 25 barber and hairdresser shop and several were empty and cob-webbed. We also bumped into several dressage riders.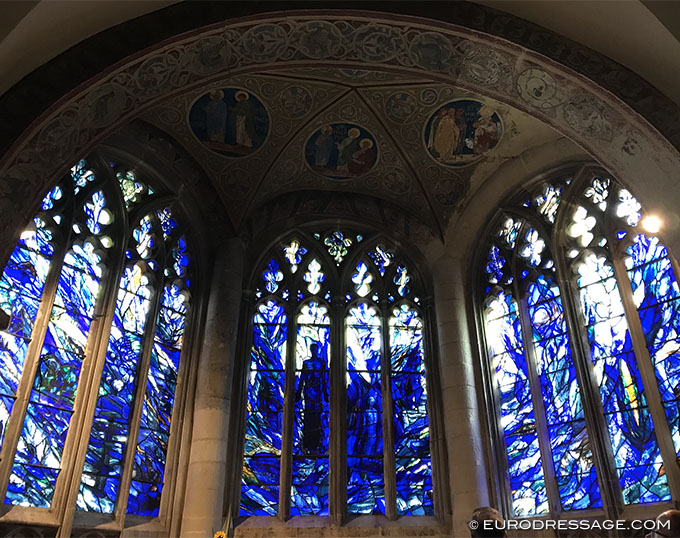 The three of us decided that this short afternoon, cultural break was the perfect brain stimulus to keep ourselves charged and motivated and we already planned that on Thursday we want to drive to Stratford-upon-Avon and visit Shakespeare's birth home. 
I had an afternoon cappuccino and we shared a piece of carrot cake at Cafe Nero before we walked back to the car. We returned to the hotel little after 17h00 and I have been working non-stop ever since. After twenty years of show coverage I still don't know what the best thing is to do. Write articles quick? Write one article in detail? Leave the organisation of my photos until after the event and just select photos for publication quick? It's like an avalanche of work hits you and you don't know what to do or choose.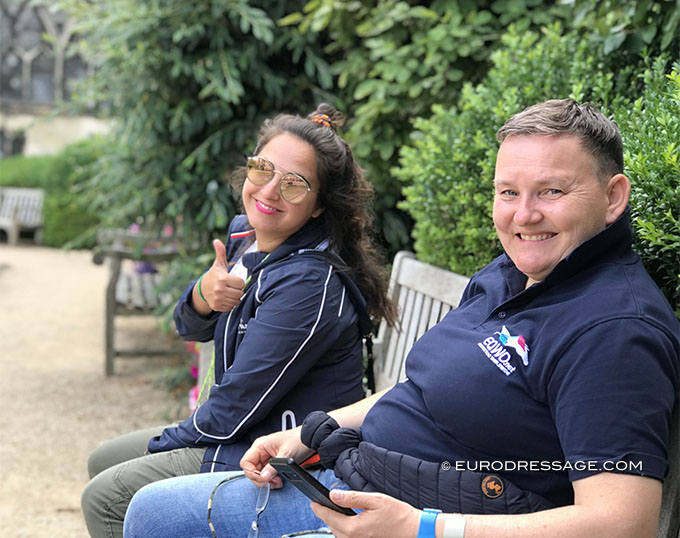 I always end up going with the flow and see where the inspiration comes from. This evening I ended up writing a detailed report about the junior riders with a large photo gallery and at the same time I also organized all my photos. I was proud of myself, but then realized that it was a pity that I couldn't get anything out on the young riders (as I chose to do this blog), while the young rider arena produced the best photos..
That'll be for tomorrow. 
by Astrid Appels
Related Link
Eurodressage Coverage of the 2022 European Junior/Young Riders Championships