2022 World Championships Dressage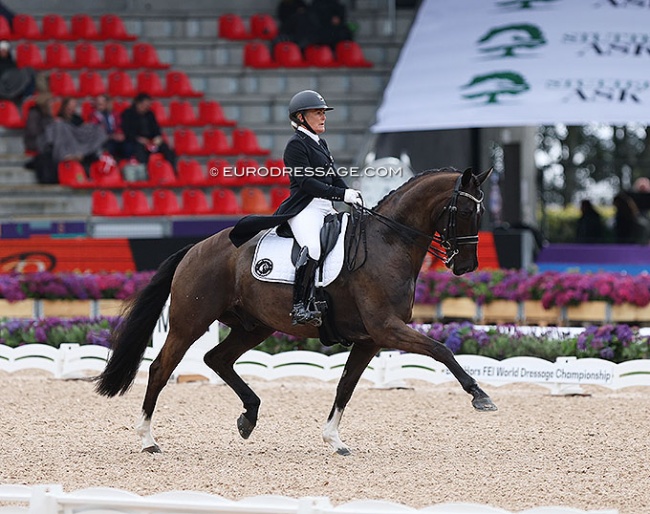 It's heartbreak for  the riders of Team New Zealand, who had travelled the furthest to attend the 2022 World Championships Dressage in Denmark after the elimination of the final team member. It also meant their goals for the 2024 Paris Olympic Games are gone.
Eliminated at Bit Check
Gaylene Lennard and Jax Johnson were eliminated after a post-test mouth swab returned a slight pink colouration. FEI have a zero tolerance on any sort of colouration, meaning immediate elimination.
"We are all devasted for Gaylene," said ESNZ high performance general manager Jock Paget. "She and Jax produced a brilliant test and a strong team finish at their first world champs. It is so unfortunate for it to unravel like this."
Dressage New Zealand sport manager and team chef d'equipe Wendy Hamerton said Gaylene was incredibly disappointed at the final outcome and the team shared that with her.
"It has been a really difficult few days with the horse being in isolation (due to a slightly raised temperature), so her opportunities to work him had been very limited," said Wendy. "She may have missed arena familiarisation but when he went out into that arena today, for a combination that has had limited experience, they put on a world class performance that has captured the attention of a lot of people."
Wendy said the team were all incredibly proud of Gaylene and Jax. "He has a big future ahead of him, and Gaylene is strong – she will be back."
Excellent Scores for Kiwi Riders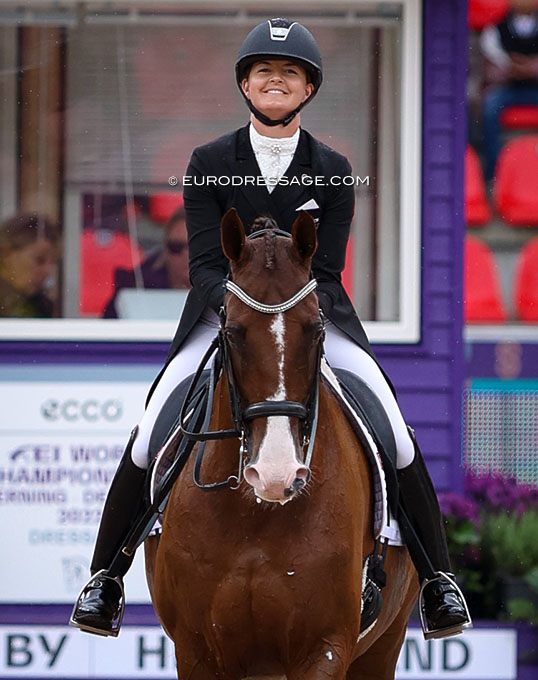 Before her elimination, Gaylene Lennard had posted a score of 69.627%. Earlier in the day, Melissa Galloway and Windermere J'Obei W posted an incredible 70.978% for a personal best, and yesterday John Thompson and Chemistry scored 68.059%.
Melissa's test and score had brought tears for a completely different reason.
"To think this is the World Champs and we have just done a personal best is quite unbelievable," said Melissa. "It makes me feel emotional when I really think about what we have just done and the journey that we are on." The whole test was a highlight for her but the passage and the half passes stood out. "I was just so rapt with the whole thing. I felt such a togetherness with him and as soon as I went into the arena I felt 'we're good, we've got this'."
Their previous best was also on a big stage, at Aachen earlier this year when they scored 70.478%. "My horse Joey is just one in a million . . . I am just so blessed to have him."
Melissa said the team camaraderie was strong. "It is so lovely to be here. It is just the best to be here as a team. It is so much better than being here as an individual. Being able to do this for our country and think about what we are doing for the future as well. It is just amazing."
The combination finished in 33rd place, coming so close to the cut-off of the top 30 progressing to the Grand Prix Special.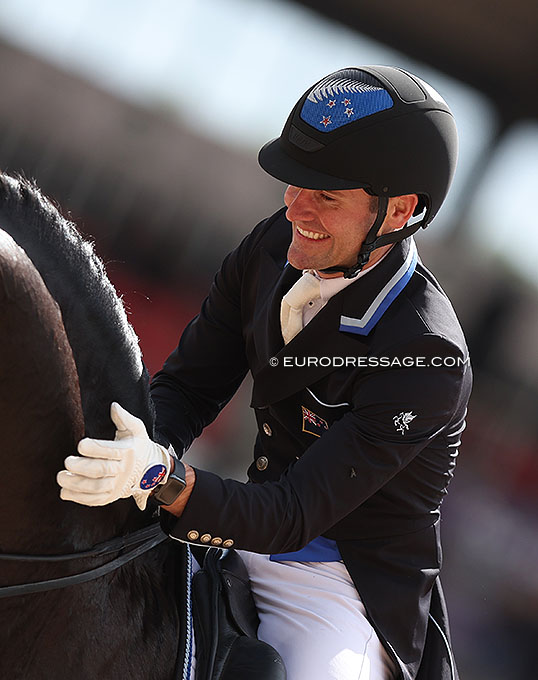 The whole team had been bubbling about her result. Jock said it had been incredibly exciting to be in the stands and watch Melissa's test. "She has a habit of just going out there and doing PBs – that's a pretty cool quality in a competitor."
John Thompson had been very happy with the efforts of Chemistry too. "I am thrilled to be able to put in a great effort in the ring and just so happy to represent my country and have such a wonderful and willing horse to do it on."
No Team for Paris
The World Championships were New Zealand's only chance to qualify a team for the 2024 Olympic Games.
"The support from New Zealand has been amazing," said Jock. "We are all so proud of these riders and it is exciting to think what might be possible in the future."
Text by Diana Dobson - Photos © Astrid Appels - No Reproduction Allowed
Related Link
Scores: 2022 World Championships Dressage
Eurodressage Coverage of the 2022 World Championships Dressage