Spain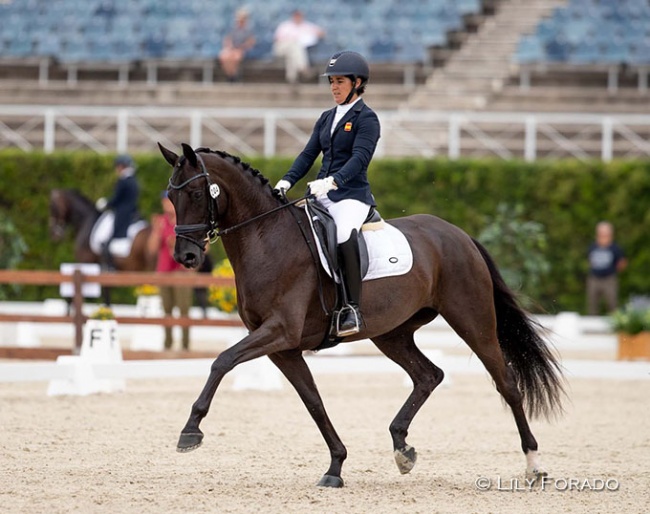 The Spanish Equestrian Federation, ANCADES (the breed society for CDE Spanish Sport Horses), and ANCCE (the association for the PRE horse), have made their selection of combinations that will represent Spain at the 2022 World Young Horse Championships in Ermelo on 7 - 11 September 2022. 
Spanish young horse team trainer and advisors Jose Daniel Martin Dockx and Jurgen Koschel headed the selection process.
ANCCE successfully lobbied with the WBFSH to get three instead of two slots for PRE horses at the World Championships, but then this year the selectors decided not to fill all those slots. So Spain now can send five horses per age category of which three can be filled by PRE's and if not, they will go to CDE bred horses. If there is no CDE option, only then as final choice it can be a horse of a different breed society. 
Representing Spain in Ermelo are:
5-year olds
Juan de Dios Ramírez with  Charro Azores  (PRE, by Karacol Azores x Gnidium)
Veronica Graebedunkel with Exclusiva Montehispano (PRE, by Encendido x Ermitano III)
Cristina Torrent with Dinna Marq  (CDE, by Rio Marq x Sandro Hit)
Borja Carrascosa with New York (CDE, by Universal x ? )
Carlos Jacobo with Zimbawe (CDE, by Zalando x OO Seven)
6-year olds
Alberto García- Briñón with Pampero FS  (PRE, by Enganoso VI x Ermitano III)
Juan de Dios Ramirez with Corinto Azores (PRE, by Karacol Azores x Gnidium)
Antonio Serguí with Will Marq (CDE, by Rio Marq x Lanciano)
Alfonso Expósito with Drago (Hanoverian, by Don Romanov x Londonderry)
7-year olds
Alejandro Sánchez del Barco with Trapalo de Indalo (PRE, by Esbelto VII x Bandolero LXVII)
Alejandro Cadenas Quiles with Santanderino Nadales (PRE, by Grandioso de Nadales x Carinoso CXX) or Quien Nadales II (PRE, by Grandioso de Nadales x Definium)
Borja Carrascosa with Frizzantino (Hanoverian, by Finest x Quaterback) 
Photo © Lily Forado
Related Link
Eurodressage Coverage of the 2022 World Championships Young Dressage Horses