2022 U.S. Dressage Championships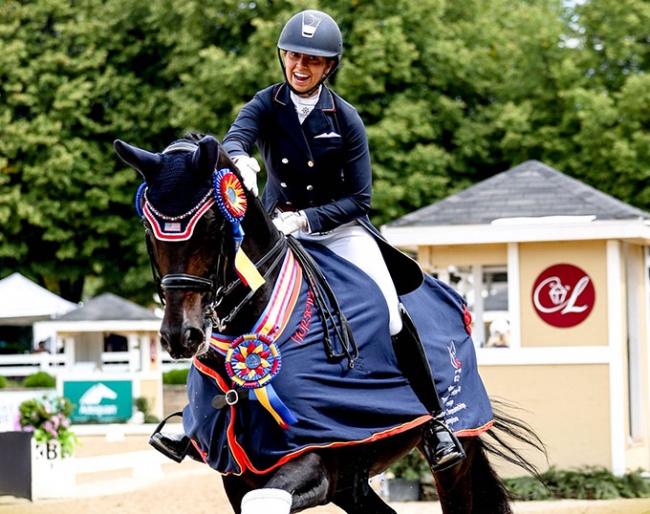 Under 25 rider Quinn Iverson and senior Alice Tarjan claimed the Grand Prix level titles at the 2022 U.S. Dressage Championships, which were held at the Lamplight Equestrian Centre in Wayne, ILL, on 22 - 28 August 2022. 
The Grand Prix riders had to compete in three rounds and all three scores were tabulated for a final result. The first round counted for 40%, the second for 45% and the freestyle for 15%. The U.S. is the only country which calculates its results like this. Most countries just total all three rounds and then take an average.
Under 25: Quinn Iverson Unbeatable
A small field of just five combinations rode the third and final test of the Under 25 Championship.
Quinn Iverson and Beckham (by Benetton Dream x Don Davidoff) started the week at the top of the leaderboard and never relinquished their position, finishing as the National Champion on an overall score of 69.543%. Iverson (Wellington, Fla.) and Bille Davidson's 2009 Hanoverian gelding punctuated their overall win with a blue ribbon in the FEI Grand Prix Freestyle, scoring 72.845%.
"I'm a little speechless at the moment," said Iverson. "My trainer [Adrienne Lyle] has been gone all summer in Europe, so I have been on my own. Thankfully we picked up right where we left t off. I'm very happy she was here."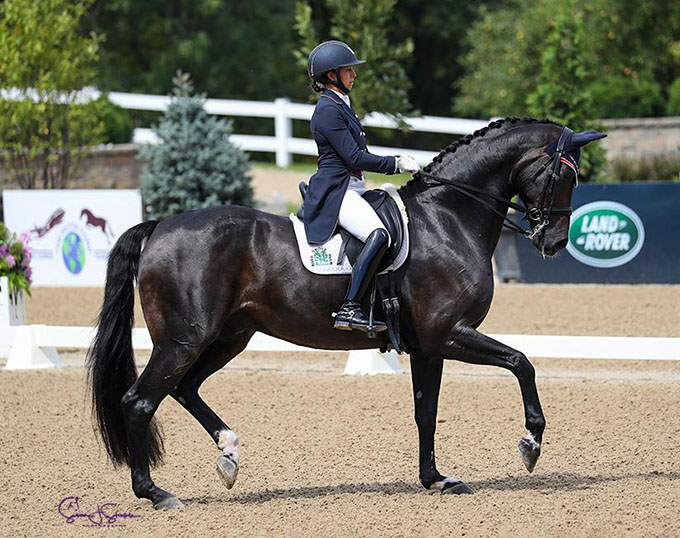 Iverson rode to borrow music. "I have to give a big thanks to Susie Dutta, who let me use her freestyle because I don't have one yet for this horse. It was amazing. He was such a good boy. He was there for me every step of the way and I am free happy with it," she said.
Iverson got the ride on Beckham straight away after the horse was purchased in Europe last winter. The horse was previously owned by the breeder Axel Windeler and competed as a 4-year old in Germany in 2013 by Dora Asendorf. She rode him through 2014 but then a four year break from shows followed. Ann Christin Wienkamp premiered him at small tour level in 2018 and took him to inter II level, after which Swedish Michelle Hagman had him in The Netherlands to be sold. Hagman rode him in a few local events in Holland.
Callie Rose O'Connell (Wilmington, Mass.) and Eaton, Ruling Cortes LLC's 2009 KWPN gelding by Wynton x San Remo, finished second in the freestyle with a score of 70.870% and collected Reserve Champion honours with an overall score of 68.408%.
O'Connell has her coach Christoph Koschel flown in to coach her. He is the previous rider of Eaton after Japanese Masanao Takahashi had tried qualifying him for the Tokyo Olympics. Callie rode to Queen music at Lamplight.
"I was a huge Queen fan, so we went with the Queen theme. We thought it was very fitting," she said. 'We call Eaton a little popstar or rockstar in the barn, so we thought that music would fit him well. It pumps him up. Maybe a little too much today but it was a lot of fun."
Callie Jones (Henderson, Ky.) and Don Philippo, her 2008 Hanoverian gelding, were third in the freestyle on a score of 70.390% and third overall on as score of 67.177%.
"Cynthia Collins made this freestyle for me," said Jones. "It is actually my Young Rider freestyle, then I used it for the small tour, and now the Grand Prix. It is a really special freestyle to me. I love the music, and I think 'Phil' really likes the music too."
Seniors: Alice Tarjan Reclaims Title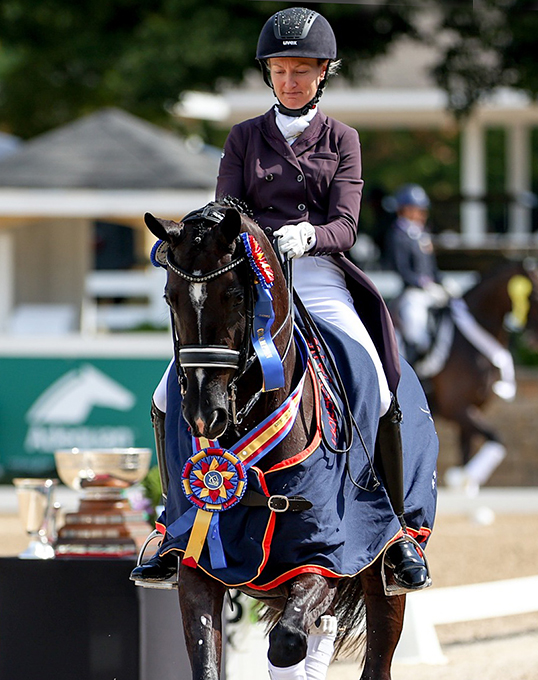 Twelve combinations contested the third and final round of the senior Grand Prix championship, riding the freestyle.
Alice Tarjan and Serenade MF (by Sir Donnerhall x Don Principe) led from start to finish to collect the National Champion title with an overall score of 74.176%. Tarjan (Oldwick, N.J.) and her 2013 Hanoverian mare's freestyle earned a score of 76.985% to win the class and secure the overall title.
"It is the second time I have ridden through the freestyle," said Tarjan. "I didn't practice any of the lines until yesterday. But, I think overall, the quality is getting a lot better so it is exciting for what the future holds."
When asked how her mare progressed this week, Alice explained that, "keeping that hind leg underneath her and the balance uphill was a bit of a struggle, especially in the past years, so that's getting better overall. With the energy, she kind of wants to be a show hunter, especially this year with trying to keep her in front of my leg and I could really ride her up in front of me. Over the week, she actually got hotter and hotter. I get on her and it's like, 'Whoa. This is a way different horse than what I'm used to riding.' You almost have to turn it down now. It is exciting to finally have her breaking through that barrier. She has definitely heated up this week, which is a lot different than last year. [The energy] would sort of wear of by the end of the week, but now, I have to try and hold it back a little bit and keep it easy."
In 2021 Tarjan won the title on Candescent (by Christ), but the horse has not been shown nationally or internationally this year. Tarjan has been campaigning Serenade MF and Donatella M at the highest level this year, while developing her upcoming Grand Prix horse Jane and the other young talent in her barn.
Katie Duerrhammer (Greenwood Village, Colo.) and Paxton, Kylee Lourie's 2011 Westphalian gelding by Dante Weltino x Don Marco, finished second with a score of 74.980% in the freestyle and took home Reserve Champion honors with an overall score of 70.597%.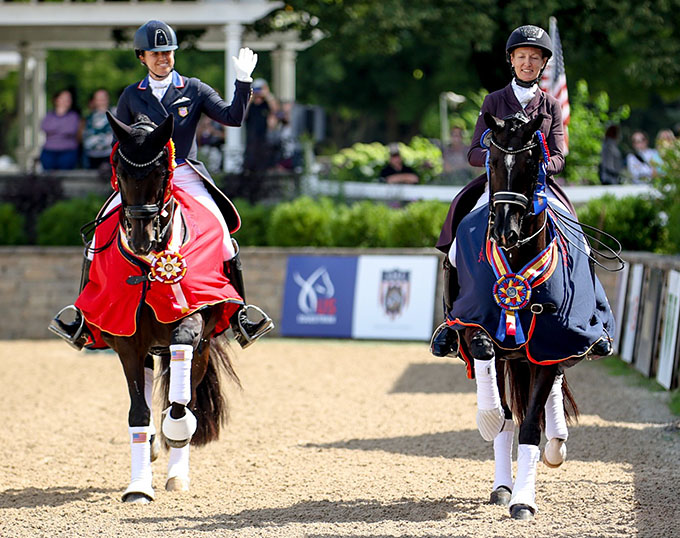 "I was really, really proud of him today," said Katie "He performed his 'uncle's' (Quartett, who went to Herning) freestyle to qualify. We ran it really fast at Whites Fences to get a score. Terry Gallo made this one for me. I wanted the music to be fun and something people would know and wouldn't overpower him. I feel like he is a very powerful horse, but he is very light-footed. So, something that could bring and showcase his power but also show how elegant he can be. Terry was very patient because I couldn't really articulate what I really wanted and she worked and worked and worked and worked until we really found the pieces that worked for him. I think some horses say, 'This is my music.' And other horses you really got to really figure out what you want to showcase with them. He had not done this freestyle before, and he is not usually the most flexible in his plan in mind, and I was very proud of him. He tried very hard to accomplish everything in there. We had some mistakes, but he really stayed with me and really like the music, so that was really fun."
Emily Miles (Paola, Kan.) and Java Dulce, Leslie Waterman's 2011 Danish Warmblood gelding by Jazz x Deemster, were third in the freestyle with a score of 72.384% and third overall with a score of 69.036%.
"Erin Boltik did this freestyle. She calls me her 'PITA' because same idea [as Duerrhammer]," said Miles. "We would find something that would match the passage and was super fun, but that went with nothing else. It was really tough. I rode a different freestyle that she put together for me at the beginning of the year but I didn't like it very much. She put this one together for me. It's hard because I watched the video, , but I have never ridden it before [in competition]. I was actually super happy with how we hit our marks, knew where we were with the music, and it was a clean freestyle."
Text USEF Press Release, edited by Eurodressage - Photos © Sue Stickle/USEF
Related Links
Scores: 2022 U.S Dressage Championships
Alice Tarjan Wins 2021 U.S. Grand Prix Championship, White-O'Connor Small Tour Champion
Sumner, Lagoy-Weltz, Iverson, Tarjan Move into the Lead at 2022 U.S. Dressage Championships
Alice Tarjan and Quinn Iverson Stake Their Claim in First Round at 2022 U.S. Dressage Championships