2022 Danish Dressage Championships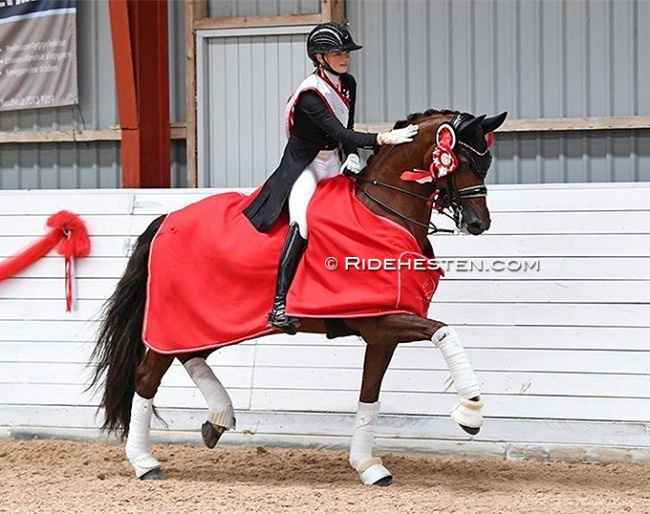 Junior rider Sophia Obel Jorgensen and young rider Sophie Ludvigsen became the winners of the 2022 Danish junior and young riders Championships which were held at the Ringsted Riding Club on 26 - 28 August 2022.
Obel Reclaims Title
Sophia Obel Jorgensen was the 2021 Danish Pony and Junior Riders Champion and now with a pony career fully behind her, she continues her reign as a junior.  After already confirming her dominion in the division by winning Kur Gold at the 2022 European Junior Riders Championships in Hartpury (GBR) in July, she also wields the axe of power on home turf.
Obel and her 10-year old Oldenburg gelding Brilliant (by Bretton Woods x Diamond Hit) were undefeated, winning the first round with 73.378% and the kur to music with 76.225% to finish on the highest step of the podium with a total of 149.603 points. 
Danish team rider Annabelle Rehn switched horses for the Nationals. Her European championship horse Vestervangs Garson stayed home after he felt out of his element in Hartpury and spooked in both the team and individual test, leading to rather disappointing results, unusual for this solid pair. In Ringsted Rehn saddled Nikitaro, a 10-year old Danish warmblood by Romanov x Don Romantic, and he brought her to a silver medal. The duo scored 71.216% in the first round and 74.675% in the freestyle to place second overall with 145.891 points. 
It was back to bronze for Liva Addy Guldager Nielsen on the 10-year old Danish bred Don Caballero (by Blue Hors Don Olymbrio x Blue Hors Don Schufro). After winning bronze last year at the Nationals, Nielsen rode a solid international season this year with CDI starts in Opglabbeek, Troisdorf, Aalborg and Hagen, but failed to convince - team trainer Dennis Fisker to select her for the European Championship team. Nielsen took her revenge by beating no less than two of the Danish team riders for Hartpury at these Danish Championships.
Team riders Thilde Rude Hare (Fred the Red) and Elisabeth Cecilie Bonefeld-Dahl (Don Furioso) placed fourth and eleventh in final ranking.
Ludvigsen Goes for Gold
At young riders level European championship team rider Sophia Ludvigsen continued the upward trajectory they started in Hartpury, where they made it into the Kur to Music finals and placed eleventh as third best scoring Danish pair.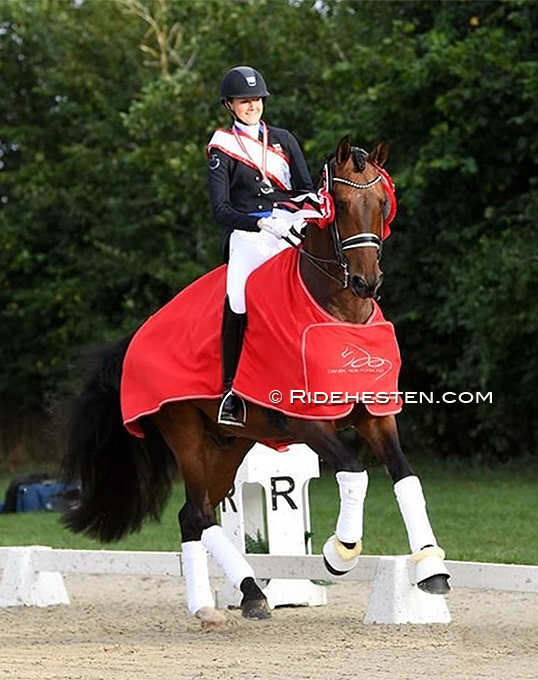 At the National Championships, Ludvigsen bested the field and edged out team mate Frederikke Gram Jacobsen for gold. Ludvigsen and the 8-year old Danish warmblood gelding Blue Hors Elliott (by Erlando x Romanov) topped the board in the first round with 74.342% and were second in the freestyle with 77.775%. Their total was 152.117 points which pushed them on the highest step of the podium for the title and gold. 
Frederikke Gram Jacobsen and her loyal equine partner from juniors into her first year at young riders level - the 12-year old Danish mare Ryvangs Zafina (by Zack x Come Back II) - were second in the first round (73.421%) and aced the freestyle with 78.025%. This gave them a total of 151.446 and the silver medal.
The bronze went to Maria Mejlgaard Jensen and the 13-year old KWPN bred stallion Antango (by Ampere x Jazz). The pair was member of the Danish team for the 2020 European Young Riders Championships in Budapest, but did not make the cut in 2021 after a severe riding accident sidelined her. She made a come back in 2022 with CDI starts in Opglabbeek, Stadl Paura, Aalborg and Hagen, but wasn't selected on the team. At the Nationals, the duo worked themselves onto the bronze medal step of the podium with a 71.842% in the first round and 75.050% in the freestyle to total 146.892 points. 
Danish YR team member Alexander Yde Helgstrand did not compete in Ringsted. This is the third year in a row that Helgstrand, who recently announced his decision to become a professional rider, chose not to compete at the National Championships. His last start dates back to 2019, when he won the Danish Junior Championships. Fellow team member Sara Aagaard Hyrm did not bring team horse Atterupgaards Cooper to Ringsted but instead her former team ride, 16-year old Skovborgs Romadinov (by Romanov x Mago xx), and placed fifth behind Lea Torabi on the Swedish bred Bergåkras Amaranth (by Ampere x Troll).
Results - 2022 Danish Junior/Young Riders Championships
Junior Riders (top 15 only)
1 Sophia Obel Jørgensen - Brilliant -  73.378 76.225 --- 149.603
2 Annabelle Rehn  -  Nikitaro -  71.216 74.675 --- 145.891
3 Liva Addy Guldager Nielsen - Don Caballero -  69.676 74.575 --- 144.251
4 Thilde Rude Hare - Fred the Red -  69.622 73.950 --- 143.572
5 Katrine Johannsen - Rossander -  69.162 72.925 --- 142.087
6 Karla Marillo Skov -  Barbylon D -  71.162 70.475 --- 141.637
7 Theresa Rosenkilde -  Blue Hors Zwobber -  69.297 72.075 --- 141.372
8 Victoria Toft Waksvik H- Dancing Boy H-  69.027 72.250 --- 141.277
9 Bjørk Schmidt Jefsen -  Holballes Deeba - 68.919 71.350 --- 140.269
10 Freja Oline Skovhus Lindblad - Egelund Yurrell -  69.135 69.925 --- 139.060
11 Elisabeth Cecilie Bonefeld-dahl - Don Furioso - 68.540 69.725 --- 138.265
12 Fie Dybro Jensen - Nørgaards Leonora -  68.243 69.700 --- 137.943
13 Karoline Mathilde Ravnsbo - Atterupgaards Kawasaki -  69.568 68.000 --- 137.568
14 Maria Bech -  Korsgårds Tempt-hit -  68.243 68.725 --- 136.968
15 Valentin Munkedal - Severis Jody - 70.540 66.225 --- 136.765
Young Riders (top 15 only)
1 Sophia Ludvigsen - Blue Hors Elliott -  74.342 77.775 --- 152.117
2 Frederikke Gram Jacobsen - Ryvangs Zafina - 73.421 78.025 --- 151.446
3 Maria Mejlgaard Jensen - Antango -  71.842 75.050 --- 146.892
4 Lea Andreassen Torabi - Bergåkras Amaranth -  72.342 73.300 --- 145.642
5 Sara Aagaard Hyrm -  Skovborgs Romadinov - 72.289 71.050 --- 143.339
6 Laura J. Rasmussen -  Seventeen Jr -  68.500 72.950 --- 141.450
7 Ida Kirstine Bjørn - Hussmanns Jackson - 69.763 71.250 --- 141.013
8 Josephine Rathje Facius - Stand Proud -  68.368 71.450 --- 139.818
9 Isabell Toft Waksvik- Jet Set V. -  67.447 70.300 --- 137.747
10 Amalia Skjold - Falkendaune Macohl -  67.026 69.925 --- 136.951
11 Caroline Krogh Hansen - Count to Ten Wn -  65.947 69.150 --- 135.097
12 Yasmin Holten Udengaard - Butterfly -  66.105 68.600 --- 134.705
13 Caroline Fauerby Rewitz - De L'orio Attrup -  66.868 67.300 --- 134.168
14 Laura Høj Vraa - Østerkjær Filucca -  65.921 66.800 --- 132.721
15 Lea Colding-jørgensen - Sixtus Klint - 65.737 58.775 --- 124.512
Complete results: juniors - young riders
Photos © Ridehesten
Related Links
Sophia Obel Jorgensen Wins 2021 Danish Pony Championships
Sophia Obel Jorgensen Wins Kur Gold at the 2022 European Junior Riders Championships
Previous Winners
Obel Jorgensen and Aagaard Hyrm Win 2021 Danish Junior/Young Riders Championships
Hoeck and Ludvigsen Win 2020 Danish Junior/Young Riders Champion
Yde Helgstrand and Rørbæk Silfen Win 2019 Danish Junior/Young Riders Championships
Aagaard Hyrm and Rohmann Win 2018 Danish Junior/Young Riders Championships
Andersen and Henriksen Win Gold at 2017 Danish Junior/Young Riders Championships
Rohmann, Mejlgaard Jensen, Engermann Win 2016 Danish Youth Riders Championships
Vallentin and Sorensen Win 2015 Danish Junior and Young Riders Championships
Engermann and Dam Vestergaard Win 2014 Danish Junior and Young Riders Championships
Sorensen and Dufour Win Gold at 2013 Danish Junior and Young Riders Championships