Holsteiner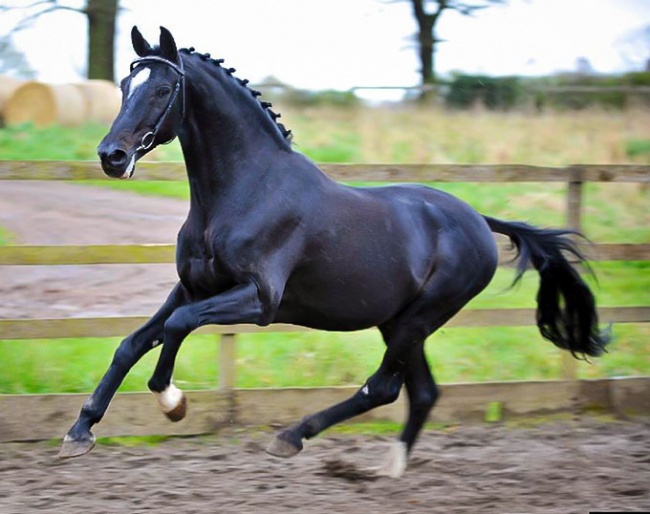 Hemmingway, a Holsteiner bred licensed stallion who was known to be a very versatile producer, has passed away in Ireland. He was 33 years old. 
He was born on 29 March 1989 and was by Leandro out of Marle (by Romantiker x Mangon). He was bred  by S. Dieter in Beschendorf, Germany. 
KWPN Licensed and "Unlicensed"
Hemmingway made his career as a breeding stallion for the KWPN society, getting licensed in 1992. 
He was trained in show jumping and competed at the 1995 and 1996 World Show Jumping Championships as a 6- and 7-year olds. Under Luc Steeghs he jumped up to 1.40 m. 
He was retired sound to stud at Stable Hendrix, but in 2006 the KWPN society pulled his breeding licence, just like they also "unlicensed" Haarlem and Iglesias at that time.
Move to Scotland
In February 2008, Hemmingway moved to AI Service in Winchburg, Scotland, which is run by the Dutchman Ben Wentink.  Hemmingway took over the stall of stallion Marlon who was sent back to Holland to continue breeding there. 
In 2012 the Rhinelander breed society approved him and in the U.K. he was also approved for the AES studbook. 
Hemmigway continued to influence the British breeding scene and became popular for his versatility.
The stallion stayed fit and in great shape until a very late age. AI Scotland announced his passing on 16 September. 
Legacy
His most famous offspring are show jumpers such as Mianta (Cannan Solem), Markant (Chris Pratt), Nicky (Mario Piasecki) and Noberlina (Eric Lamaze).
He also produced dressage dressage horses, such as Prince (Steffen Peters), Mabruk (Karen Nijvelt, Abdulla Al Marri), Caramba (Karen Nijvelt), Diamond (Inna Logutenkova), and Vision (Rosalinde Heck).
As a dam sire, he can be found in licensed stallions such as Lantanas (by Sir Donnerhall), and Grand Prix dressage horses such as Siro (Danielle Heijkoop), Tiamo (Jorinde Verwimp), Vitana V (Morgan Barbancon), and Partous (David Wightman).
Photo © Horse Power Creative / AI Scotland
Related Links
The 2011 British Stallion Event Expected to Be Huge Success
Where Are They Now? Vitana V
Danielle Heijkoop's Siro Retired from Sport
Bartels Family's Zan Tropez Passed Away
Karen Nijvelt's Heyu Put Down
Hemmingway Loses Licensed Status