Global Dressage Auction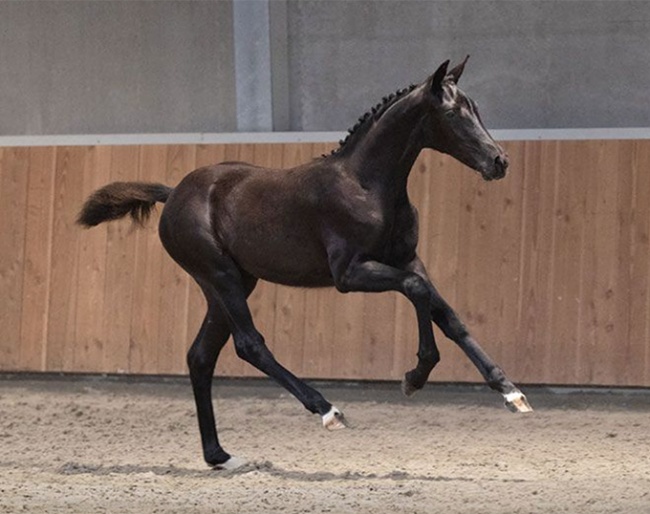 Jens Fredericson, Sweden's team gold medallist at the World Championships for Show Jumping in Herning in August, bought the price highlight of the third and last Global Dressage Auction of 2022. 
Jumper Buys Dressage Foal
The price highlight was Skye van 't Studutch (by For Romance x Dream Boy). He sold for 17,000 euro to show jumper Fredericson from Sweden. 
"I'm very happy with this foal. She has a very nice pedigree, moves well and is pretty. A complete foal," said Jens. "When I'm doing show jumping, I'd like to have a dressage horse to ride and breed with. I love the dressage flat work I do with my show jumpers, so it's time for me to get a dressage horse."
International Interest
The bidding for the Global Dressage Auction concluded on 9 September and 75% of the collection sold. All in utero foals found new owners.  The average price for a foal was almost 9,000 euro. Half of the sold lot moves abroad.
"We had a very good auction. It's nice to see that we have a loyal circle of customers, but this time there were many new bidders and buyers," said organizer Koos Poppelaars. 
Germany
The second most expensive lot was a sexed in utero filly by Toto Jr x Jazz, which sold for 12,000 euro to Germany.
An unsexed in utero foal by Indian Rock x Negro sold for 10,000 euro to Germany
Filly Swingvorette (by Las Vegas x Apache) also moves to Germany for 10,000 euro.
Domestic and Abroad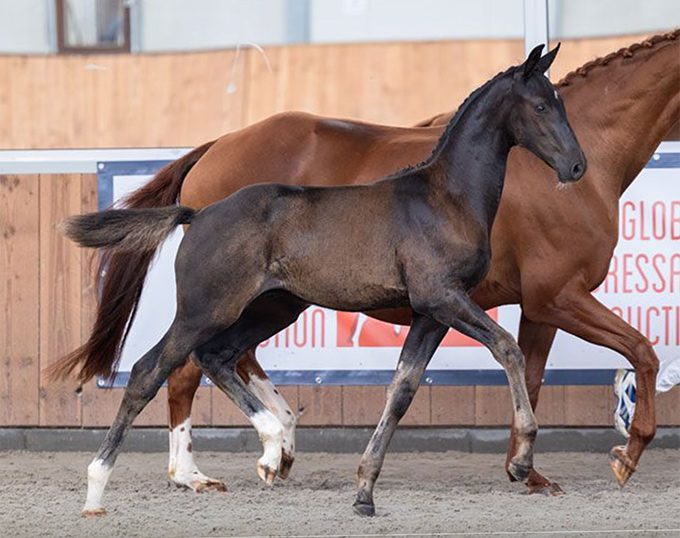 Colt Sunshine V.Z. (by Kjento x Welt Hit II) found a new home in Canada for 9,500 euro.
Colt Street Art (by Mowgli x Wynton) will stay in The Netherlands for 9,000 euro.
Italians bought Soulmate van 't Studutch (by Sandro Hit x Toto Jr) for 6,000 euro.
Related Links
In Utero ET Foal out of Olympic mare Deja Top Selling Lot in 2022 Global Dressage Auction
In Utero Foal by Ellis out of Aweih, Best Seller of 2022 Global Dressage Auction
In Utero Foal by Total US, Top Lot of 2021 Global Dressage Auction
Renommée de Baian, Best Seller of the 2021 Global Dressage Auction