2022 US Dressage Finals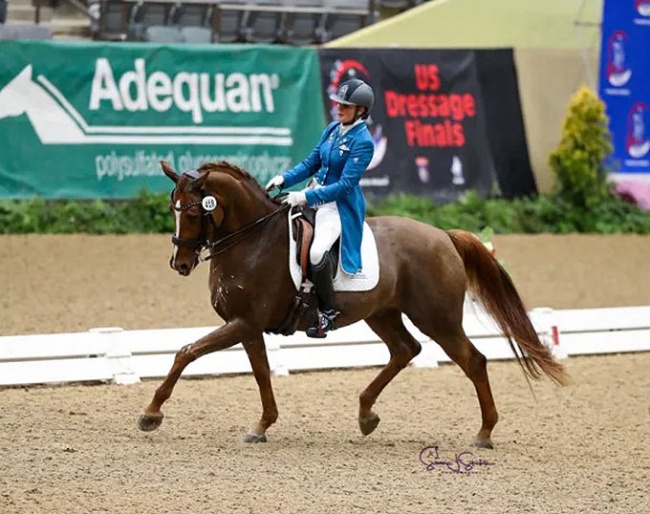 Eight championship titles were up for grabs at the Kentucky Horse Park on day two of the 2022 US Dressage Finals presented by Adequan®. The marquee show, which offers more than $120,000 in prize money, runs through Sunday, November 13, and boasts competition from Training to Grand Prix level.
Intermediaire I Open: No Longer the Bridesmaid: Absolute Dream Lives Up to His Name
The Intermediate I Open championship was an all-day affair in the Alltech Arena, with 32 combinations vying for the title. It was Jennifer Truett's fluid test on Absolute Dream that clinched the coveted sash with 72.794%. The eight-year-old Westphalian gelding (by All At Once x Fürst Piccolo) was twice reserve champion at the Finals in 2021. However, her preparation for this year's class did not exactly go to plan.
"I'm thrilled with this result because we had a warm-up test yesterday at the top of the hill where we only got 62% because he was scared," said the Cincinnati-based rider. "So today I decided to just go as big and bold as I could and give him a lot of confidence and praise him. He was amazing and gave me the best feeling I've ever had. He's only eight and he's always been the bridesmaid, never the bride. This is really his first big win."
Truett trains with Olivia LaGoy-Weltz, who had a remarkable five students in the class. She found "Dreamy" as a two-year-old in Holland at Reesink Horses. 
"I fell in love with him on the cross ties and then I saw him move, and he was so elastic – like a cat," added Truett, whose test was lavished with a good smattering of eights. "He couldn't have made me happier today."
Intermediaire I Adult Amateur: A Unanimously Good Friend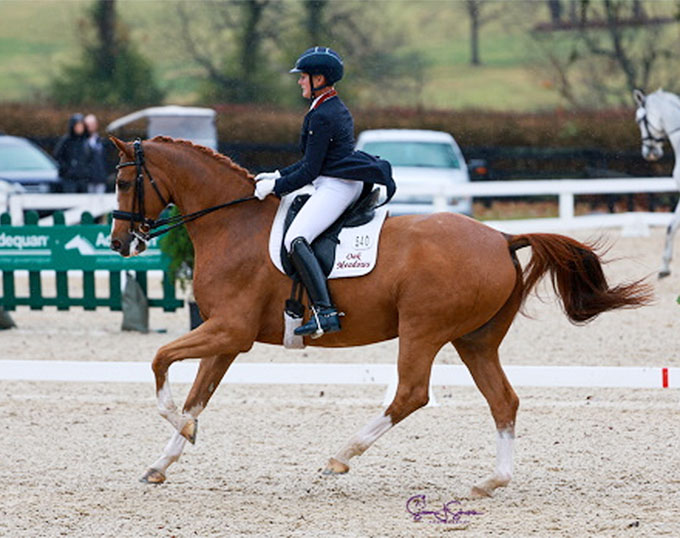 Cecelia Stewart and Friend were the only combination to break the 70% barrier in the AA Intermediate I championship. The rider from North Carolina was awarded first place unanimously by all three judges, finishing on a score of 70.343%. Stewart's own Dutch gelding is by Rousseau out of a Tango dam. The reserve champion, Lisa Valone, rode the oldest horse in the class, the 22-year-old Iggi Pop, to 66.225%.
"I'm incredibly proud of everything Friend has accomplished," said Stewart of the 12-year-old she bought in Belgium at Dirk Fiechter's sales yard six years ago. "Every mistake that he ever makes is my fault; he gives his heart and soul in the arena, especially at show time. We've been working on the piaffe/passage, with help from my trainer Christopher Hickey, so I'm anxious to move forward now."
Grand Prix Adult Amateur: Anartz Chanca Continues to Dazzle
Every test Anartz Chanca has touched at the 2022 Finals has turned to gold, and Friday was no exception. He added two more winners' blankets to his collection: The first win at FEI level came courtesy of his morning ride on his Oldenburg gelding Dazzle in the Amateur Grand Prix. He piloted the son of Danone I to victory with 66.594% and was also awarded the George W Wagner Jr. Perpetual Trophy. 
The Texas-based rider had already claimed Thursday's AA Intermediate II and was concerned that the 10-year-old may be tired with two demanding tests so close together. His fears were unfounded as, second to go from 13 starters, nobody could better his score. The duo scored a double win in qualifying in Region 9, and here they improved on their Grand Prix score by almost two percent.
Grand Prix Open: Heather Mason Wins Again
The day's hotly contested class, the Open Grand Prix Championship, was held in an atmospheric evening session in the Alltech Arena. A harmonious and mistake-free test from the defending champions Heather Mason and her long-time partner RTF Lincoln (by L'Andiamo) , whom she rides in a snaffle bridle with no flash, was rewarded with 71.304% – earning the win and the Veronica Holt Perpetual Trophy.
Of the 17 combinations in the class, reserve champion went to Shelley Van Den Neste who rode the Dutch warmblood bred Eyecatcher (by Tietse D x Belisar) to 70.616%, with Brian Hafner finishing third on Dream Catcher (69.783%).
Mason and Lincoln improved on their winning score from last year by one percent, proving that, despite being 17 and the equal-oldest horse in the class, Lincoln is still fit and keen to do his job. That is because Mason has figured out exactly how to produce the best from this complex, explosive horse. 
"Ten minutes of lungeing, three to four hours ahead – we have it down to a system," revealed Mason, who is riding 12 tests at this show. "Lincoln has to have his gallop on the lunge. He's been this way since a young horse. It's just taken a long time to figure him out. I then warm him up for about 15 minutes before the test. 
"He was a super boy today. He was on the aids, and his pirouettes were nice and tight. I'm very happy with him. He's one of the easiest horses to ride when he's good mentally. He has a wicked spin on him though, so I have custom made knee blocks, 'Lincoln knee rolls.' He loves to show, and I do too. I love figuring out the different horses," added Mason, who owns 20 of them herself. 
Text by Alice Collins, edited by Eurodressage
Photos © Sue Stickle
Related Links
Heather Mason and 1$ Horse RTF Lincoln Win Inter II Open Championship at 2022 US Dressage Finals
Chanca and Renilla, Husband an Wife, Claim Titles on Day One of 2022 US Dressage Finals