KWPN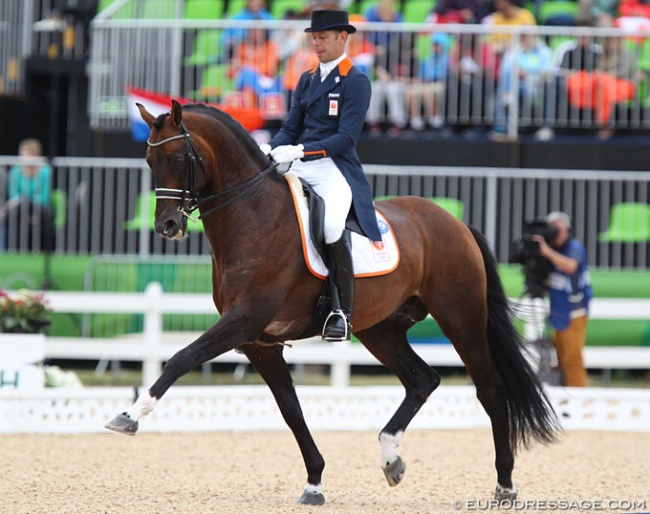 After just one year at the top of the ranking, legendary dressage sire Sandro Hit has been pushed from his number one seat by the KWPN bred Johnson. The Dutch warmblood stallion has topped the 2022 WBFSH Dressage Sire Ranking.
The top three for 2022 sees some considerable changes with Johnson (by Jazz x Flemmingh) in the lead, the Brandenburg Quaterback (by Quaterman x Brandenburger) in second place, and the Oldenburg Sir Donnerhall (by Sandro Hit x Donnerhall) as number three. 
Johnson
Dressage became the discipline with the most changes in the WBFSH ranking this year. Johnson returned to first rank, pushing Sandro Hit from first to eighth place. ,
Johnson's most successful get in the Grand Prix arena are Edison (Laurence Vanommeslaghe), Hexagon's Double Dutch (Thamar Zweistra), Boston Sth (Denise Nekeman), Bolero (Morgan Barbançon), Windermere J'obei W (Melissa Galloway), and Great Escape Camelot (Estelle Wettstein), amongst others. 
Quaterback and Sir Donnerhall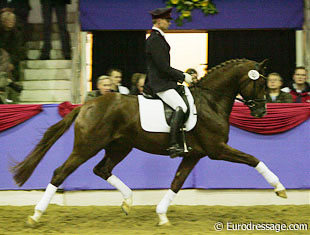 Quaterback moved into second position (from fifth place in 2021) and Sir Donnerhall in third (from fourth place in 2021). He had recently risen from 14th position in 2020 to fourth position in 2021, and continues to be a highly regarded progenitor of quality, and particularly also as an excellent dam sire.
"Quaterback has been just below the top 3 ranking dressage sires for some time. From the motherline of the famous Poetin, he is another example demonstrating that great mothers make great sons. Above all, he has been a progenitor not only of performance, but also of type, with over 70 licensed sons across the world," the WBFSH stated in its press release. 
Quaterback's biggest contributing offspring are Quantaz (Isabell Werth), Touchdown (Patrik Kittel),  Quater Back Junior FRH (Nicholas Wagner), Quartett (Katie Duerhammer), and Quaterboy (Estelle Wettstein).
Bringing Sir Donnerhall to third place are: Serenade Mf (Alice Tarjan), Valentine (Ashley Holzer), Syriana (Mary Hanna), Cavalia (Jessica Howington), and Willingapark Sky Diamond (Jayden Brown).
Calculations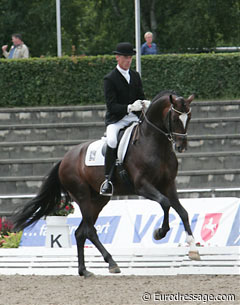 The WBFSH Sire Rankings are calculated and fully verified with the FEI performance data, providing an excellent indicator of the achievements of certain bloodlines in performance breeding. The big take-away message from this year's rankings is the endurance of quality and reliability in certain bloodlines that come through again and again in producing the world's best horses.
Top 10 of 2022
1 29551 Johnson 
2 20467 Quaterback 
3 17911 Sir Donnerhall 
4 15631 Totilas 
5 15516 Jazz 
6 14946 Blue Hors Zack 
7 14072 Fidertanz 
8 13567 Sandro Hit 
9 11984 Bordeaux 
10 11263 Vivaldi 
Sire Ranking: Complete ranking - stallions with offspring
Photos © Astrid Appels
Related Links
Sandro Hit Finally Tops 2021 WBFSH Dressage Sire Ranking in Year of His Passing
Johnson Storms to the Top of 2020 WBFSH Dressage Sire Ranking
De Niro Tops 2018 WBFSH Dressage Sire Ranking
De Niro Tops 2017 WBFSH Dressage Sire Ranking
De Niro Tops 2016 WBFSH Dressage Sire Ranking
De Niro Tops 2015 WBFSH Dressage Sire Ranking
Gribaldi Leads 2014 WBFSH Dressage Sire Ranking
De Niro Leads 2013 WBFSH Dressage Sire Ranking
De Niro Tops 2012 WBFSH Dressage Sire Ranking
Jazz Continues To be the Number 1 Dressage Sire on WBFSH Ranking
Jazz Tops WBFSH Dressage Sire Ranking for 2009
Jazz, Most Successful Dressage Sire on the 2008 WBFSH Ranking
The Inaccuracy of the WBFSH Ranking