PRE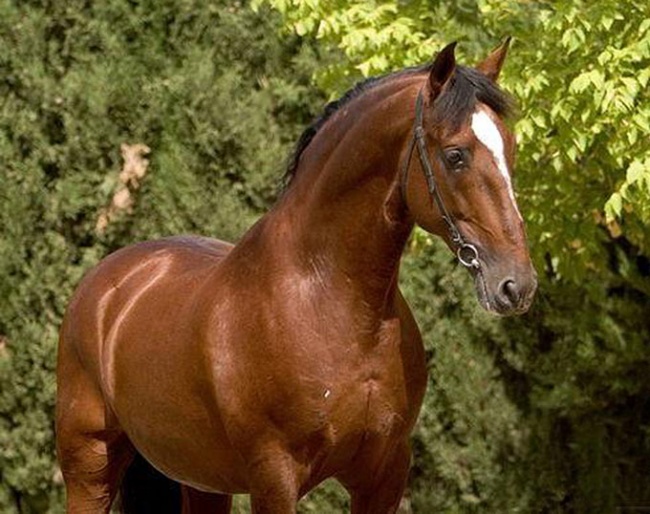 Utrerano VII, one of the most successful sires that produced PRE dressage horses for sport, has passed away on 9 January 2023. He was 30 years old.
Cardenas
The bay Utrerano VII was by Lebrijano III out of Utrerano IV (by Levante III x Senorito XIX
He was bred by Miguel Bohorquez Ruiz and owned by Miguel Angel de Cardenas Osuna. In his career he produced 293 offspring and stood at stud at Cardenas.
The stallion became the foundation sire of Cardenas stud and for his breeding success was declared "Elite Stallion" by ANCCE. Fifteen stallions had PRE "Elite" status in 2022, but this status used to be more exclusive because in 2020 there were only six sires named and those were Utrerano VII, Ermitano III, Evento, Impaciente II, Cacique IX and Kabileño VIII. 
Legacy
Utrerano VII sired numerous internationally successful PRE offspring; his most famous being Juan Munoz Diaz' Fuego who was member of the Spanish team at the 2010 World Equestrian Games in Kentucky. 
Other stand-out dressage offspring are Bolero CLXVIII (Daniel Martin Dockx, Kerrigan Gluch), medium tour horse Jeque XXVII (Veronica Wincents), World Young Horse Championship participant Maximo BCN (Annabelle Collins,  Natalie Banks), as well as national level FEI horses Taranto CLXVIII (Alejandro Perona), Lebrijana LXXXIV (Melissa Beardsley), and Tartesio Mac (Suzanne Laporte).
His son Yucatán de Ramos became the double World PRE Breeding Champion at SICAB in the morphology class.
More info on Lily Forado.com
Related Links
P.R.E "Kabileño VIII" Receives the Distinction of Elite Stallion
Munoz Diaz, 2008 Spanish Grand Prix Dressage Champion
Spanish Team Selected for 2012 Olympic Games