Saddlery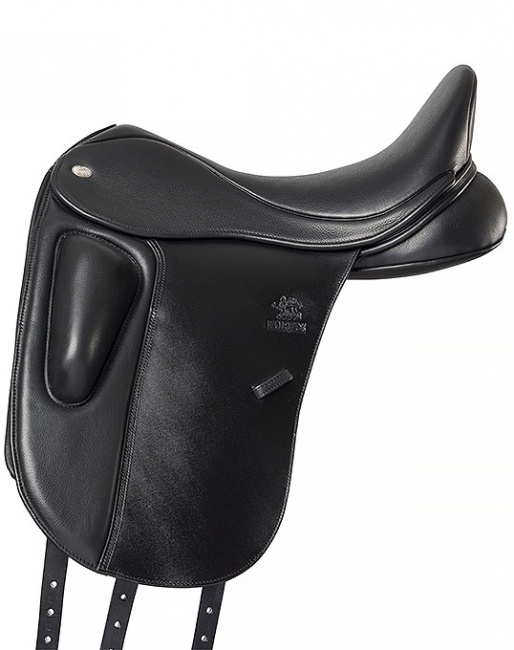 The Fairfax Classic Monoflap Dressage is the saddle for the rider seeking a monoflap design and a professional close-contact feel but who finds bigger blocks restrictive or uncomfortable.
The surface-mounted block is sized so as not to interfere with the rider's seat or balance but, instead, to enhance stability and position.
It's a good option for the rider who finds the large surface-mounted thigh block of the Fairfax Performance dressage saddles too restrictive - the forward seat still encourages the rider to sit up through the core in a true dressage seat.
Handmade in England
Features include:
All Fairfax saddles are designed using the scientific research and development that goes into their Performance and World Class ranges. Every saddle benefits from Fairfax's pressure-relieving design experience – so the horse benefits too!
Handmade in England using finest English leather with super-soft full-grain hide on the seat and knee pad
The wool-flocked panels are lined with a layer of Prolite® for proven pressure distribution, while still allowing for traditional re-flocking on site
British wool flocking provides superior softness and comfort for the horse. Each saddle has two flocking slots which make it easy for your saddle fitter to make quick fitting adjustments on site
All Fairfax saddles feature a changeable gullet bar which allows the saddle fitter to choose the width fitting that best suits the profile of the horse's withers. The bars can be changed quickly and easily as the horse develops or changes shape
Multiple Girthing Options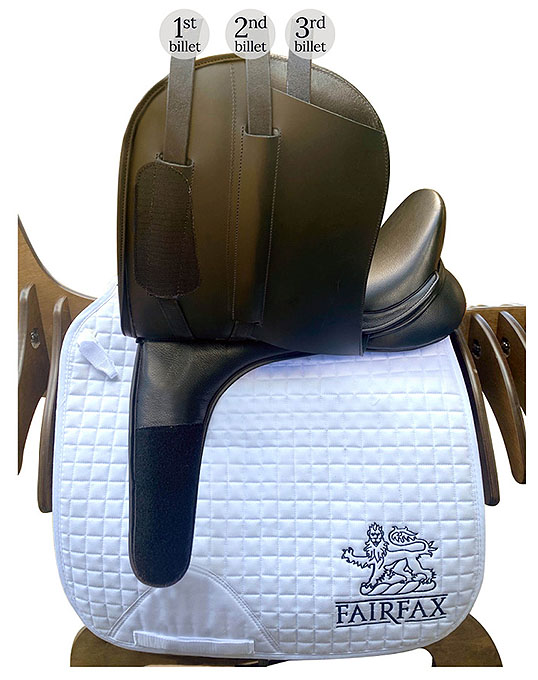 The Classic Monoflap Dressage has multiple girthing options - unique to a dressage monoflap - which help achieve optimum stability on all conformations.
Begin in the neutral position using the second and third billet. If the saddle shifts forward when the horse is ridden, switch to the first and third billet.
If the saddle is still moving forwards, pull the first billet out of the sleeve in the flap and slide it through the slots at the top and bottom of the leg of the panel.
Never, under any circumstances, use the first and second billets as this will unbalance the saddle
Availability
Available in 17" 171/2" and 18" in black only.
RRP €2495