Great Britain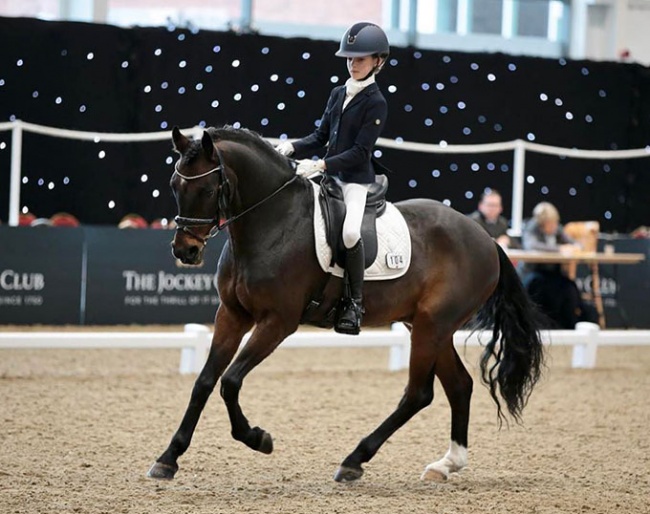 British Dressage has announced the names of the long listed riders who will be in contention for team selection for the 2023 European Championships for pony, children, junior and young riders. 
While the new "squads" for 2023 have not yet been published, British Dressage has already announced the team candidates for the long list for summer European Championship team selection.  British Dressage U21 Selectors, Nikki Herbert, Richard Baldwin and Stephen Arnett, made their pick. 
This list indicates combinations from which the Team and/or Individuals and Reserves may be selected, but it does not preclude any that are not named but may still obtain scores that would be considered for selection.
Short lists will be announced by 17 April, with the actual teams and reserves announced during the week of 12 June.
Children
Ella-Grace Dovey (12) - Flaviano (bay stallion, 2008, Florencio I, HANN)
Pony Riders
Sofia Games (14)  - Next Black Magic (black gelding, 2008, Nabucco R x FS Pour L'Amour, WESTF) and Steendieks Cadillac (chestnut gelding, 2011, FS Chambertin, HOLST).
Ella Glennon (15)  - Amden Supreme Golden Dancer (palomino gelding, 2016, Dating AT x Scampi, DRP).
Fi Grabham (15)  - Hilkens Showgirl (palomino mare, 2013, Dreidimensional x Champion De Luxe, WESTF).
Myles Graham (15)  - Dresscode Cocktail (dun gelding, Top Carlos Cassini, WESTF).
Abigail Gray (14) - Godrics Campeggio (dark bay gelding, 2009, Caesar 171 x Apslau xx, SPSS) and George Clooney B.S (grey gelding, 2011, Caesar 171 x Santano, KWPN). 
Evie Head (12)  - Brouwershaven's Leonie (bay mare, 2010, Heidehof's Don Diego x Vita Nova's Hanassie).
Demi Howard-Cartwright (15) - Fin C WE (chestnut gelding, 2003, Famos x Eiger III) and Don de Luxe (palomino gelding, 2012, Champion de Luxe FS x Dornik B, RHEIN).
Fleur Pocock (14)  - Brouwershaven's Jasper (bay gelding, 2012, Valerio x Vita Nova's Hanassie).
Isla Sully (14)  - Reitland's Don Totilas (dun gelding, 2007, Diamond x Nixen).
Junior Riders
Poppy Burner (17) - Cillnabradden Evo (black gelding, 2006, S Creevagh Ferro Ex Siebe x King Henry, ISH).
Francesca Cawley (17)- Super-G (chestnut gelding, 2010, Belissimo M).
Mette Dahl (16) - Cashmir (bay gelding, 2007, Sandro Hit, KWPN).
Myles Graham (15) -  Nibeley Union Hit (dark bay mare, 2007, Nibeley Union Jack x Sandro Hit, AES). 
Morgan Haerr (16) -  Floran (bay gelding, 2006, Florestant).
Emma Howson (17) - Junky XL (black gelding, 2014, Ampere, KWPN).
Ruby Hughes (15)- Bee Gee 8 (bay gelding, 2006, KWPN) and  World Exclusive (chestnut gelding, 2006, World of Dreams x Rohdiamant, WBS).
Gracie Morgan (17)-  First Pitch (bay gelding, 2011, First Selection).
Isla Sully (14) - Vagabond de Massa (bay gelding, 2009, Reito x Xaquiro, LUSIT).
Young Riders
India Durman-Mills (18)- Escade (bay gelding, 2009, Jazz, KWPN).
Maddy Frewin (19) - Blue Hors Dexter (black gelding, 2007, Don Schufro x Blue Hors Cavan, DWB).
Lilah Gibbs (20) - Dude III (black gelding, 2011, Dancier x Rubinstein, HANN).
Oliver Gould (18) - Feiner Stern II (black gelding, 2010, Tango, KWPN).
Jessica Hickey (20) - Eagle Nouvelle (bay gelding, 2009, Singapore, WBS).
Chloe Hill (19)  -  Bon Jovi (chestnut gelding, 2006, UB40 x Krack C, KWPN).
Ruby Hughes (15) - World Exclusive (chestnut gelding, 2006, World of Dreams x Rohdiamant, WBS).
Jessica McConkey (20) - Lady Gaga (bay mare, 2009, Quaterback x Solos Landwind, DWB) and Wilson Stensvang (dark bay gelding, 2010, Wilkens x Blue Hors Don Schufro, DWB).
Annabella Pidgley (18) - Espe (bay mare, 2014, Escolar x Dimaggio, WESTF)
Related Links
British Long lists for 2022 European Youth Championships Announced
British Youth Squads for 2022 Announced