The Netherlands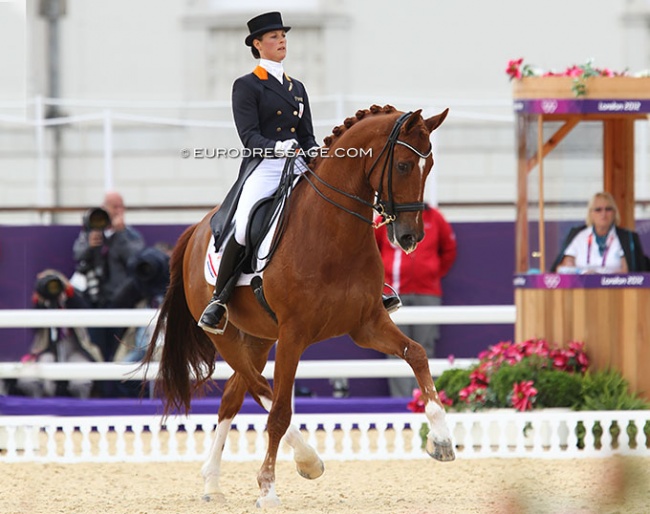 Adelinde Cornelissen's career making and Olympic medal winning Grand Prix horse Parzival has passed away. He was about to turn 26.
Parzival was a Dutch warmblood gelding by Jazz out of Fidora (by UIft x Roemer x Ulex). He was bred by J. Beijer.
Johan Hamminga
First owned by Cornelissen in partnership with Henk Koers, Parzival was trained from young horse level to Grand Prix by his life-long rider Adelinde under the supervision of Johan Hamminga. 
Hamminga was the coach who fostered this horse and rider talent and prepared it for the stellar career they were about to have. They made their international Grand Prix debut in 2007 at the CDI Zwolle and scored 66.167%. That year they competed in Den Bosch, Gelderland, Rotterdam, Falsterbo and Herentals.
The duo made it big break through in 2008 by becoming Dutch Grand Prix Champions and rocking the establishment with their sudden surge to the top. They turned heads at the 2008 CDIO Aachen. 
They were the travelling reserves for the Dutch team at the 2008 Olympic Games in Hong Kong, where they got first taste of the Olympic ambrosia.
These first successes made Adelinde quit her day time job as a school teacher and become a professional rider.
2009 European Champion with a World Record
Dutch team trainer Sjef Janssen had taken Cornelissen under her wings and trained her steady from then on. It changed her riding style but increased her success.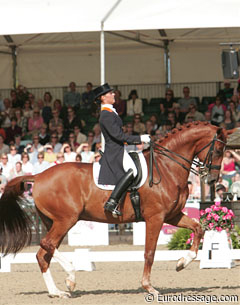 Between November 2008 and August 2009 the pair competed in twelve CDI classes and won 8 of them. They went to the 2009 World Cup Finals in Las Vegas but a small injury forced them to withdraw on the spot.
The horse recovered quickly and came back to full form. They would probably have been invincible if not for the coming of Edward Gal and Totilas.
At the legendary 2009 European Dressage Championships in Windsor, a battle of the titans ensued. The Netherlands won team gold and the Grand Prix Special became one of the most thrilling dressage classes in modern dressage sport history.  Cornelissen and Parzival crushed Totilas' Ten Minute old Grand Prix Special world record (84.042%) and claimed individual gold. In the Grand Prix freestyle they were second and got silver. 
Parzival's co-owner Henk Koerswanted to sell his 50% ownership share at that time and Austrian transport mogul Herbert Jerich came to the rescue and bought the half share. He gave it to Adelinde in exchange for brand representation during Parzival's career. 
Roller Coaster Career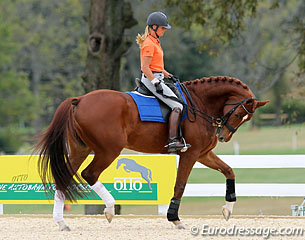 Parzival's career was a roller coaster with many absolute highlights but also several bumps in the road.  The chestnut became known for many stellar movements, such as exemplary tempi changes and pirouettes and an impressive piaffe-passage tour, even though he was often strong in the bridle contact.
In 2010  they were second behind Totilas in their first World Cup Finals in 's Hertogenbsoch.
As members of the Dutch team they travelled to the 2010 World Equestrian Games in Lexington, but were eliminated in the Grand Prix for blood in the mouth. As a team, The Netherlands won gold. Dutch team vet Jan Greve tried to minimise the incident at the time by stating it was a minor slit in the horse's tongue. It triggered new discussions about the blood rule in FEI dressage sport
Cornelissen's rollkur/LDR/hyperflexion training style and heavy handed riding of her hot redhead gave her tremendous success in the competition ring but also got her fierce criticism from classical dressage lovers outside the arena and in the press. 
2011 European Champion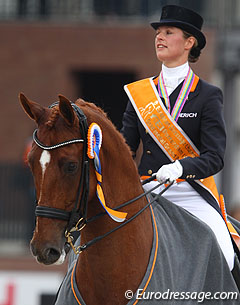 In 2011 the pair were on top of the world. Totilas had sold to Germany and it cleared the way for Cornelissen and Parzival to be the ruling number one. 
They won the 2011 World Cup Final in Leipzig and went on to win team, Grand Prix Special and Kur gold  at the 2011 European Dressage Championships in Rotterdam, even though Carl Hester and Uthopia gave them a little scare when they placed first in the Grand Prix and pushed Cornelissen into second spot.  Parzival was named KWPN Horse of the Year 2011
Silver at 2012 Olympics, But British Best
In 2012 the British threat increased even further as Charlotte Dujardin and Valegro had begun their rocket ascent to the top. 
At the 2012 World Cup Finals Parzival failed the horse inspection and had to be represented. Adelinde's technique of riding Parzival in the morning, untacking him and then running him straight away into the re-inspection to get an "accepted" was not appreciated by her fellow competitors, but apparently allowed by the FEI. The pair ended up winning the World Cup Finals, but a new rising star duo - Helen Langehanenberg and Damon Hill - had also conquered the hearts of the crowds.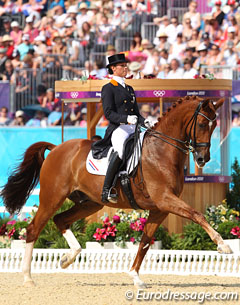 Cornelissen travelled to the the 2012 Olympic Games in London as the favourites for gold but she ended up being bested three times by Dujardin and Valegro, who won historic gold, on home turf. Nevertheless Cornelissen achieved an extraordinary feat and got team bronze and individual silver, which she later on named the highlight of her career with Parzival. For Dutch dressage, Cornelissen took over the baton from Anky van Grunsven as an Olympic medallist. 
In November 2012 coach Sjef Janssen and Adelinde parted ways when Janssen was diagnosed with a brain tumour and he cut back on his clients. Adelinde turned to her old coach Johan Hamminga for help.
Third Euros, This Time Bronze
At the 2013 World Cup Finals in Gothenburg, the Dutch finished second behind Langehanenberg and Damon Hill.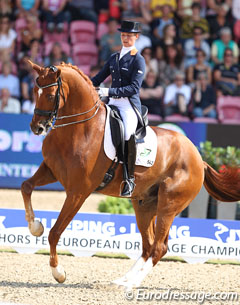 The now 16-year old Parzival was starting to show signs of mileage and got diagnosed with cardiac arrhythmia. He missed out on the 2013 Dutch Championships and was operated on. He returned back to fitness by being trained with a heart monitor. 
Dutch team captain Wim Ernes gave the pair a bye and selected them for the team for the 2013 European Championships in Herning, where they won team silver and double bronze in the Special and Kur. At this Championship, Adelinde was supported by Hamminga.
Cornelissen rode Parzival one month later in the CDI Vienna and then gave her horse a good break from international showing to return to the CDI arena 9 months later in June 2014
2014 WEG Kur Bronze
Still a fixture for the Dutch team at age 17, Parzival returned to the arena at the CDI Arnheim and then did Rotterdam and Aachen back to back but at the latter show he was "only" 7th and 6th in the Special and freestyle.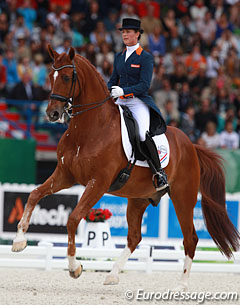 At the 2014 World Equestrian Games in Caen, France, though, the chestnut rose like a phoenix with a third place in the Grand Prix (Holland was fourth), a fourth place off the podium in the Special, and back on the podium for bronze in the freestyle. 
No Fourth Europeans
After Caen, Cornelissen rode another three indoor shows with her 17-year old, but then gave him a spring break. 
At the 2015 CDIO Rotterdam they were third but at the subsequent Dutch team selection trial at the Nationals for the 2015 European Championships in Aachen she has to withdraw because Parzival was not fit to compete.  The pair missed what would have been their fourth consecutive European Championship in seven years time.
In the summer of 2015 Adelinde first hinted at a possible retirement of Parzival in 2016, but went on to ride the 2015 CDI-W Stockmholm and 2016 CDI-W Neumunster. 
Hamminga and Cornelissen ended their collaboration and Adelinde started to reply on her boyfriend Aris van Manen as her eyes on the ground. 
Sunset in Rio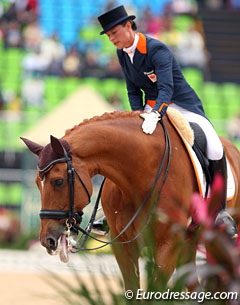 Instead of retiring Parzival at the height of his career, Cornelissen tried to hold on to competition success and glory. Her tenacity to stay in the game took an unfortunate toll at the 2016 Rio Olympics.
That spring she rode Parzival in the 2016 Dutch Championships, where they earned another bronze with 76.880% in the Grand Prix and 81.425% in the Kur.  Adelinde also competed him at the 2016 CDIO Compiegne and in Rotterdam with mid seventy percentage scores, plenty enough for team trainer Johan Rockx to give her an Olympic team spot for the second time. 
Unfortunately the 19-year old Parzival did not finish on a high note in Brazil. At the horse inspection in Rio he passed the jog with his tongue hanging out of his mouth. In the Grand Prix he was a shadow of his former self. There was no steam in the tank and he stuck his tongue out. In the walk, Adelinde retired. The horse walked out of the arena with his tongue lolling out.  What should have been a beautiful swan song became a low point in a career filled with incredible highlights and historic moments for dressage sport.
Cornelissen later on explained that the day before the Grand Prix Parzival suffered from a jaw infection due to a bug bite. The Netherlands had not brought a travelling reserve to Rio (Madeleine Vrees - Cennin). Despite the infection Adelinde chose to ride Parzival. In November 2016 Vrees was suspended for openly questioning federation policy over this incident. 
Retirement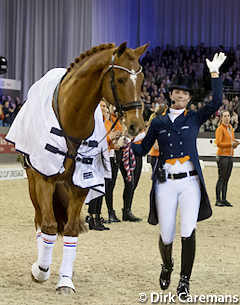 Rio was Parzival's final show.  Half a year later the chestnut gelding was celebrated one more time in public in a retirement ceremony held at the 2017 CDI-W 's Hertogenbosch.
While Frank Sinatra's "I Did it My Way' was played, Cornelissen dismounted and gave presents to  the most important people in her career and then walked her horse out of the arena in hand, while the audience gave them a standing ovation. 
Parzival spent another seven years in retirement at Adelinde's stable in Nijkerk, The Netherlands.  He passed away on 2 February 2023. No cause was disclosed. 
He will be remembered as one of the greatest, most successful horses in modern dressage sport. 
"Big Boss Parzival"
In a message on social media, Adelinde announced Parzival's passing today. 
"I feel humble and privileged to have met you and learned to get to know you… not because of the championships you won, but because of the personality you were…
It was quite a challenge convincing the big, shy, suspicious and scared chestnut you were, you could trust me and the world around you.. But once we trusted each other , we became a team. For the past 21 years we were inseparable! Every day together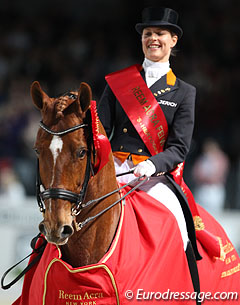 He taught me: Love, trust, respect, friendship, loyalty,passion, live life to the fullest, try the best you can be every day, enjoy the little things, never give up….. dreams can come true! He made me the person I am today! And I am for ever thankful for that!
A real professor he was. He brought the grooms to the field every day, he would step on your toes if you tried to stop brushing or scratching him. He would try and scare new grooms trying to enter his stable, after a few years he was so confident with cameras he would stop and pose as soon as he spotted one! I have never met such a personality!
I am crying writing this.. not knowing how to live a day without you, my best buddy, my soulmate, the one that will go through fire for me and I for him… I am devastated and heartbroken..
It hurts thinking about days without you, Parzi…It feel so empty already….
Thanks Parzi for an amazing journey and wonderful memories… I will cherish them..
Forever in my heart
Text and Photos © Astrid Appels - No reproduction allowed
Related Links
Eurodressage Photo Database: Parzival 
Parzival Officially Retired from Sport at 2017 CDI-W 's Hertogenbosch
Retirement Ceremony for Parzival Scheduled at 2017 CDI-W 's Hertogenbosch
Cornelissen Confirms Parzival's Retirement
Austrian Herbert Jerich Secures Parzival for Adelinde Cornelissen
Parzival Crushes Totilas' Ten Minute GP Special World Record at 2009 European Championships
Henk Koers Wants to Sell his Half of Parzival