U.S.A.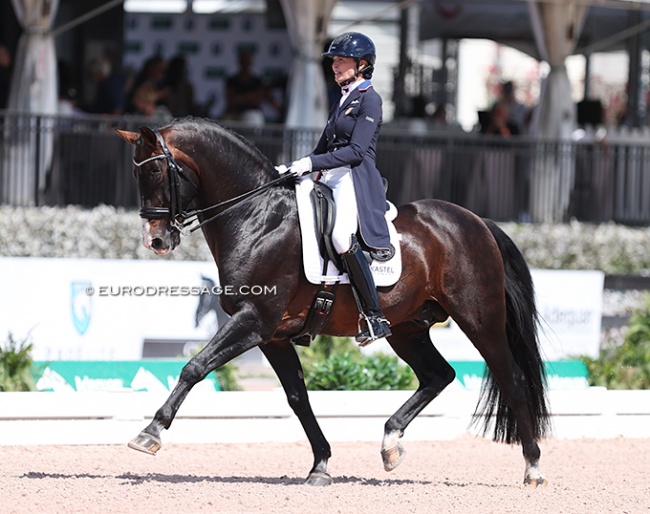 Charlotte Jorst has decided to retire her number one horse in the barn, the 20-year old KWPN stallion Nintendo. The horse competed in his final show at the 2023 Palm Beach Dressage Derby on 2 - 3 March 2023.
Nintendo is a 2003 born Dutch warmblood by Negro out of Rodieni R (by Monaco x Glendale).
Van Olst
Initially owned by Gert-Jan van Olst, Nintendo was originally called Waterloo.
He was presented at the 2006 KWPN stallion licensing but rejected in the Stallion performance Testing. In 2007 he was re-presented at the after-licensing but rejected again by the licensing committee. Instead Van Olst presented the 5-year old Nintendo at the licensing of the smaller NRPS society in 2008, where he got accepted. His name then changed from Waterloo to Nintendo.
Denmark
The stallion sold to Anna Kasprzak as future Grand Prix horse but she never clicked with him.  In 2012 the horse moved to the stables of Andreas Helgstrand to be prepared and sold.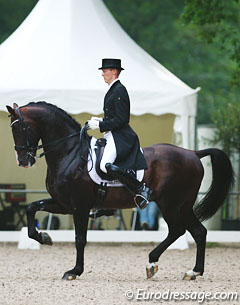 Helgstrand's assistant trainer Thomas Sigtenbjerggaard began competing Nintendo nationally in Denmark in November 2012. In 2013 the pair made its international debut and competed at CDI's in Mannheim, Rotterdam and Falsterbo. They were the guinea pigs at the 2013 European Dressage Championships in Herning. The duo Sigtenbjerggaard/Nintendo became the centre of attention in a rollkur debate that flared up in Denmark after the 2013 Danish Grand Prix Championships. 
U.S.A.
In November 2013 Nintendo sold to Danish born American Charlotte Jorst as her Grand Prix schoolmaster. Jorst at the time was on a shopping spree at Helgstrand and bought a string of horses there, many of these were returned for not being fit or not clicking with the rider. Nintendo, however, proved to be the best match and the horse has been a real partner to her, aging like red wine.
For nine years non-stop, from 2014 till 2023, Jorst and Nintendo competed on the international show scene. The pair recorded no less than 123 CDI competition starts in their career together, according to the FEI database, and 25 of these were victories!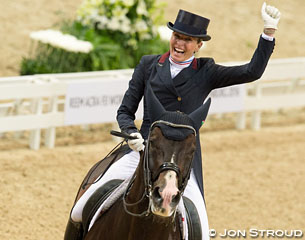 Her goal was team selection for the Olympics but they never made that elite U.S. team. Instead Jorst and Nintendo first represented the U.S.A. at the 2015 CDIO Nations Cup in Rotterdam and Hagen. In 2017 at the CDIO's in Falsterbo and Hickstead, in 2019 in Wellington and Geesteren; and in 2021 as well as in 2022 at Aachen.
They also represented the U.S.A. at the World Cup Finals in Gothenburg in 2016 where they were 12th in the Kur finals
Retirement
Jorst and Nintendo were consistent 70% scorers but most recently in Wellington their Grand Prix score got stuck at 68 and 67%. Charlotte has now decided to retire her 20-year old after a 5th place in the World Cup qualifier in Wellington on 3 March 2023.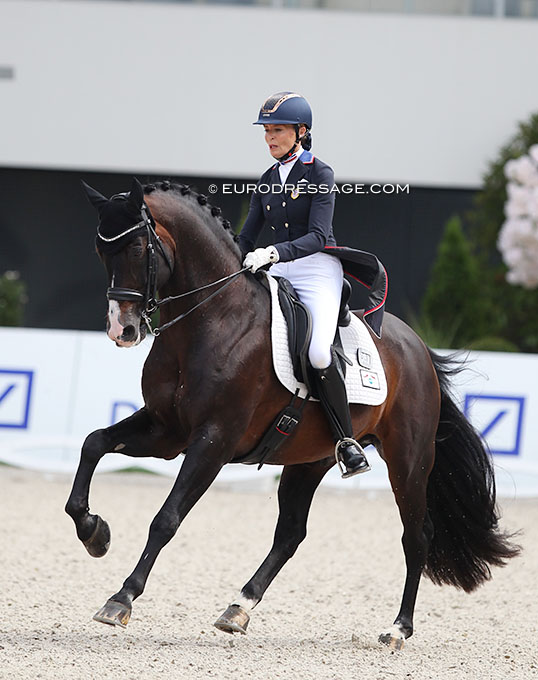 "This has been the hardest week. Nintendo will be retiring. He is 20 years old. No partnership will ever be the same. That horse has given me everything over and over," Jorst took to Instagram. "I have not been brave about this, it's been such a hard decision. Every time I even think about it I start crying. I've probably waited too long, it's hard to say because he wants it so badly and after Friday night he's been so happy. It was one of the best nights of his life!"
A special retirement ceremony is planned for the CDI 5* Wellington on 17 March.
Jorst sees Zhaplin Langholt as Nintendo's successor at Grand Prix level. She also has three Nintendo clones who are now yearlings. 
Photos © Astrid Appels - Jon Stroud
Related Links
Eurodressage Photo Database: Nintendo
Charlotte Jorst Clones Nintendo, Two Clones Born on 9 May 2022
Jorst's Nintendo Aging Like Red Wine, Fourth Victory at 2022 Global Dressage Festival
Jorst Returns with Nintendo and Wins, Wandres and Bluetooth on Top at 2022 CDI-W Wellington
Jorst and Nintendo Win 3* Grand Prix at 2017 CDI Wellington
Anna Kasprzak's Nintendo Sold to the U.S.A