Great Britain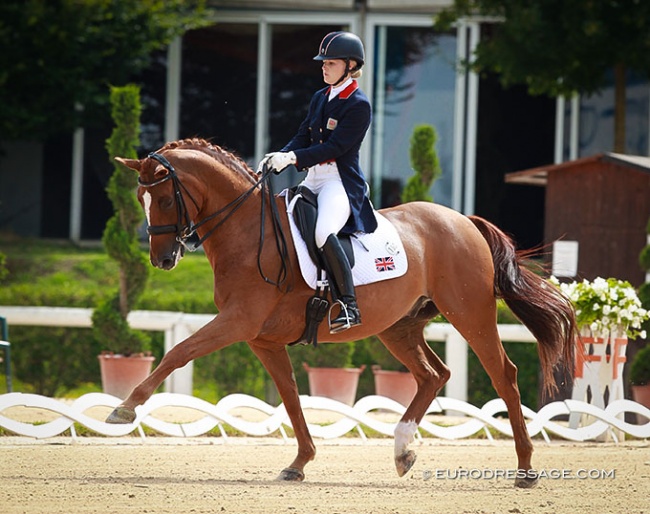 Donna Summer, a key horse for the British youth riders teams in the 2010s, has passed away last night 13 March 2023 at home, Ellie McCathy's Forest Oak Equestrian. 
The 22-year old British Hanoverian bred gelding Donna Summer was by Dimaggio out of Belinda (by Don Primero). He was bred by H. Hyde-Saddington and owned by Ellie McCarthy.
Olivia Oakeley
Under Olivia Oakeley the chestnut, who was nicknamed "Rio", was first competed in the U.K. at age 7 in 2007.
The pair truly gelled and went on to represent Great Britain on the British junior and young rider teams at European Championships five years in a row between 2010 and 2014. The highlight of their career was placing 6th in the Kur at the  2014 European Young Riders Championships in Arezzo.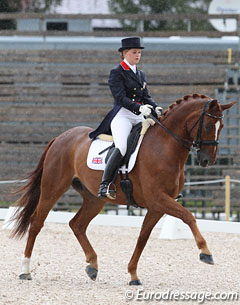 After Arezzo, Oakeley briefly offered Donna Summer for sale but than changed her mind and kept to horse. Over the winter she and trainer Carl Hester prepared it for Under 25 Grand Prix level but their first international U25 start was not the greatest success and the horse was withdrawn from the 2015 CDI Addington in March 2015.
Olivia continued to show Donna Summer nationally through the spring and summer of that year at Intermediaire II for her to earn mileage and experience. In the summer it was decided to lease the chestnut to the then 15-year old British pony rider Ottilie Bardsley as her future junior rider, but that partnership was very short lived. 
Ellen McCarthy
Instead, it was Ellen "Ellie" McCarthy making her small tour level debut on Donna Summer in April 2016. Her family ended up buying the horse and he stayed with her for the rest of his life. 
McCarthy and Donna Summer represented Great Britain at the 2017 European Young Riders Championships in Roosendaal, where they finished 15th in the Kur Finald.
In 2018 Ellie competed him at Under 25 level at Le Mans and Aalborg. The latter CDI was their last international as a pair.
Abraham, Taylor, Baran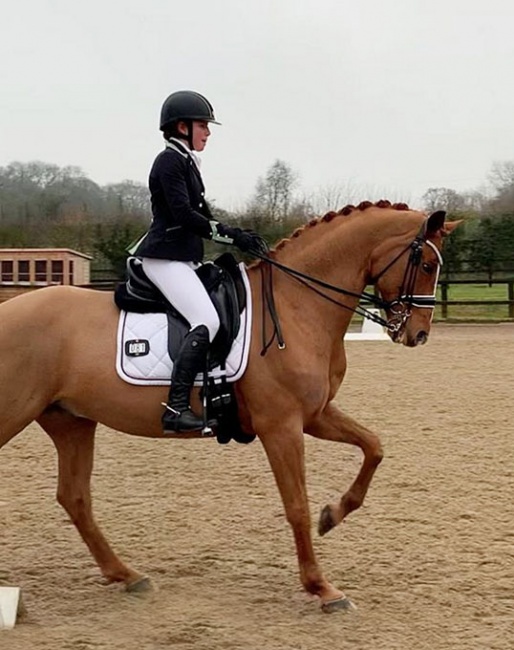 At age 18, Donna Summer was still fit as a fiddle so McCarthy gave the ride to her own student, eventing rider Tarka Abraham. She competed him nationally in Great Britain as of 2019 and in 2020 the pair made its international junior debut at the CDI Keysoe, where they were 9th in the team test but rung out from the individual. In the freestyle they were 10th. It was Abrahama's only CDI as she returned to eventing afterwards.
In the summer of 2020 Stephanie Wood (aka Stephanie Taylor) took over the ride and she made her CDI debut at Keysoe in October 2020 at senior small tour level? She also campaigned him at the 2021 CDI Hartpury.
In June 2022, McCarthy competed the then 21-year old Donna Summer again at the regional show at Merrist Wood College in a Prix St. Georges before her next student, Ukrainian Anastasiya Baran, climbed onboard and rode him straight away down the international centerline at the 2022 CDI Wellington Heckfield, where they were 9th in the junior division. This was Donna Summer's last show in his life. 
Died Unexpectedly
Donna Summer was leading a luxury life at McCarthy's state of the art facility in the New Forest area. Sadly on 13 March 2023 he suffered a a sudden and severe colic attack. In agreement with the veterinarians it was decided to put him to sleep.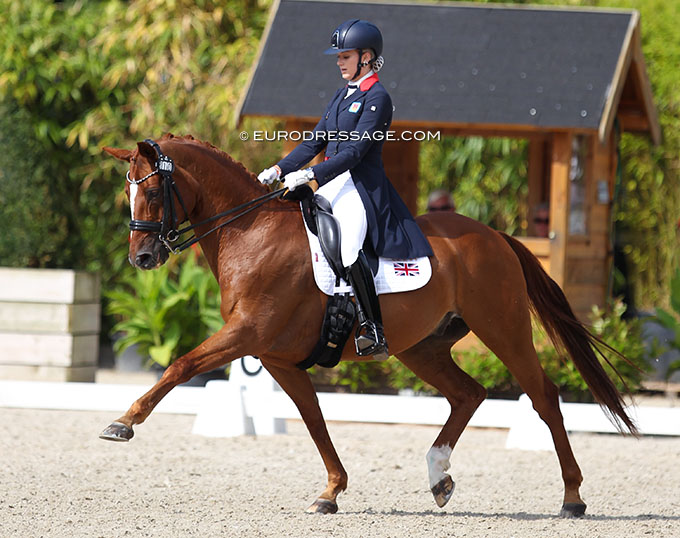 "My heart is broken into a million pieces as I very suddenly had to say goodbye to him last night," McCarthy explained. "There are some horses that come into your life that change it completely.. Rio was that horse for me. Eight years with him wasn't enough but I'm so glad for the time I had with him. At 22 years old he was still completely fit, sound and happy. He taught me everything I know and took me to places I dreamed of! I can't thank Olivia Oakeley and her family enough for trusting me with this special horse all those years ago."
Oakeley added, "there's no words to describe the pain of that phone call from Ellie this morning. My one in a million. I'm so proud to have called you mine and so thankful that you lived out your final years being treated like the absolute king you are, with Ellie."
To Eurodressage, Ellie stated, "he was still teaching people the Grand Prix movements and also spending his days hacking, jumping and in the field with his pony friends."
Photos © Astrid Appels - private
Related Links
Eurodressage Photo Database: Donna Summer
Donna Summer Back on Familiar Terrain with Junior Tarka Abraham
Olivia Oakeley's Donna Summer Leased to Ottilie Bardsley
McCarthy's New Forest Based Equestrian Centre Deals with Daily Trespassers
Tailormade Lancelot Sold to British Young Rider Ellen McCarthy