2023 CDI-W Bawley Point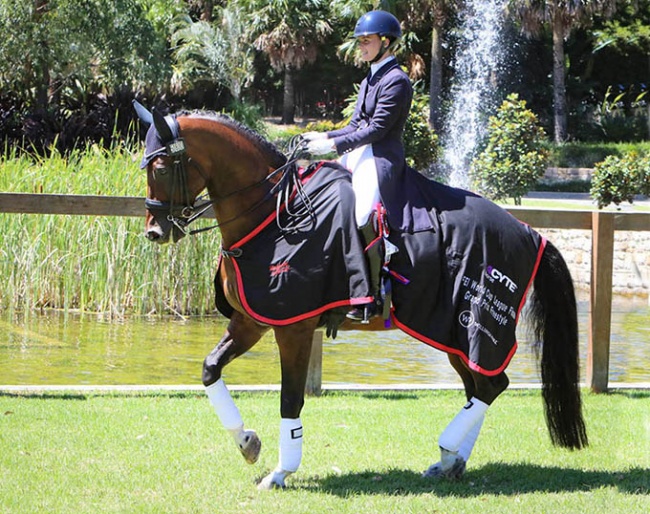 The 21-year old Australian Charlotte Phillips became the surprise winner of the Pacific League (PAL) world cup finals which took place at the "Dressage by the Sea" international competition hosted at Willinga Park in Bawley Point on  23 - 26 February 2023.
The winner of the Pacific League final is automatically qualified for the 2023 World Cup Finals in Omaha (USA), but despite her domestic success the shooting star will not be making the trip abroad, and neither will the second placed rider Kerry Mack, who could have stepped in.
Neither two horses received the mandatory vaccinations against Equine Influenza on time. The riders claim to have received no support from their federation in the potential selection and preparation for the World Cup.
Who are Charlotte Phillips and CP Dresden?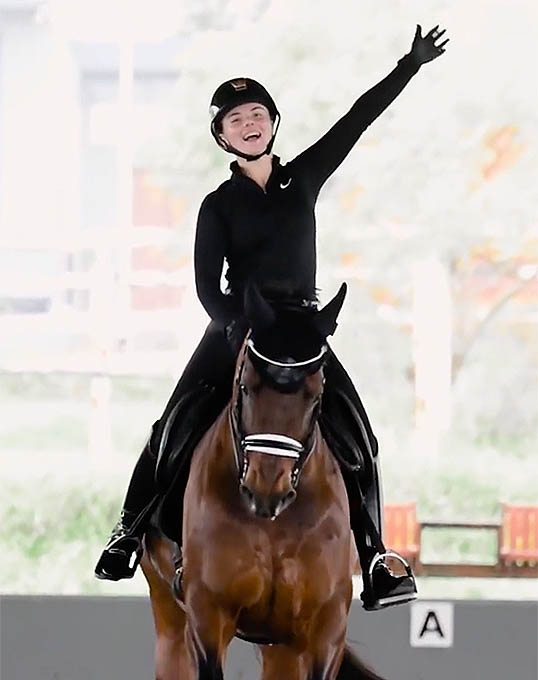 Charlotte Phillips has only been competing at international Grand Prix level for one year with schoolmaster CP Dresden. Phillips' first international dates back to April 2017 when she was still on ponies and competed Australian sport pony Kooralyn Serena in the FEI pony division at the CDI Sydney. 
Five years later Phillips resurfaced on CP Dresden, a well known FEI horse down under. Bred and owned by Jane and 1994 WEG team rider Maurice Bruce, CP Dresden is an Australian warmblood by Damsey out of Callum Park Regardless (by Regardez Moi). Produced to Grand Prix level by Alycia Targa, the gelding made his international show debut at small tour level at the CDI Orange in February 2015 and moved to Grand Prix level in 2017. The pair competed extensively at CDI's in Australia until February 2020 after which the horse got allocated to Phillips as her schoolmaster. 
Pacific League Winner
Charlotte premiered CP Dresden at the 2022 CDI Bawley Point and campaigned him last year in Werribee, Sydney, and Boneo before returning to Bawley Point for the 2023 Pacific League Finals. Her biggest rival for the coveted World Cup Finals ticket was Australian champion Jessica Dertell on former Dutch team horse Cennin (by Vivaldi x Donnerhall). This pair trains with Mary Hanna.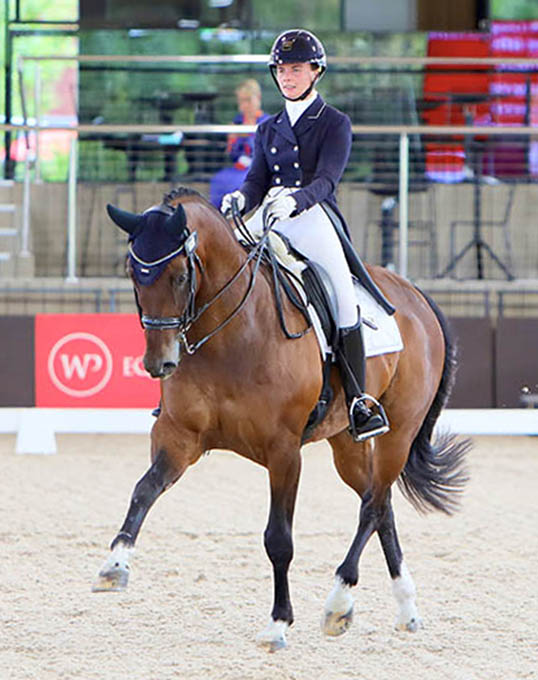 With only three combinations entered for the League Finals, reigning Australian champion Dertell was the hot favourite for the victory, but got rung out in the Grand Prix as her horse was unlevel and therefore didn't make it into the freestyle. This cleared the room for Phillips to ride to a Grand Prix personal best score of 67.152% and claim the victory. Also in the Kur to Music finals she topped the board with a personal best of 74.275%. 
"Desi and I were on fine form for the week, placing second in the Inter II and winning both the CDI-W Grand Prix and Freestyle," Phillips released in a lengthy statement on Instagram, in which she does not mention a word about Omaha. "(In the Grand Prix) it seemed as though Des and I weren't on the same page in our Grand Prix, as he decided that we were only there for a relaxing day out and refused to move forward. Even though this was the feeling on top, we still managed to obtain a personal best of 67.152%. When it came to the GP Freestyle, it was as if Des and I had the same thought process - to send it full throttle. This resulted in the ride of a lifetime. We ended our test on an absolute high, as we finally performed the way we do at home! While cooling down a sweaty Des in the warm up arena, we heard that we had achieved a PB of 74.275%, which we were absolutely stoked with - let alone achieving a World Cup Qualifier."
Phillips is coached by Roger Fitzhardinge.
Twice following in second place was the 62-year old psychiatrist and dressage horse breeder, Dr. Kerry Mack, on her home bred Australian warmblood Mayfield Limelight (by Whisper x Calypso Classic). She scored 61.152% in the Grand Prix and 68.140% in the Kur to Music finals.
Equine Influenza Vaccination
Although qualified, neither of the two Pacific League finishers are eligible to go to Omaha as their horses were not vaccinated against E.I. on time.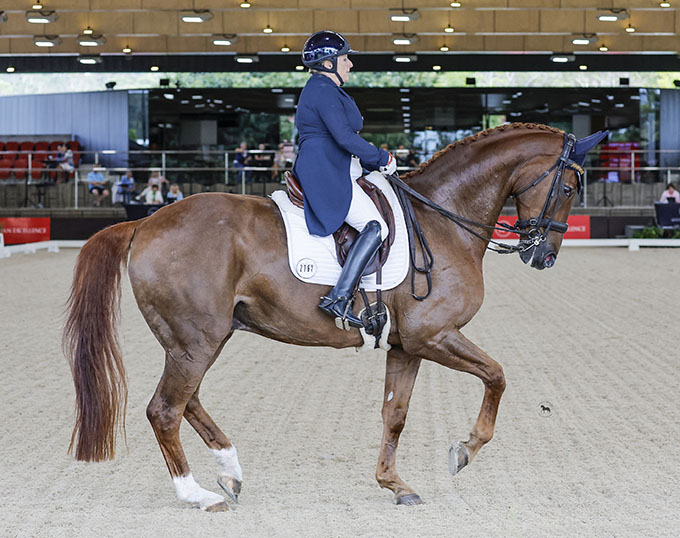 Equestrian Life reported that "FEI events require horses to be vaccinated for EI. An initial Primary Course of two vaccinations must be given; the second vaccination must be administered within 21-92 days of the first. Horses may compete seven days after receiving the second vaccination of the primary course.  However, USA importation regulations require that "the horse has not been vaccinated with a live, attenuated or inactivated vaccine during the 14 days immediately preceding exportation."
This means that neither Phillips or second placed rider Mack can travel to the U.S.A. as their horses are not vaccinated.
"As excited, proud and thrilled as we both were for CP Dresden to qualify for the World Cup in Omaha, we will unfortunately not be able to attend," Charlotte Phillips and Dresden's owner Jane Bruce stated.  "One of the prerequisites to enter the US is to be fully vaccinated against EI. Dresden does not have the time to be fully vaccinated, and subsequently the FEI vets will not allow his importation into the US." They continued, "it is unfortunate that the opportunity to attend was actually not available to our team."
Dr. Kerry Mack told Eurodressage that, "In Australia Equine Influenza is not endemic. The last outbreak was maybe 15 years ago and so Australian horses are not routinely vaccinated. This assists in management of any potential outbreak so that cases are more accurately identified here. In Australia we only have access to the vaccine if we are travelling. You need to be nominated on a squad or have a flight booked. We can't just go to a vet and get it."
Who's Responsible? Due Diligence? 
It can be argued that the Equestrian Australia (EA), Australia's NF, is responsible for assisting athletes representing the country at major intercontinental events and championships.
Mack regrets that the High Performance team of Equestrian Australia did not inform any of the six riders, who were qualified for the Pacific League Finals, that they needed to obtain and administer the first vaccine before the League Finals if they wanted to go to Omaha.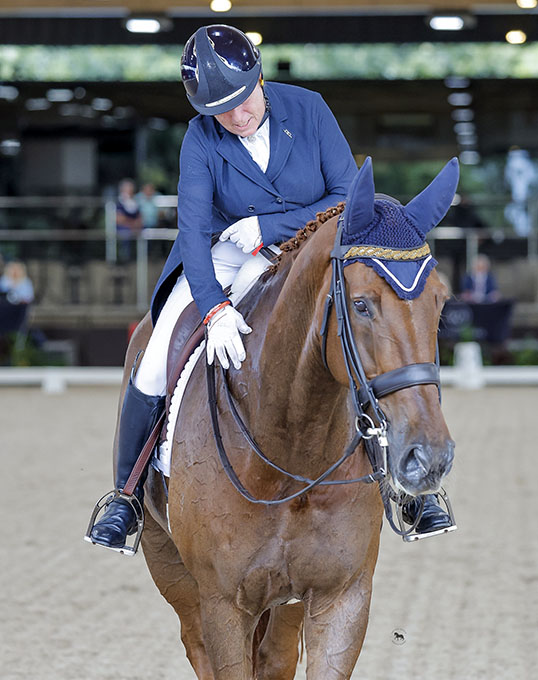 When asked if it's not the rider's duty to do his due diligence and know the FEI rules prior to competing at a big international, Mack replied," I agree that it is the rider's responsibility. However EA should be in service of the members. It is not difficult for them to email us. It takes a team to get to these championships."
A similar Australian vaccination issue occurred at the 2022 World Para Dressage Championships in Herning, where the Australian team horses only just managed to get vaccinated in time for WEG, "as they were not informed by High Performance. They were not allowed onto the venue until the morning of the trot up at WEG due to the lateness of vaccination."
Less than half a year later, Australian combinations at the verge of competing at a major intercontinental champion face the same situation and see an ultimate dream goal curtailed.  Eurodressage twice contacted Will Enzinger, the brand new High performance Manager for Equestrian Australia, but did not receive a reply.
Under the FEI World Cup rules if a Pacific League winner or second place-getter does not accept the position, the FEI will offer the place to a rider who competed on the World Cup circuit this year and is highest ranked on the FEI World Ranking. 
Photos © Roger Fitzhardinge - Amy-Sue Alston - private
Related Links
Scores: 2023 CDI Bawley Point
Willinga Park to Host Pacific League Final for 2023 Omaha World Cup Final