2023 CDI Wellington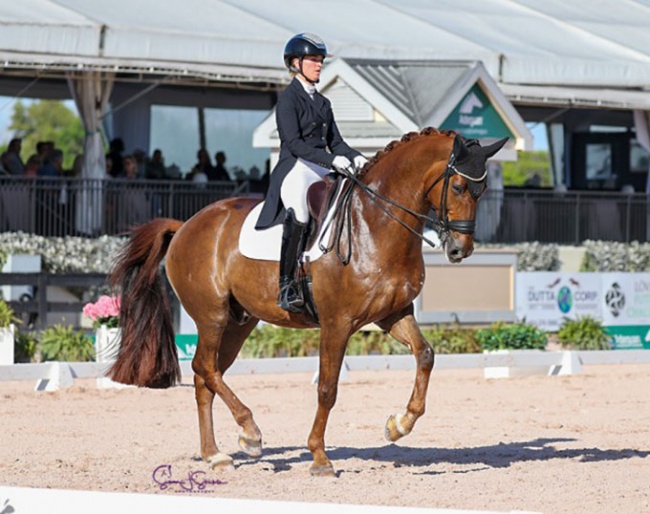 A trip across the ocean is continuing to prove fruitful for France's Morgan Barbançon at the 2023 Global Dressage Festival. On Thursday afternoon 26 March 2023 she did a one-two in the 4* Grand Prix and on Friday night she won the 4* Kur to Music. 
German Frederic Wandres and French Morgan Barbançon have been wielding the axe of power at this year's Global Dressage Festival in Wellington, scooping up all major trophies and prizes in front of an American audience with not a single U.S. top Grand Prix rider able to break this stranglehold on their home turf. 
One-Two
In Thursday's Grand Prix Barbançon first piloted her long-time partner, Bolero, a 17-year-old KWPN gelding (by Johnson x Vincent) into the international ring and produced an overall score of 71.109% to take over the lead position halfway through the class.
"I wasn't super happy with how I rode the trot tour because I felt it was a bit dull and it could've been a bit more powerful," explained the French Olympian of her turn on Bolero. "The canter tour was super today, and he really gave it his all which I think reflected in the scores. I was aiming for a safe test with no mistakes as sometimes I can override, so I am very happy to have had a fault-free ride."
A handful of trips later, she returned as the final entry, this time with her new rising star, the 11-year-old KWPN gelding Habana Libre A (Zizi Top x United) and topped her own score by producing a performance worthy of 72.370%.
"The big baby is becoming a big boy," she laughed of her newer partner. "He was so motivated to go today which made for a really nice round, and it was another great ride to get him in the ring and gaining confidence. When I said go, he immediately jumped to it whereas before he would be unsure, so each day I am able to ride him more to get more out of him. To know that everything in the test can get better but he is already getting such good scores is super motivating."
Vilhelmson Silfvén earned a 70.543% for her ride aboard Devanto, a 14-year-old Holsteiner gelding owned by Lövsta Stuteri AB.
Morgan Dominates on Freestyle Friday
The final Friday Night Stars freestyle under lights of the 2023 Global Dressage Festival (AGDF) was a rainbow podium of flags. 
France's Morgan Barbançon rode her own 17-year-old Bolero to the top of the scoreboard with an assured 76.4% test to a medley of French music. In the culmination of a spectacular first Wellington season for the Switzerland-based rider, she edged out Sweden's seven-time Olympian Tinne Vilhelmson-Silfvén, who had to settle for the runner-up spot on Devanto. Dong Seon Kim (KOR) rounded out the podium, scooping third place on his new ride, Bohemian (73.215%).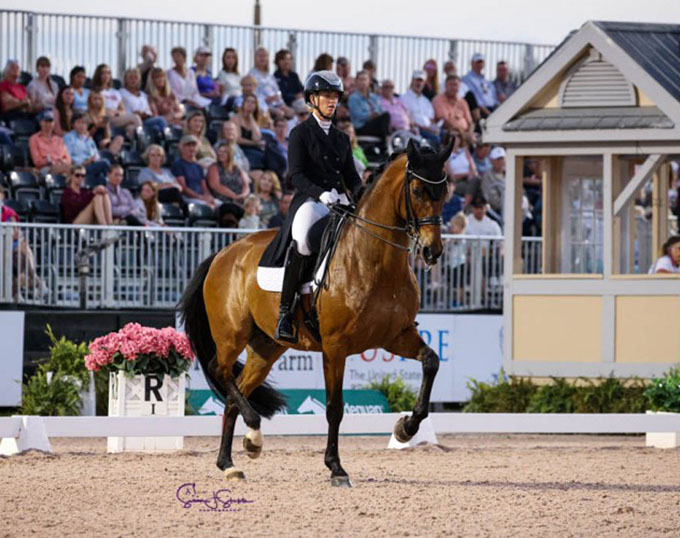 This was the second time in two days that the French national anthem rang out for the 30-year-old Barbançon, as she won the qualifying grand prix on Habana Libre A, who contests the Grand Prix Special CDI4* on Saturday.
"I was super happy especially as this is my last show here this year, so this win tonight under the lights made it the cherry on the cake," said Barbançon, who used to ride for Spain before switching nationalities.
At 17 years old, Bolero was the oldest horse in the field — yet the liveliest in the awards ceremony. When asked how she keeps the son of Glock's Johnson feeling so fresh, Barbançon replied, "I guess it's that the training and the management of how we work him during the week and at shows has been working well. He's done maybe seven shows here and he's just as fresh as the first week, so that makes me really happy. He's done a lot for his age, so he will have a well-deserved holiday once he gets home."
Though her freestyle music was intended for her top horse Sir Donnerhall II — with whom she heads to the World Cup Final in Omaha, NB, next month — it suits the bouncy, compact Bolero.
"This freestyle worked quite well," said Barbançon, who fully intends to return to AGDF next year. "I think it fit Bolero. I love riding him to this music, it makes it a lot of fun. I didn't think this season would turn out this well — the horses have evolved so much throughout the weeks.
"It's amazing to be in one spot and to be able to compete so much without having to travel and for them to gain the experience and the mileage without draining them from the transport," she concluded. "The show and organization is amazing — it's been a mega experience."
Wellington Regular
Vilhelmson-Silfvén, who is an GDF regular, rode Lövsta Stuteri's 14-year-old jumping-bred Holsteiner gelding Devanto (by De Chirico x Lorentin) to 75.715%. She had her hands full in the warm-up when he came out far more fired up than she was expecting.
"I got a surprise today when I came to the warm-up; I thought he would maybe be a little tired, but he was wild and excited outside," said Vilhelmson-Silfvén, who rode to a Cees Slings composed 'Putting on the Ritz' freestyle.
"I didn't know what I'd have when I came in, but when we did, he was like, 'OK, I'm going to work.' He likes to do the job. I'm really happy with the test, but the feeling outside the ring was a little too exciting," added the 55-year-old who heads back to Europe next week with her string of horses.
Do It My Way
The 33-year-old Dong Seon Kim was contesting just his third CDI on Bohemian (by Bordeaux x Samarant), who was formerly ridden by Denmark's Cathrine Laudrup-Dufour to a freestyle score of over 90%. Despite the attention taking over a top horse garners, he does not feel pressure.
"I cannot ever in my life ride like Cathrine, so I don't feel pressure about that, I just try to do it in my way and get the best out of it," he explained. "I'm not a professional rider and I don't want to compare myself to them. Bohemian was ridden by Cathrine since he was five so he's very accustomed to her riding and training and he's also a little bit of a special character. Finally, after almost two months and several shows, I think I know the horse a little bit better, so it's unfortunate that this is the last show in Wellington because if I had a few more I think I could do a little bit better."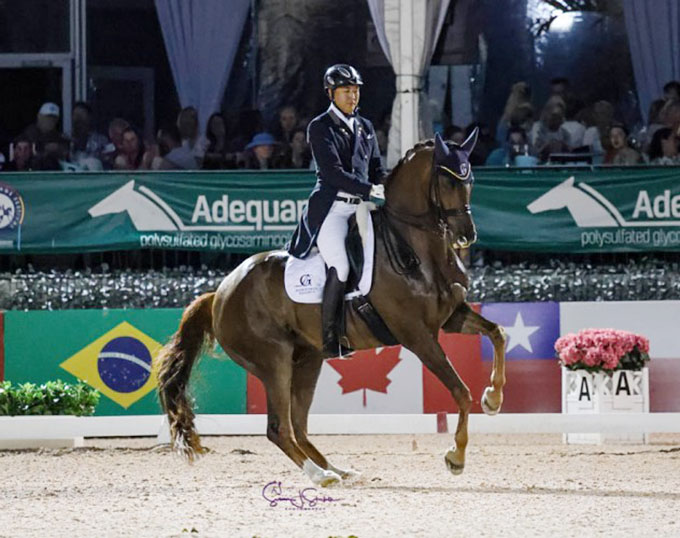 Kim admitted that he attempted Laudrup-Dufour's previous "Les Miserbles" freestyle with Bohemian, but needed something more straightforward at this stage in the budding partnership. So, he rode to his Olympic horse Belstaff's freestyle instead.
"I tried Cathrine's freestyle and it was way too complicated, so I had to dumb it down for me," he said. "I think I'll have to tweak this one a little bit more to get some extra points. In the piaffe and passage the horse is almost like a machine with how he uses his hind legs. In general, he can be quite opinionated at times, and you're not going to get anything done by trying to muscle him around because he's very smart, so you really have to understand him."
Bohemian will return to Germany next week to Kim's base there and will be trained by him and a Hungarian rider who works for him, as well as trainer Christoph Koschel. Kim hopes to compete in Europe over the summer and then return to Wellington soon — maybe even as soon as October.
Spring Break Success for Miles
A healthy field of 26 competitors contested the  3* Grand Prix.  Emily Miles (USA)  made a Spring Break trip to Florida from her home base in Kansas. A 70.413% performance proved worthy of the winner's sash. Barbançon added yet another ribbon to her collection, netting second place with the 12-year-old Deodoro (70.087%). Jennifer Williams (USA) and Joppe K finished third with 69.087%.
Miles rode the 12-year-old Jazz son Java Dulce — a horse owner Leslie Waterman bought at auction in Florida as a three-year-old and Miles has produced up the ladder.
"This is the first time I've come to Florida with my horses, so this win means the world to me, as a professional and for my family, coaches and team," said the 35-year-old, who is part of a tight-knit team at her family's barn and spends mornings cleaning stalls and afternoons riding. "I just wanted to get this kind of experience and exposure.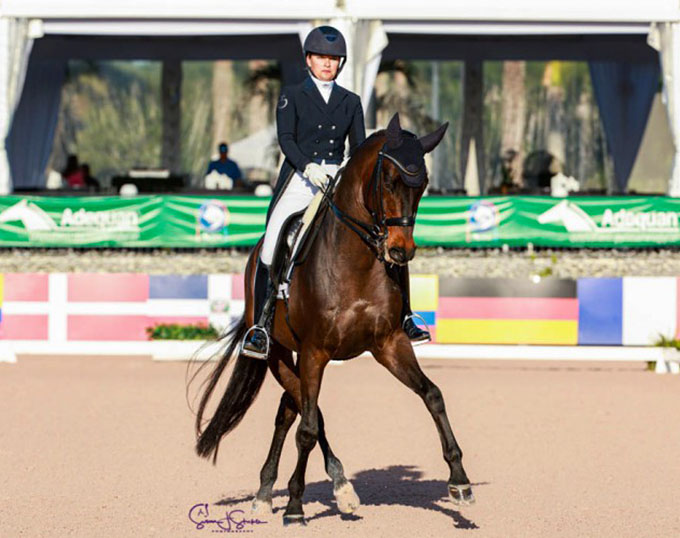 "Riding this horse is amazing, he's such a trier and he will never tell you no. He is a hot and sensitive horse which is a gift in the end, but I can't tell you how many times I fell off too, so that's part of the journey, right?"
Java Dulce has little show experience as any competition is at least a 10-hour drive for Miles. This was their first win of the season, and Miles has been able to pack three shows into her one-month stay in Florida.
"I felt that today he was really with me, and he's been intimidated by the environment at his last two shows," she added, through joyful tears. "I know that he can do everything, but it's been more about keeping it together mentally. We've had quite the journey and partnership."
Miles has two other horses at GDF, also owned by Waterman, who are contesting the Lövsta Future Challenge developing grand prix horse final on Sunday.
"It was a quick trip in but I'm so thankful, we would like to come back next winter and I feel extremely fortunate to have three grand prix horses to compete," concluded Miles. "It's great to give the horses a big show experience at such a grand venue."
-- GDF press release edited by Eurodressage
Related Link
Scores: 2023 CDI Wellington