2023 CDI Aachen Festival 4 Dressage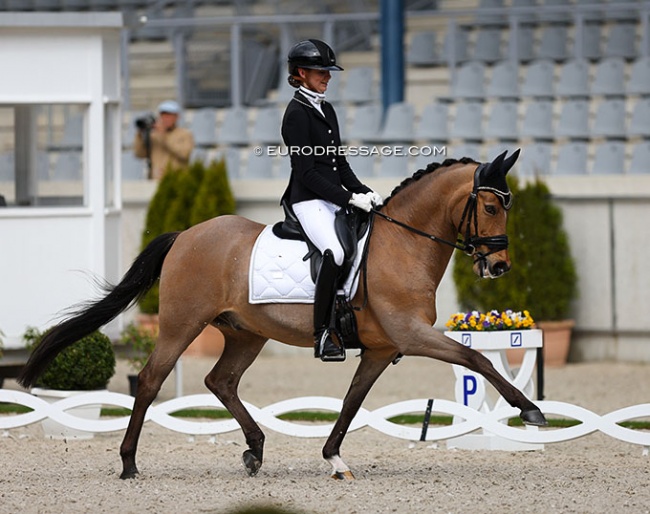 With a huge field of entries, the 2023 CDI Festival 4 Dressage on the CHIO Aachen show grounds was the Western European outdoor kick-off event of the 2023 show season. Aside from a large senior small and big tour, the youth categories were packed with riders from a handful of nations. 
Here is a round-up of the top place getters in Aachen on 30 March - 2 April 2023. Especially riders from Germany and Belgium wielded their power in the 20 x 60 arenas.
Ponies: German-Belgian Sandwich
In the pony division the fight for the three trophies was a fierce one between German team riders Mia Allegra Lohe and Lilly Collin against Belgian Liezel Everars. Each of them claimed one trophy in the end.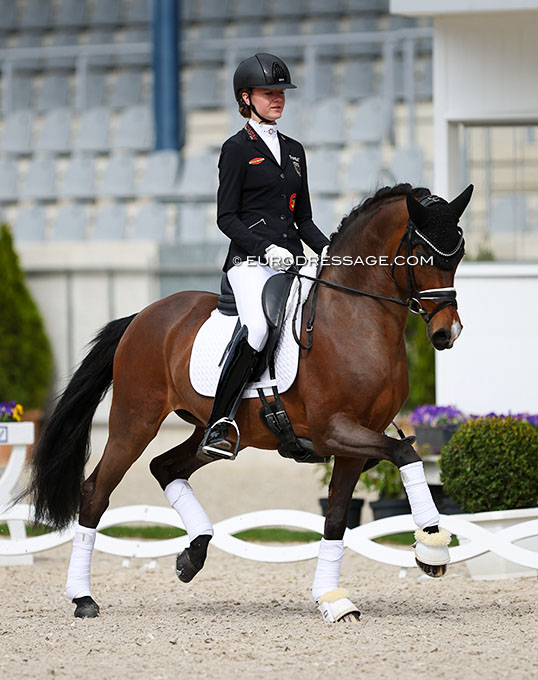 2022 European Championship team and kur gold medal winner Mia Allegra Lohe began the competition with a victory in the team test aboard Tovdal's Golden Future Imperial  (by CJ Chargon Bredager x Rytterbjergets Imperial). Lohe scored 75.143% to edge out team mate Lilly Marie Collin on her 8-year old Westfalian stallion Cosmo Callidus (by Cosmopolitan x Cyriac), who was second with 75.095%.  Lohe, who began riding the palomino in 2020 after Danish Cecilie Lyngvild  competed him in 2019 is trained by Tara Schneider. In the individual test she dropped to 5th place, and climbed back up to fourth place in the Kur. 
Trained by Steffi Wittmann, Collin and her bay stallion aced the individual test with 76,261% and had Belgian Liezel Everars on her heels with her 12-year old Rhinelander bred FS Capelli de Niro (by Champion de Luxe x Don't Worry). Everars was second with 75.135%. In the Kur to Music on Sunday the two swapped places with Everars taking the lead on a personal best of 79.417% and Collin second with 78.917%. The Tongeren based Everars used to be trained by Nicolette van Leeuwen, but since the summer is working exclusively with Belgian U25 rider Suraya Hendrickx. 
Children: Wagner and Callet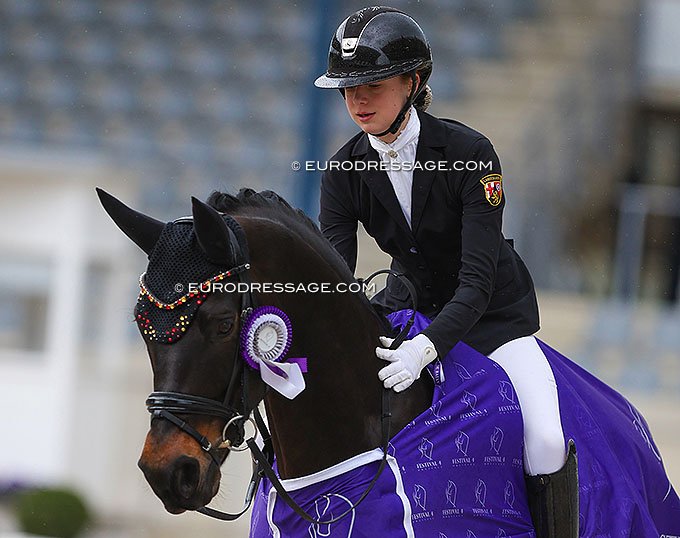 In the Children division German Greta Louise Wagner was off to a great start winning the preliminary test with 77.750% and the team championship test with 78.825%. Her partner in crime is the dark bay Furst Deluxe, a 10-year old Oldenburg gelding by Furstenball x Rosario, owned by Nicole Vorrink. The pair is trained by Nicole Rex. Furst Deluxe was developed to FEI level by Australian Maree Tomkinson, who gave the ride to Australian paralympic team rider Emma Booth in 2022. The pair finished 8th in the freestyle at the 2022 World Para Dressage Championships in Herning, before the horse sold in November to Vorrink to Greta to ride.
In the individual test the Marseillaise sounded as Paola Callet and the 8-year old Hanoverian Quickly des Paluds (by Quaterback x Don Frederico) topped the board with 80.116%. The combination began the show with a fifth place in the preliminary test and climbed to a second place in the team test and the victory in the individual.  Paola's results in Aachen brought her to the top of the FEI World Children's Ranking. She trains with Eugenie Callet and Arnaud Serre.
Juniors: Miesner and Paschertz On Top
Twenty-one junior rider pairs from four different nations battled it out in the Aachen Deutsche Bank stadium and the second competition arena.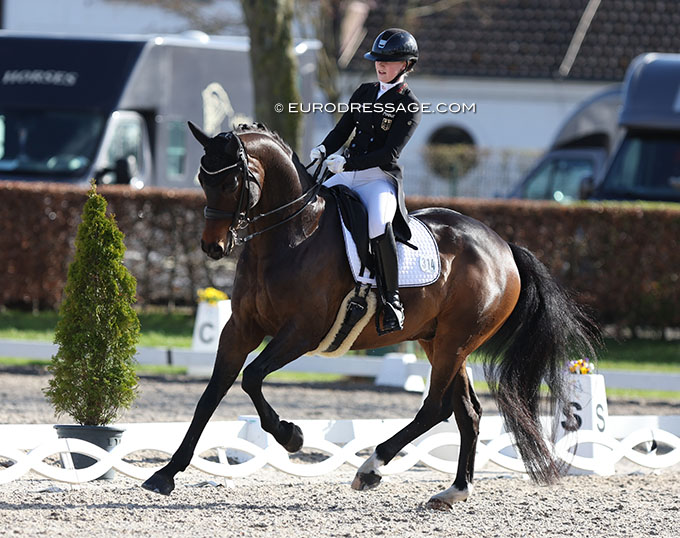 German routinier and European Championship team rider Carolina Miesner piloted the 12-year old chestnut Exclusiv (by Edward x Wolkenstein) to victory in the junior team test with 74.091%, but then dropped to 16th place in the individual test and did not make the freestyle final. The chestnut gelding came from the 2015 Hanoverian July Auction in Verden, where horse dealers Daniel Ramseier @ Helder had bought him and later sold him to Michelle Budde, who trained and first competed the gelding. She then sold it to Miesner when she decided to quit riding. Carolina is trained by her mom Andrea.
Instead Clara Paschertz and her 10-year old Oldenburg Danubio (by Dante Weltino x Laudabilis) went from a fourth place in the team test to a double victory in the Individual (73.039%) and Kur to Music (76.442%). She consistently had Belgian Anna Peeters, daughter of international show jumping rider James Peeters, on her heels. Aboard the 11-year old KWPN bred Harlekin (by Chinook x Don Gregory), Anna was second in the individual with 69.461% and second in the freestyle with 75.942%. Peeters trains with Wim Verwimp.
Young Riders: Jette de Jong Rules, Pistner Makes a Come Back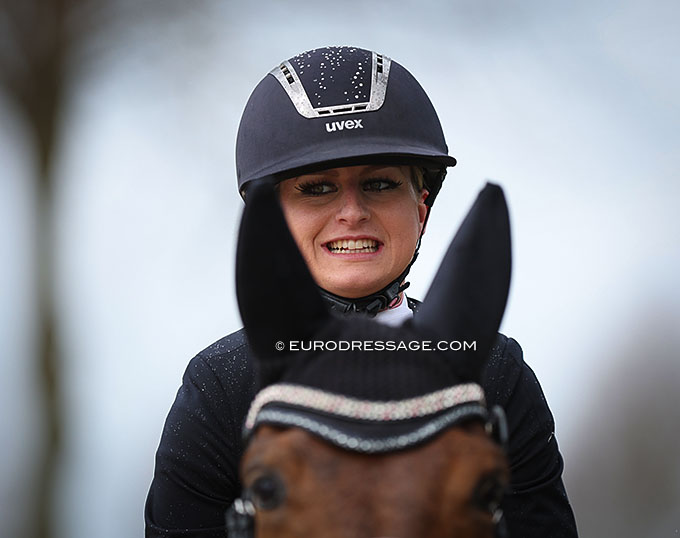 Belgian young rider team member Jette de Jong ruled the roost in her division which counted 22 pairs. The Dutch-Belgian team rider brought her two horses, Heavenly Charming (by Charmeur x United) and Indini (by Chippendale x Romeo), to Aachen and won two out of three classes
With the 11-year old Heavenly Charming she topped the board in the team test (73.726%) and the individual (73.284%) and was fourth in the freestyle (72.1000%). With her 10-year old Indini she was third in the team test (72.794%) and second in the individual (72.402%). Jette is trained by her mother Marielle Hoefsmit and gets coaching from Anky van Grunsven through the VLP training platform.
"What an arena to enter," De Jong said about the stadium in Aachen. "This was an absolute dream. I can't be more proud and super happy with all the results. Heaven was not in the mood for today's freestyle and the rider was not very helpful too, but still a beautiful 4th place with 72.1%." There is little rest for De Jong as she'll take both horses to the CDI Le Mans next week.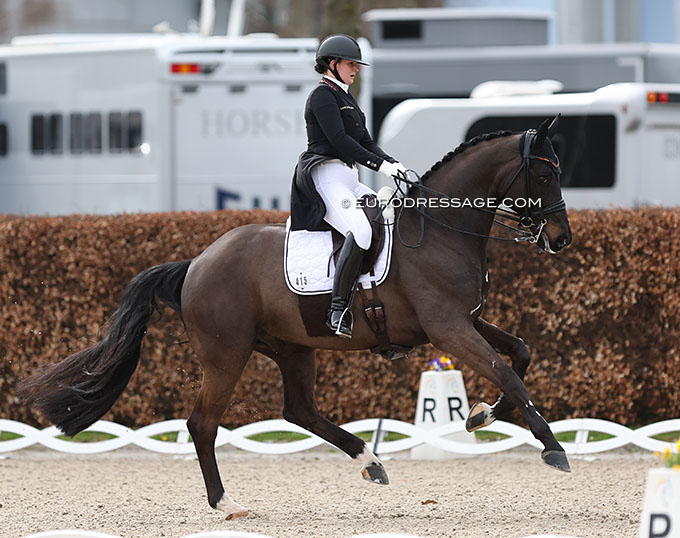 Aside from being her own biggest rival, De Jong felt the most competition from German Valentina Pistner, who made her long-awaited come back to the international arena after a 2.5-year break. Pistner last competed her now 15-year old European championship medal winning Flamboyant (by Fidertanz x De Niro) in September 2020 in Hagen. An injury to the horse as well as Pistner's own back problems kept them away from the CDI ring for that long, but Valentina is now back. She was second in the team test (73.039%), ninth in the individual (70.098%) and won the freestyle (75.350%).  Valentina is coached by her long-time trainer Stefanie Lugge-Kerner.
"I'm so proud of Flambi at our first international show as Young Riders, scoring 73% in the Prix St. Georg and ending the weekend with a win the freestyle," Valentina stated. "After a time out due to my back injury, I still lack routine and have a lot to learn. I'm so grateful to have a horse like Flambi who gives me the best (!) feeling and forgives the mistakes I still make. Now it's time to keep up the hard work and gain more experience."
Under 25: Schrader, Lammens and Kuintjes
The Under 25 Grand Prix riders competed in only two classes in Aachen: the short Grand Prix and the Freestyle
German U25 team rider and championship medal winner Alina Schrader and her 14-year old Oldenburg mare Paola (by Lord Loxley x Friedensfurst) won both rounds with 72.179% and 75.750%.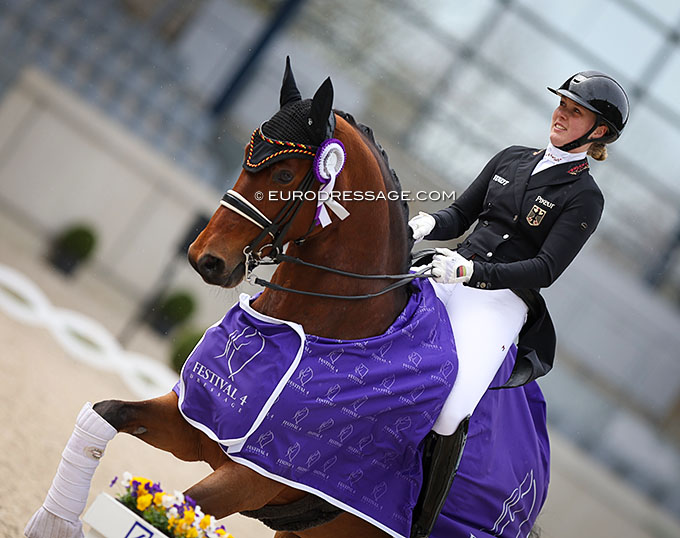 "We rode the Short Grand Prix in one of the warm-up rings, but the award ceremony and the freestyle were right in the stadium - that was really cool," Schrader told Dressursport Deutschland.  "And Paola has never been to the stadium before, but she put her heart into her hands and did a great job." The young professional Schrader, who trains with German U25 team trainer Sebastian Heinze, will be riding her third season in the Piaff Forderpreis, the German U25 competition circuit, this year.
Belgian Lauranne Lammens and her 16-year old Belgian warmblood mare Hilcara van het Vijverbos produced two personal bests on the weekend, placing second in the short Grand Prix (71.154% ) and third in the Kur (72.775%). She is coached by Philippe Jorissen. Dutch Zoe Kuintjes and Saskia Lemmens' 16-year old KWPN gelding Cupido (by Rohdium x San Remo) was third (70.043% ) and second (75.733%). Dutch trainer Marion Schreuder stood by Zoe's side in Aachen.
- Text and Photos © Eurodressage 
Photos © Eurodressage - No Reproduction ALLOWED / NO SCREEN SHOTS ! - Eurodressage took photos of (almost) all competitors. If you are interested in photos for social media use, send us an email. 
Related Links
Scores: 2023 CDI Aachen Festival 4 Dressage
Cruel Weather Gods Rear Their Ugly Head, Again, at 2023 CDI Aachen Festival 4 Dressage
2023 CDI Opglabbeek Moves Venues, from Sentower Park to CHIO Aachen
Van Baalen Takes the Trophy, but Kanerva Makes a Splash at 2023 CDI Aachen Festival 4 Dressage