2023 CDI Sint-Truiden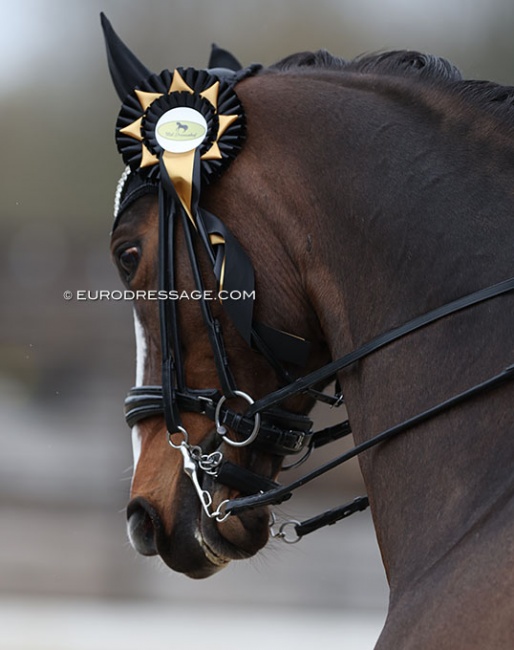 Only one week after the first outdoor Western European CDI show on the 2023 calendar in Aachen (GER), the action continued on Easter Weekend with international dressage sport at Stable Gravenhof in Sint-Truiden, Belgium, on 6 - 9 April 2023. In Aachen rain storms and fierce wind put the riders' resilience to the test and in Sint-Truiden the conditions were not that different but maybe less tempestuous. 
Normally the CDI Sint-Truiden is always blessed with lovely spring weather, but this year they moved their show a weekend earlier and that decision turned out to be a costly one. Non-stop rain and rather cold temperatures (8 C°) dampened the spirits and turned the venue into a sombre one compared to its normal set-up with people enjoying drinks in the sun right near the one competition arena.
Frozen to the Core
This reporter wrote about how the elements tormented riders and spectators in Aachen and with Sint-Truiden offered repeat conditions, where stamina and endurance were checked. I was relentlessly surfing to "Rain radar" to see if it were to clear up on Thursday afternoon (6 April 2023) as the morning session with the ponies had rain all the time. To see interesting and beautiful dressage sport, we make big sacrifices and I put on my winter gear (same outfit as in Aachen), my camera had its rain jacket on, and off I went on the 45 minute drive to the venue.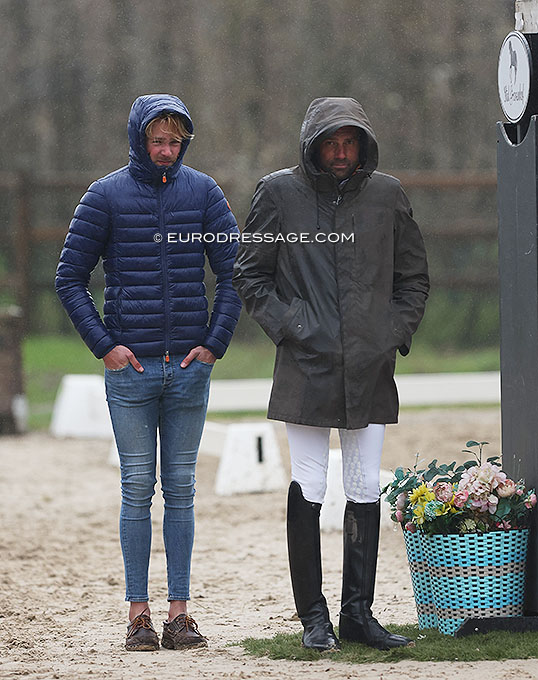 The entire drive across the Belgian province of Limburg it poured and when I got to the show that had turned into a drizzle. This did not end until the last class of the day, the Prix St Georges at 19h00. A fierce wind beat my face and by 16h00 I was frozen to the core and wet.. but ground my teeth and persisted as this is what a professional should so. 
Afternoon Action
I photographed the Young Riders, Grand Prix, and Prix St. Georges as well as some prize giving ceremonies. I only didn't see any ponies and that starters' field was a very interesting one with plenty of Swedes and Danes having ventured south to compete. A good opportunity to update my archive with photos of all riders. 
The Young Riders team championship test (Prix St Georges) was won by Swedish team rider Hedda Thunberg on the 15-year old Swedish mare Diva (by Richfield x Silvano N) on 71.323%. The Grand Prix level trained mare has much dance in trot and has a beautiful silhouette overall, but I'd like to see her stretch a bit more forward in the frame and be more elastic in the contact. Belgian Zoe Niessen and her 8-year old Paco Rabanne (by Charmeur x Donnerschlag) were the runners up with 69.706%. In the prize giving ceremony this young bay stallion took off and galloped around the arena while his rider took a few a circles to get him under control. Swedish Tindra Alricsson and the 19-year old Swedish mare Adobe MB (by Don Primero x Looping) were third with 68.970%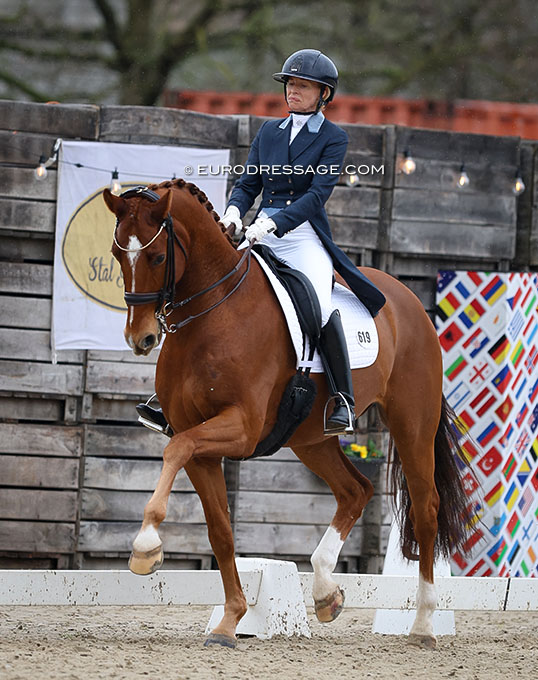 The Grand Prix counted 16 riders and there were quite a few new faces in there.
After a three-year break from international showing, the 2002 World Champion Nadine Capellmann made her come back to the CDI ring on Waitoni,  a 12-year old Westfalian by Wynton x Weltmeyer. The chestnut is a very elegant, lightfooted mover, but still needs to develop more strength and self carriage to stay up in the frame in the test. They got 67.239%. 
German Katharine Hemmer made her CDI debut on Nancy Gooding's 11-year old Oldenburg gelding Denoix PCH (by Destano x Pik Noir) after taking over the ride from trainer Hubertus Schmidt, who retired as a competition rider due to back problems. The new duo showed a lot of promise and already showed significant improvement from their national debut a few weeks ago. They posted 71.478%
Israeli Gon Solt made her international debut on the 13-year old Hanoverian Bonnaquiqui (by Bonifatius x Rotspon). Israel is making a brave effort in having a team ready for the Group C Olympic Team qualifier at the CDIO/W Pilisjaszfalu (HUN) at the beginning of June, but it's not looking good for them. Only Austrian based Nicola Ahorner has been competing internationally, while Wellington based Micah Deligdish and Sahar Hirosh need to head over to Europe if they want to give it a try. Hirosh's FEI passport hasn't even been renewed for 2023, but Deligdish made her CDI debut on newly purchased Handsome C on 23 March and scored 61.805%. German based Eyal Zlatin received the ride on Ahorner's Grand Prix horse Facilone, but he has not yet made his show debut, not even on national level.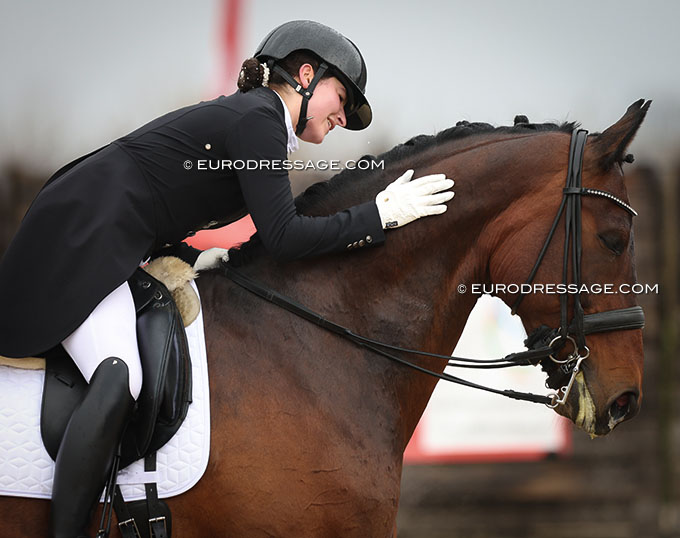 The class was won by Danish born Luxembourg rider Fie Skarsoe on Manon Ackermann's 10-year old Lusitano stallion Imperador dos Cedros (by Rubi x Hostil). Skarsoe has a very reliable horse in this grey stallion and with his outstanding talent for piaffe and passage, he easily cracks the 70% barrier. They won with 72.043%. Skarsoe's coach Nathalie zu Sayn-Wittgenstein braved the weather to train her student there, but Sascha Schulz was also on site as the new Luxembourg team trainer. 
It finally turned dry for the final class of the day, the senior Prix St Georges, but the damage was done. Shivering and shaking I took photos of the group of 8 riders and witnessed how Dutch Remy Bastings took the win on the 10-year old KWPN gelding Improver (by Apache x Ferro) on 69.853%. The black stallion is a talented mover, but also here a bit more suppleness in the topline and contact will be needed to score even higher. Skarsoe was second with the 9-year old Oldenburg Coco Island (by Cennin x Florencio) on 68.971%. The chestnut appeared a bit rushed and should collect and carry more from behind but he has a lovely articulation in the flying changes with a beautiful front leg. Belgian Laura Luyten was third on her home bred, 10-year old KWPN mare J2L Impressive Star (by Charmeur x San Remo x Cocktail) with 68.922%
Self Torture or Just Passionate?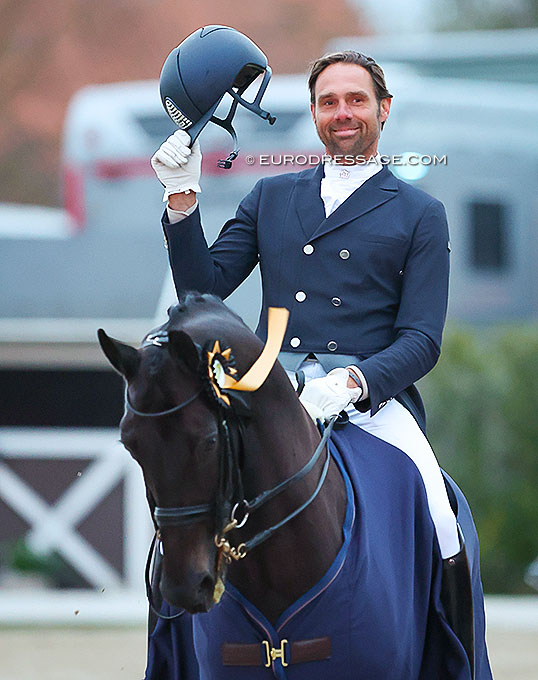 As soon as the prize giving was done I drove home with the car and seat heating turned on full blast. At home I took a hot shower and then worked until almost 2 AM before going to bed wearing a triple layer of clothes. I thought to myself, never again ! but when I woke up rested and warm, the first thought that popped into my mind was: shall I go photograph the ponies and children this afternoon? The forecast says "rain". 
- Text and Photos © Eurodressage 
Photos © Eurodressage - No Reproduction ALLOWED / NO SCREEN SHOTS ! - Eurodressage took photos of (almost) all competitors. If you are interested in photos for social media use, send us an email. 
Related Link
Scores: 2023 CDI Sint-Truiden
Photo Report: Rude Hare and Van Loon in Winner's Circle at 2022 CDI Sint-Truiden
Nowakowski Leads French 1-2 in the 2022 CDI Sint-Truiden Grand Prix
Photo Report: Danish Dominance on Good Friday at 2022 CDI Sint-Truiden
Back in the Trenches: My First Show in Seven Months at the 2021 CDI Sint-Truiden
Photo Report: Abbelen Gets an Under 25 First at 2019 CDI Sint-Truiden
Photo Report: Barbançon and Bolero Waltz to Double Victory at 2019 CDI Sint-Truiden
Kimberly Pap and Victory Find Their Stride at 2018 CDI Sint-Truiden
Lina Uzunhasan Does the Triple at the 2017 CDI Sint-Truiden