Great Britain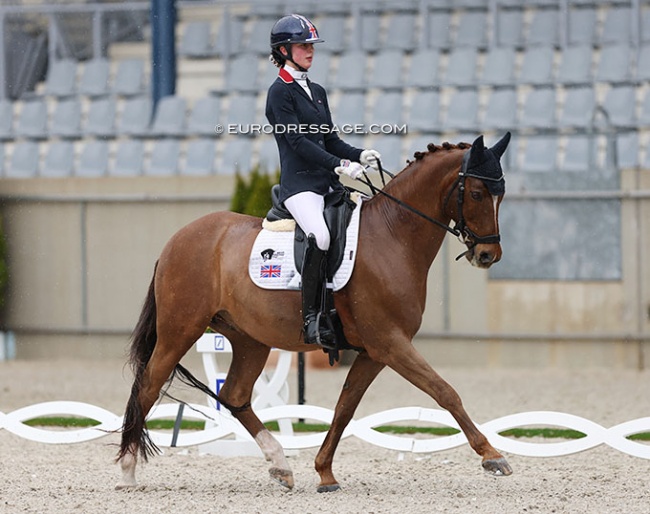 Following results and progress throughout the spring campaign, the British Dressage U21 Selectors have released their short lists of riders in contention for team selection for the 202 European Youth Championships.
Currently there are no British candidates for the Children's category, but the race for the pony, junior and young riders' team is full on.
With short lists released, teams and reserves are expected to be announced during the week commencing 12 June.
Interestingly is to see Annabella Pidgley short listed for the Young Riders team, even though the 18-year old has actively been competing in the Under 25 and senior Grand Prix division, putting her in the running for the European Championships for U25 (Pilisjaszfalu) and seniors (Riesenbeck) as well. With three irons and options in the fire, Pidgley has the freedom and luxury to decide in the week of 12 June for which category she wants to go.
Pony Riders
Sofia Games (14) with Janet Oliver and Katie Oliver-Games' Steendieks Cadillac (chestnut gelding, 2011, FS Chambertin, HOLST).
Ella Glennon (15)  with Debbie Glennon's Amden Supreme Golden Dancer (palomino gelding, 2016, Dating AT x Scampi, DRP).
Myles Graham (15) with Caron Roberts' Dresscode Cocktail (dun gelding, Top Carlos Cassini, WESTF).
Abigail Gray (14) with her own George Clooney B.S (grey gelding, 2011, Caesar 171 x Santano, KWPN). 
Demi Howard-Cartwright (15) with her own Fin C WE (chestnut gelding, 2003, Famos x Eiger III). 
Fleur Pocock (14) with her own Brouwershaven's Jasper (bay gelding, 2012, Valerio x Vita Nova's Hanassie).
Isla Sully (14) with Cassandra Sully's Reitland's Don Totilas (dun gelding, 2007, Diamond x Nixen).
Junior Riders
Isabella Caldwell (15) with Alex Hua Tian, Pip Higgins, Pam Dews and Sarah Higgins' Don Geniro (chestnut gelding, 2007, Don Kennedy x Giorgione, BHHS).
Mette Dahl (16) with Fiona Bigwood's Cashmir (bay gelding, 2007, Sandro Hit, KWPN).
Myles Graham (15)  with Caroline Bell's Nibeley Union Hit (dark bay mare, 2007, Nibeley Union Jack x Sandro Hit, AES). 
Emma Howson (18) with her own Junky XL (black gelding, 2014, Ampere, KWPN).
Ruby Hughes (15) with Nancy Scott's Bee Gee 8 (bay gelding, 2006, KWPN).
Sophia Marston (17) with Kim Murray and Seonaidh O'Neill's E-mail (bay gelding, 2009, Jazz, KWPN).
Isla Sully (14) with Cassandra Sully's Vagabond de Massa (bay gelding, 2009, Reito x Xaquiro, LUSIT).
Young Riders
India Durman-Mills (18) with Verity Saul's Escade (bay gelding, 2009, Jazz, KWPN).
Maddy Frewin (20) with Mark Philpott's Blue Hors Dexter (black gelding, 2007, Don Schufro x Blue Hors Cavan, DWB).
Lilah Gibbs (21) with her own Dude III (black gelding, 2011, Dancier x Rubinstein, HANN).
Ruby Hughes (15) with Kate Lister's World Exclusive (chestnut gelding, 2006, World of Dreams x Rohdiamant, WBS).
Lily Laughton with Alicia Laughton's Skovborgs Romadinov (chestnut gelding, 2006, DWB).
Jessica McConkey (20) with her own Lady Gaga (bay mare, 2009, Quaterback x Solos Landwind, DWB) and her own Wilson Stensvang (dark bay gelding, 2010, Wilkens x Blue Hors Don Schufro, DWB).
Annabella Pidgley (18) with Sarah Pidgley's Espe (bay mare, 2014, Escolar x Dimaggio, WESTF).
Photo © Astrid Appels
Related Link
British Long Lists for 2023 European Youth Championships Announced