2023 CDI Temecula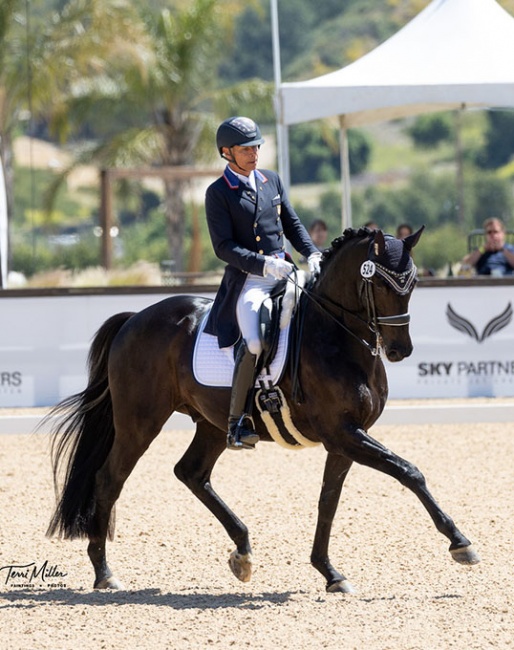 Steffen Peters and El Torro B reinforced themselves as the pair to watch as they aced the 1*   Intermediaire I at the 2023 CDI Temecula in California on Saturday 6 May 2023.
This new duo was great yesterday when they won the CDI1* Prix St. Georges and they were simply spectacular today. They locked up the Small Tour victory with a 76.618% in this class sponsored by Louise Leatherdale.
"He's a real pleasure to ride," said Steffen of the 14-year-old KWPN by Painted Black and owned by James and Mary Keenan. Mary was on hand for both victories and shared the back story of having recognized El Torro's potential as a 4-year-old in Holland.
"He is such an extremely honest horse," Steffen enthused. "Like Mopsie (Suppenkasper), he wants to do a little more, so I am constantly telling him, 'This is enough. We don't need quite this much.'"
Exhibiting mastery of all this level's challenges, Steffen acknowledged the focus is now on Grand Prix in the fall. El Torro's lightness in the bridle layers elegance and effortlessness on his extravagant gaits. "Sometimes I have only the weight of the reins in my hands," Steffen noted. "I like to point this out quite a lot. So many people teach having the horse go more into the hand, but if the horse is truly engaged and straight, there is nothing wrong with light contact.
"And, he likes it," Steffen added. "This is not a horse I'd want to go more into the bridle."
Elizabeth Ball and Cadence, LLC's Vivalia finished second with a 70.343%. Elizabeth has had the 9-year-old German Sport Horse mare by Van Vivaldi for four years and this was their first CDI. "It's only her second time doing I1, and I was really pleased with her."
Galway Downs is located on a popular community event site, where Saturdays are filled with youth soccer action on part of the property. The cheers floating over to the equestrian space amped up an already impressive Grand Prix Arena vibe.
"She became a little frightened and distracted," Elizabeth said. Vivalia doesn't normally wear an ear bonnet, but they added one today to help her relax amid the extra noise. That helped and, despite a few two-tempi bobbles that Elizabeth wrote off to inexperience, it was a super finish for the pair who were also runners-up Friday in the Prix St. Georges.
Elizabeth closed out her Spring Benefit show with gratitude for the organizers, Equestrian Concepts, the "wonderful" venue and for the solid season of CDIs that now exist on the West Coast. "It's really great having all these great shows out here."
In fact, the competitions helped her prepare for another high note in the Spring Benefit's national division. She and Escarigo entered their first Grand Prix Friday and won it on a 70.217% for the 14-year-old KWPN by Maestro.
Jo Moran and Reine Noire GWF, a 10-year-old Oldenburg mare by Rotspon, were third in the CDI Intermediaire I with a 67.353%.
Jane Weatherwax, Maria Schwennesen and Sarah Geikie judged this class.
Newcomb Tops the Grand Prix Freestyle
Natasha, an 18-year-old Oldenburg mare by Negro, loves the Freestyle and she brought out her typically elegant approach today with trainer Amelia Newcomb to win on a 70.395%. Direct transitions from two-tempis to one-tempis, the passage and flying changes were Amelia's favorite parts of their test.
Amelia has been riding Karen Drown's mare for three or four years, the last two at Grand Prix. A lovely original piano score created for Natasha suited the mare's light step.
Amy Miller and Encore, a 14-year-old KWPN by Jazz, were 2nd on a 68.97%, followed closely by Laura De Cesari and Rossi, an 11-year-old Swedish Warmblood by Blue Hors Romanov, on a 68.605%.
Balliwick House sponsored the class and it was judged by Maria Schwennesen, Jane Weatherwax, Sarah Geikie, Stephen Clarke and Brenda Minor.
Nichols Notches It Up In the U25 Grand Prix
Nineteen-year-old Erin Nichols and Elian Royale impressed again today, this time earning a 69.441% in the U25 16-25 Grand Prix from judges Jane Weatherwax, Maria Schwennesen and Brenda Minor.
As their final prep before joining the European Tour next month, Erin said she was experimenting with different gears within the test. "We are trying for more power without getting too much, and we are trying for more expression in the trot work and to ease things up in the piaffe." The KWPN by Glocks Johnson NOP is hot with plenty of go that Erin elegantly contained. "Coming down the final center line, I gave him a few scratches on the neck and said, 'It's OK, we're almost done buddy.'"
"We had one little communication error, but I'm super happy with him," Erin said. "I could not have asked for more from him and I'm proud to have such an amazing horse to learn from." In their 8-month partnership, "I've learned so much from him, whether we are schooling or competing I'm always learning something I can do to help us improve."
She gives her coach David Wightman credit for helping her transition from Young Riders to Grand Prix. "Compared to Young Riders, the Grand Prix is really technical. You have to have a lot of focus, to be in tune with what you're doing, what you're asking your horse and what he's doing."
Hinnemann Atop  Young Rider Individual
Playing it safe paid off again for Josephine Hinnemann and Copa Cabana MRF, who emerged atop the CDIY FEI Young Rider Individual Test today with a 66.627%. "He was really perfect today, but I went off course!" "Jojo" shared. "You just have to forget about it."
Yesterday, the pair finished 2nd in the Team Test by also focusing on precision over pushing for extra. These solid outings set the stage to push the envelope in Sunday's Freestyle, JoJo explained. "It gives me confidence that I'll have that control tomorrow, so I can ask for that extra."
Team Test winners Ellanor Boehring and Sir Junior, a 12-year-old Hanoverian by Sir Stauffenbuerg, were a close second today on a 66.373%. Grace Duggan and Farruco LXXXIX, an 18-year-old PRE sired by Lego, were third on a 61.912%.
Stu and Laura Mollrich sponsored this class, which was officiated by Jane Weatherwax, Maria Schwennesen and Sarah Geikie.
In the Junior Individual Test, Katherine Nayak had a nice comeback after mistakenly carrying her whip in yesterday's Team Test. She and MW Fabulos, an 11-year-old Oldenburg by Furstenball, scored a 68.529% from the same judging panel.
Katherine is already qualified for the North America Youth Championships this summer, and their weekend bodes well for that, with Sunday's Freestyle still to come.
- by Kim MIller
Related Links
Scores: 2023 CDI Temecula
Anna Buffini "Tries a Few New Things" and Wins at 2023 CDI Temecula
American Grand Prix Rider and Entrepreneur Mark Carter Dies in Helicopter Crash