2023 Bundeschampionate Qualifier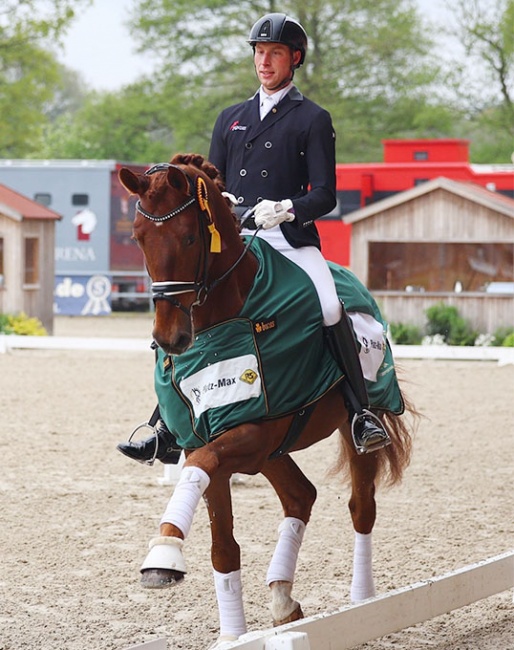 The 5-year old Veuve Clicquot and the 6-year old Chère Celine OLD  became the winners of the Bundeschampionate qualification classes held at the international dressage and show jumping competition at the State Stud in Redefin on Saturday 6 May 2023. 
5-YO: Veuve Clicquot
Eleven 5-year olds competed in the L-level dressage horse test which was judged by Wolfgang Schierloh, Ulrike Zobel, and Ralph Schmidt.
Hof Kasselmann's team rider Lars Ligus topped the board with Veuve Clicquot, a Hanoverian gelding by Vitalis x Furst Heinrich. The pair scored a winning total of 8.30 points with a 7.5 for walk, 9 for trot, 8.5 for canter, 8 for submission and 8.5 for general impression. The chestnut is owned by Taiwanese investor Terry Lan, who bought him at the 2022 PSI Auction for 510,000 euro.
The runner-up was Kira Goerens-Ripphoff aboard Anke Dieckell's Hanoverian gelding So Dynamic (by Secret x Welser). They received 8.5 for walk, and 8 for trot, canter, submission and general impression. They were second with 8.1. 
6-YO: Chère Celine OLD
In the 6-year old division nine pairs rode the M-level test  and the clear winner was professional Lena Waldmann aboard Gisa Löwe's Oldenburg mare Chère Celine (by Governor x San Amour). They aced the class with a total of 8.8 points after getting 9.5 for walk, 8.5 for trot, canter and submission and 9 for general impression. 
Juliane Brunkhorst and Janna Alpers' Hanoverian mare Bayside AK (by Bon Coeur x Sir Donnerhall) followed in second place with 8.2 points. This mare got 7.5 for walk, 9 for trot, 8 for canter and submission and 8.5 for general impression. 
Results - 2023 Bundeschampionate Qualifier - Redefin
5-year olds
Judges: Wolfgang Schierloh, Ulrike Zobel, Ralph Schmidt
rider - horse - walk trot canter submission general impression --- total
1. Lars Ligus - Veuve Clicquot 3 - 9 7.5 8.5 8 8.5 --- 8.3 (Germany)
2. Kira Goerens-Ripphoff - So Dynamic - 8 8.5 8 8 8 --- 8.1 (Germany)
3. Amelie Gröpper - For Prime - 8 8 8 8 8 --- 8 (Germany)
3. David Taylor - For Maine - 8.5 7 8.5 8 8 --- 8 (Germany)
5. Jacob Schenk - Visavi - 8 8 7.5 7.5 8 --- 7.8 (Germany)
6. Kira Goerens-Ripphoff - Füchtels Benamour -8 7.5 7.5 7.5 7.5 --- 7.6 (Germany)
7. Jeanne-Marleen Bußmann - Ballayage - 8 5.5 7.5 7 7 --- 7 (Germany)
7. Svea Groß - Go for Romance - 7.5 7 7 6.5 7 --- 7 (Germany)
9. Joana Graf - Bentley JG - 7.5 6.5 7 6.5 7 --- 6.9 (Germany)
David Taylor - MDM Inflagranti - RET (Germany)
Friederike Reins - Bennicio N - RET (Germany)
6-year olds
Ralph Schmidt, Wolfgang Schierloh, Ulrike Zobel
1. Lena Waldmann - Chère Celine OLD - 8.5 9.5 8.5 8.5 9 --- 8.8 (Germany)
2. Juliane Brunkhorst - Bayside AK - 9 7.5 8 8 8.5 --- 8.2 (Germany)
3. Jacob Schenk - Be Dschinni H - 8 8.5 7.5 8 8 --- 8 (Germany)
4. Amelie Gröpper - Diamor 4 - 8 7.5 8 7 8 --- 7.7 (Germany)
5. David Taylor - Bonds in Black - 8 8 7.5 7 7.5 --- 7.6 (Germany)
6. Pia-Katharina Voigtländer - Alec Baldwin - 7.5 8 7.5 6.5 7.5 --- 7.4 (Germany)
6. Bart Desender - Marian von Bellin - 7.5 7.5 7.5 7 7.5 --- 7.4 (Belgium)
6. Laura Wilms - Fiorino Hit EA - 7.5 7.5 7.5 7 7.5 --- 7.4 (Germany)
6. Jeanne-Marleen Bußmann - Massimo 69 - 8 6.5 7.5 7.5 7.5 --- 7.4 (Germany)
Related Link
Eurodressage Coverage of the 2023 Bundeschampionate