2023 Bundeschampionate Qualifier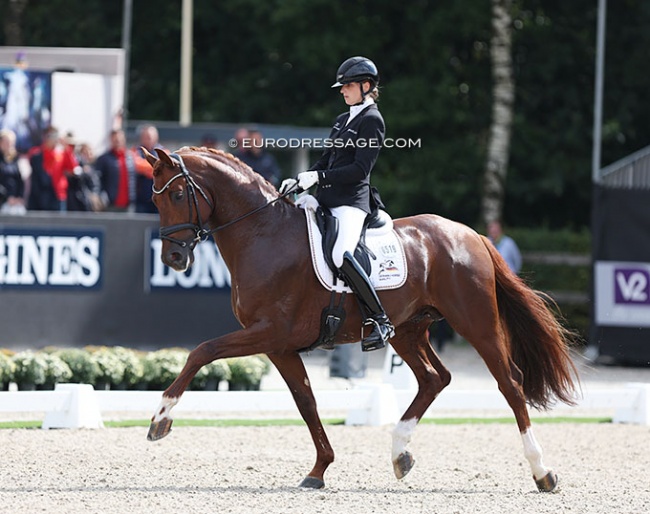 The 5-year olds Rheinglanz and Be My Love, and the 6-year old Vitalos  became the winners of the Bundeschampionate qualification classes held at Riding stable Bolte in Syke/Okel on Friday 12 May 2023. 
5-YO: Rheinglanz and Be My Love
The 6-year old division was split into two groups, judged by Christoph Bruseke, Michael Krüger and Carola Straube-Thiel. 
Eva Möller and Julia & Volker Röwe's Trakehner stallion Rheinglanz (by Helim x Couracius) bested group 1 with 8.7 points. The dark bay stallion got 9 for walk, 8.5 for trot and canter, 9 for submission and 8.5 for general impression. Danish Ellen Bruun and Ralf Zierke's Hanoverian stallion Royal Black Diamond (by Rotspon x Laurentio) were second with 8.5 points.
In group 2 the winners were Swedish Jessica Lynn Thomas aboard Lovsta Stuteri's Hanoverian mare Be My Love (by Bon Coeur x Floriscount) on a score of 8.6 points. The bay mare received 8 for walk, 9 for trot, 8.5 for canter, 9 for submission and 8.5 for general impression. Two pairs were on their tail with the same score of 8.4 that placed them second: Julia Bolte and her own Hanoverian mare Special Design (by Secret x Relevant) and Leonie Richter on Helgstrand's Hanoverian mare Titania K (by Top Gear x Prestige Pilot). 
6-YO: Vitalos
In the 6-year old division thirteen pairs battled it out and judges Jonas Welkum, Christoph Brüseke, and Carola Straube-Thiel rewarded no less than six with a high enough score to qualify for Warendorf. 
The winner of the M-level dressage horse test was Leonie Richter on the WCYH finalist Vitalos, a Hanoverian stallion by Vitalis x De Niro bred by Josef Bramlage and owned by Helgstrand. The chestnut stallion scored a winning total of 8.8 points with 8.5 for walk, 9 for trot, 9.5 for canter and 8.5 for submission and overall impression. 
Ida reich and Heike Kind's Oldenburg gelding Frauenheld HK (by Feinrich x Bordeaux) were the runners-up with 8.3 points. The bay gelding received 8 for walk and canter and 8.5 for trot, submission and general impression. 
Results - 2023 Bundeschampionate Qualifier - Okel
5-year olds - Group 1Rider - Horse  Trot walk canter submission general impression  ---- Total
1. Eva Möller - Rheinglanz (by Helium / Couracius) - 8.5 9 8.5 9 8.5 --- 8.7
2.  Ellen Bruun  - Royal Black Diamond (by Rotspon / Laurentio) - 8.5 8.5 8.5 8.5 8.5 --- 8.5
3.  David Taylor  - For Maine (by Feinrich / Wolkentanz I) -  9 7.5 8.5 8 8.5 --- 8.3
4.  Christina Stricker - Balu (by Benicio / Waterford) - 8 8.5 8.5 7.5 8 --- 8.1  
5-year olds - Group 2
Rider - Horse  Trot walk canter submission general impression  ---- Total
1.  Jessica Lynn Thomas - Be my Love (by Bon Coeur / Floriscount) - 9 8 8.5 9 8.5 --- 8.6
2.  Julia Bolte - Special Design (by Secret / Relevant) - 8 8.5 8 9 8.5 --- 8.4
2.  Leonie Richter -  Titania K (by Top Gear / Prestige Pilot) - 8.5 8 9 8 8.5 --- 8.4
4.  David Taylor - MDM Inflagranti (by Ibiza / Sandro Hit) - 8 7.5 9 7.5 8 --- 8
9.  Nataliya Schumann - Santorin (by Secret / Dancier) - 8 7 8.5 7 8 --- 7.7
10.  Sandra Frieling - Fürst Fiete (by Fürst Romancier / Londonderry) - 7.5 8 8 7 7.5 --- 7.6
10.  Lukas Fischer  -  My Milano (by Millennium / De Niro) - 8 7.5 8 7 7.5 --- 7.6
12.  Friederike Reins  -  Bennicio N (by Benicio / Don Diamond) - 8 7.5 8 6.5 7 --- 7.4
12.  Anne-Sophie Kamps - Quirin (by Quaterhall / Sir Donnerhall) - 7 7.5 7 8 7.5 --- 7.4
12.  Ellen Bruun -  Fräulein Fifi (by Fidertanz / Jazz Rubin) - 7.5 7 8 7 7.5 --- 7.4
15.  Julia Bolte  -  Fincenzo (by For Dance / Destano) - 8 5.5 8 7 7.5 --- 7.2
16.  Madeleine Plinke  -  Vitalisa PS (by Vitalis / Sir Donnerhall) - 6.5 7.5 7 7 7 --- 7
Madita Rentz  - Federer (by Farrell / Livaldon) - RET
Bart Desender  -  Fineline (by Fürst Magic / Acordelli) - RET
6-year olds
Rider - Horse  Trot walk canter submission general impression  ---- Total
1. Leonie Richter  - Vitalos (by Vitalis / De Niro) - 9 8.5 9.5 8.5 8.5 --- 8.8
2 Ida Reich  - Frauenheld HK (by Feinrich / Bordeaux) - 8.5 8 8 8.5 8.5 --- 8.3
3 Joline Durand  - Rock Festival (by Rock Forever I / Fürstenball) - 8 8.5 8.5 7.5 8 --- 8.1
4 Anna Mitter  - For Donnerhall OLD (by Fürst Jazz   / Sir Donnerhall) - 8.5 8 8 7.5 8 --- 8
4 Sandra Kötter  - Sezuana (by Sezuan / Belissimo M) - 8.5 8 8.5 7 8 --- 8
4 David Taylor  - Bonds in Black (by Bonds / Sezuanv7.5 8.5 8.5 7.5 8 --- 8
7 Bart Desender  -  Marian von Bellin (by Morricone I / Fidertanz) - 7.5 8 8 7.5 8 --- 7.8
7 Anna Mitter  - Manolo (by Morricone I / Donnerhall) - 8.5 8 8.5 6.5 7.5 --- 7.8
9 Shereena Satzer  - Balandro (by Benicio / Scolari) - 8 8 7.5 7 8 --- 7.7
10 Tassja Schmidt  - Fea Falina (by Farrell / Santander H) - 8 7.5 7.5 7 7.5 --- 7.5
11 Tina Schremmer  - Belle Fleur (by Bon Coeur / Romancero H) - 7 7 7.5 7 7.5 --- 7.2
11 Iris Hannöver  - Flipp Flopp (by Fürsten-Look / Sir Donnerhall) - 7.5 7 8 6.5 7 --- 7.2
13 Frederico Tito de Carvalho  - Fauntleroy (by Farrell / Hochadel) - 7.5 5.5 7.5 6.5 7 --- 6.8
Related Link
Eurodressage Coverage of the 2023 Bundeschampionate