2023 Bundeschampionate Qualifier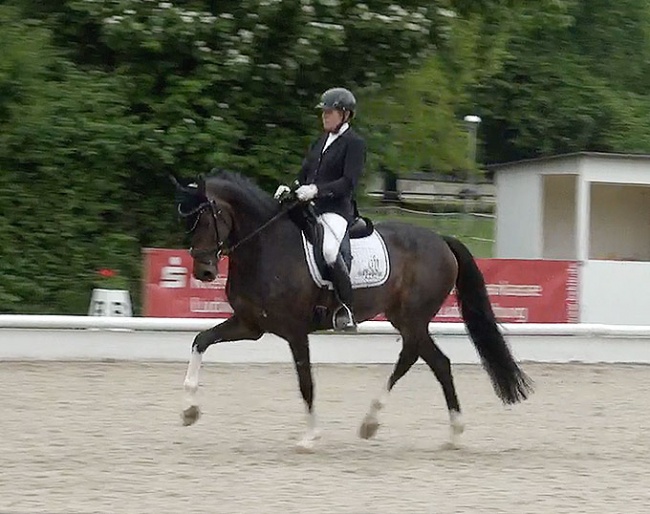 The 5-year old Simsala D and the 6-year old Firefly became the winners of the Bundeschampionate qualification classes held in Ludwigsburg on 13 - 14 May 2023. 
5-YO Simsala D
Eleven pairs contested the L-level dressage horse test of which no less than seven (!!) were sired by Secret. The class was judged by Heinrich Geigl, Sonja Pilton, and Ina-Katin Schmid. 
Ilona Kress led the pack aboard Jutta Moreike's DSP mare Simsala D (by Secret x For Romance) on a winning score of 8.4 points. The dark bay mare got 7.5 for walk, 9 for trot, 8.5 for canter, submission and general impression. 
Jasmin Schaudt and her husband Martin's Hanoverian gelding Secretariat (by Secret x Don Crusador) were the runners-up with 8.1 points. This chestnut gelding received 8 for walk, 7.5 for trot, 8.5 for canter and submission and 8 for general impression.  
6-YO: Firefly
The M-level dressage horse test for 6-year olds featured only three pairs and they were judged by Geigl, Jörg Beerhenke, and Dietrich Plewa.
Anna-Lisa Schepper and Gestut Birkhof's DSP gelding Firefly (by Fair Game x Furst Heinrich) won the class with 7.7 points. The gelding received 7.5 for walk, 8.5 for trot, 8 for canter, 7 for submission and 7.5 for general impression. Schepper and Firefly competed at the 2022 Bundeschampionate but got disqualified after the horse tested positive to capsaicin. The rider got suspended for a period of eight weeks. Schepper proved that the capsaicin came from AKS paste which they had smeared on the horse's travel boots to prevent him from eating them. 
Luxembourg's Mandy Zimmer finished second in the class aboard Fiorella Queen, a liver chestnut Oldenburg mare by For Romance x Breitling W bred by Wolfram Wittig. The pair got 7 for walk and canter, 7.5 for trot, and 7 for submission and general impression to total 7.1 points. Mandy tied in second place with her second horse, Rex MZ (by Revolution x Hohenstein), who got 6.5 for walk, 8 for trot, 7.5 for canter, 6.5 for submission and 7 for general impression. 
Results - 2023 Bundeschampionate Qualifier - Ludwigsburg
5-year olds 
Rider - Horse  Trot walk canter submission general impression  ---- Total
1.  Ilona Kress - Simsala D (by Secret / For Romance) - 9.0 7.5 8.5 8.5 8.5 --- 8.4
2.  Jasmin Schaudt  - Secretariat (by Secret / Don Crusador) - 7.5 8.0 8.5 8.5 8.0 --- 8.1
3.  Nicole Bühler  - Freifrau (by Feuertanz / Damsey) - 8.0 8.0 8.0 8.0 8.0 --- 8
4.  Lisa Casper  - Sir Copperfield (by Secret / Belantis) - 8.0 7.0 8.5 8.5 8 --- 7.8
4.  Julia Kühn  - Denali Sun (by Dohnanyi / Weltmeyer) - 8.0 8.0 7.5 7.5 8.0 --- 7.8
6.  Julia Kühn  - La Santiana (by Secret / Lauries Crusador xx) - 8.5 7.0 8.0 7.5 7.5 --- 7.7
7.  Hayley Beresford  - Divine (by Devonport / Insterburg) - 7.5 8.5 7.5 7.0 7.5 --- 7.6
7.  Ines Fleischmann  - Secret Escape (by Secret / Fürst Romancier) - 7.5 8.0 7.5 7.5 7.5 --- 7.6
9.  Carolin Binder  - Samy de Luxe (by Secret / Demetrius) - 7.5 7.5 7.0 7.0 7.0 --- 7.2
10.  Dagmar Hoidn  -  Kalium (by Helium / Ivernel) - 7.0 6.5 7.0 6.5 6.5 --- 6.7
11.  Armin Hanselmann  - Secret's Sambuco R (by Secret / Dancier) - 7.0 5.5 7.5 6.5 6.5 --- 6.6
6-year olds
Rider - Horse  Trot walk canter submission general impression  ---- Total
1.  Anna-Lisa Schepper - Firefly (by Fair Game / Fürst Heinrich) - 8.5 7.5 8.0 7.0 7.5 --- 7.7
2 Mandy Zimmer-Cartaxo  - Fiorella Queen (by For Romance I / Breitling W) - 7.5 7.0 7.0 7.0 7.0 --- 7.1
2 Mandy Zimmer-Cartaxo - Rex MZ (by Revolution / Hohenstein) - 8.0 6.5 7.5 6.5 7.0 --- 7.1 
Related Link
Eurodressage Coverage of the 2023 Bundeschampionate