2023 Central American and Caribbean Games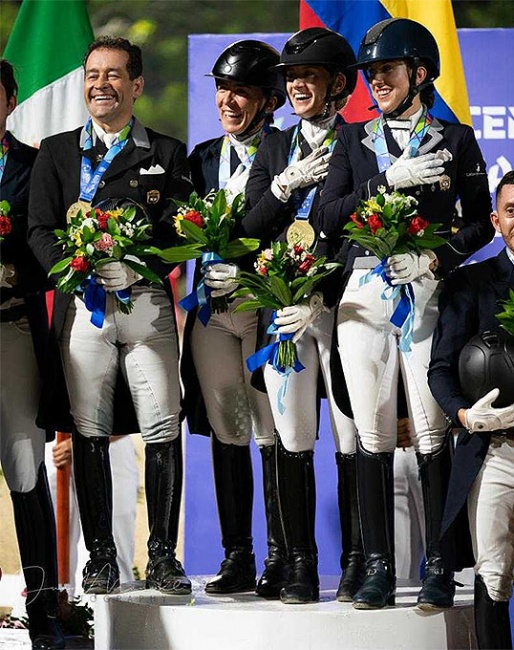 by Carmen Franco for Eurodressage
In a night to remember Colombia concluded the dressage team competition by finishing on top of the podium at the 24th Central American and Caribbean Games.
Five Teams at 2023 CACG
Held in San Salvador, with equestrian sports hosted at the Centro Ecuestre Palmarejo in Santo Domingo, Dominican Republic, these Regional Games are organized by Centro Caribe Sports and take place every four years. In an effort to raise the level of the region, the format copied Pan American's system of mixed levels: small and big tour combinations were allowed to compete, with those in Grand Prix classes earning a 3% bonus in each of them.
Five teams participated, Colombia with four Small Tour combinations, same as Mexico and Dominican Republic. Costa Rica and Guatemala (competing with Centro Caribe Sports flag because their Olympic Committee has been banned by the IOC since October 2022) had one Big Tour combination each and three in Small Tour.
Colombia in Charge
After the first day, Colombia took leadership of the competition very closely followed by the all-time rival and past two editions gold medal winner, Mexico.  Two relatively newcomers to the international scene, Juliana Gutierrez on Flanissimo a 13-year-old Rheinlander gelding (by Flanagan x Ferragamo) and Andrea Vargas on Homerus P, a 2012 KWPN gelding by Negro x Jazz, rode remarkable tests scoring 69.118% and 69.044% respectively in Prix St. Georges for second and third places in the class, within a minimal distance from Olympian Dominican Yvonne Losos de Muniz.
They both maintained great form in the Intermediate I, scoring 67.243% and 67.096% for fourth and fifth places. Raul Corchuelo, the most experienced of the team, rode his and Stella Lopez's 10-year-old Oldenburg gelding Maverick (by Millennium x Rittersport) to an uncharacteristic low score but with results that contributed to the gold medal.
Rookie Mariana Atehortua on Justify AS, a 2009 gelding owned by Juan David Londoño, completed the team who had Maria Ines Garcia as Chef d'Equipe and Albrecht Heidemann as National Coach.
At the end of the awards ceremony, a very touched Andrea Vargas said, "this achievement is a dream come true; it was the sum of dreams that led us to achieve it. Thanks to the whole team, to the Federation, to all those who mounted each stride with us and to Albrecht Heidemann who with his knowledge, passion and dedication has helped us to be better."
Mexico Clinches Silver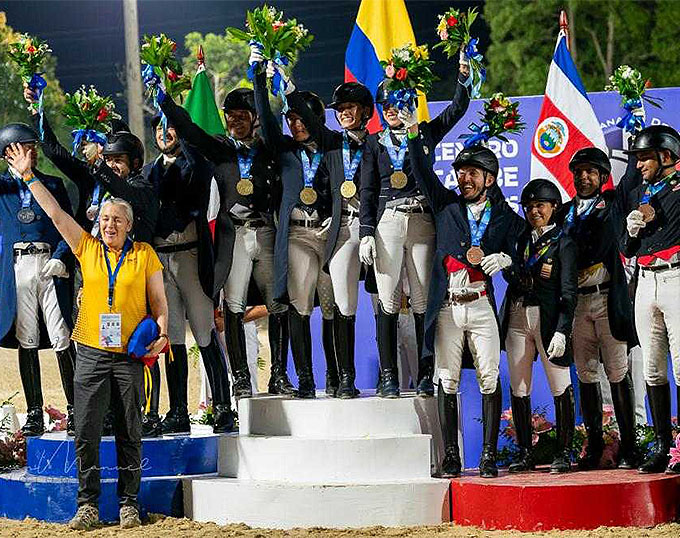 Title defender Mexico, with Mariette Withages as Technical Advisor and Mariana Ortiz as Chef d'Equipe, fought a noble battle until the end. Best placed rider for them was Carlos Maldonado on Frans, a 2010 KWPN gelding (by Voice x Lancet) with scores of 68.456% and 68.493% that granted him fourth and second places in Prix St. Georges and Intermediate I classes.
His team mates were Marcos Santiago Ortiz Diez on Dagasus, a 2010 KWPN stallion by Painted Black x Esteban, Antonio Rivera Galarza on Fite, a 15-year old Hanoverian by Laureano x Harvard, and Jose Luis Enrique Padilla Liekens on the impressive 9 year-old KFPS stallion Twan Van Plexat  (by Sake 449 x Beart 411), who ended up substituting for drop-outs Enrique Palacios  and Deinhard.
Bronze for Costa Rica
Costa Rica achieved a bronze medal for their country after many years of not being in the podium. Even more remarkable is the fact that all of them were riding PREs. The tremendous effort was made under coach Antonio Rivera and Chef d'Equipe Rocio Echaverri, with Gloriana Herrera on her 16 year old Grand Prix gelding Vampiro de Pereto (by Cafe III x Arrogante V), Olger Gerardo Gomez Jimenez on Zarcero AG, a 2011 Stallion by Toronjo III, Sergio Andres Quesada Lopez on the 2007 born stallion Tango AG, and Ronald Mauricio Masis on Zar AG a 2011 born PRE stallion by Toronjo III x Postinero VI.
The Individual Race is On
The Individual and overall medals will be decided tomorrow Friday, with the Freestyles starting at 8:00 am (ET).
Dominican Yvonne Losos de Muniz on Idwinaretto, a 2013 KWPN mare by Everdale x Johnson,  in the lead after the two first classes, followed close by Venezuelan Patricia Ferrando on her own and her mother's 2009 KWPN gelding Elvis (by Rousseau x Osmium) who benefited from the 3% bonuses of the Grand Prix and Grand Prix Special. Mexican Carlos Maldonado provisionally is ranked third.
 As in sports nothing is set in stone until the end, riders of several nationalities could climb to the podium, including Colombia, Barbados, Guatemala and Costa Rica.
Photos © Juan Manuel Photography
Related Links
Scores: 2023 Central American and Caribbean Games
Mexican Team Selected for 2023 Central American and Caribbean Games
Team Mexico and Yvonne Losos de Muniz Win Gold at 2018 Central American and Caribbean Games