2023 European Junior Riders Championships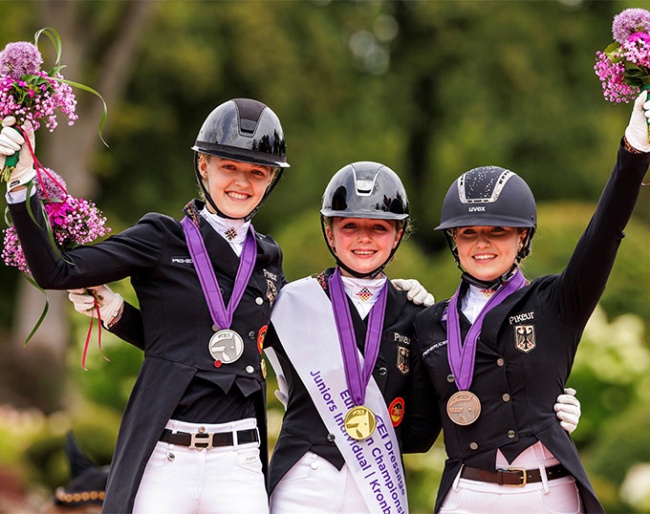 German Rose Oatley continued to rule the roost at the 2023 European Junior Riders Championships in Kronberg and claimed individual test gold on Saturday 22 July 2023. Two years after becoming the European Pony Champion, the 16-year old Rose is now European Junior Champion. She was joined on the podium by her fellow team mates Allegra Schmitz-Morkramer and Lana-Pinou Baumgurtel.
A New Day, New Opportunities
After a tumultuous team championship competition in which Germany proved to dominate the class, earning team gold, yet saw Austria and Denmark share silver on unequal scores while Britain got away with bronze, the individual test offered a new start for many of riders who felt they had underperformed in their first test and were seeking redemption. Those who performed at peak level sought to up the ante and fought for an even high score. 
Hosted at Ann-Kathrin Linsenhoff's fabulous farm Schafhof, the 2023 European Children and Junior Riders Championships took place in perfect, not too hot summer weather with ideal conditions for riders and horses. The ground jury for the individual test included Marietta Almasy (FRA), Alice Schwab (AUT), Hans Voser (SUI), Katrina Wüst (GER), and Agnieszka Majewska (POL).
No Summer Fling
The partnership between Rose Oatley and her 2021 acquired mare Sommernacht (by Rocco Granata x San Remo) does not seem to be a summer fling but one made for a long future.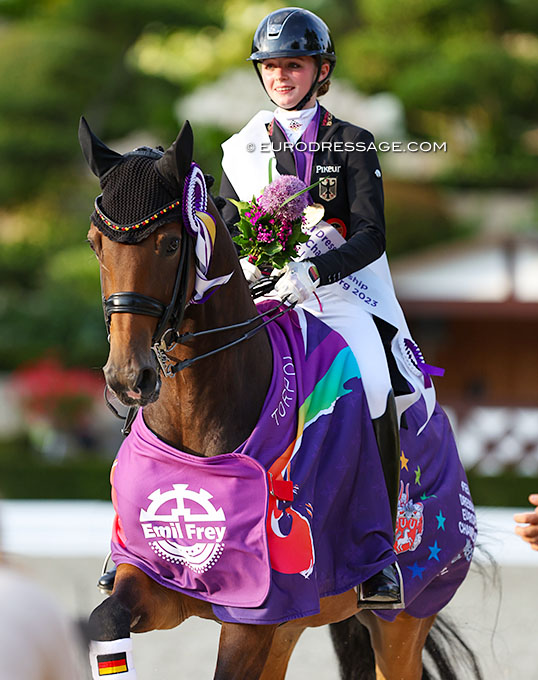 The 8-year old Oldenburg mare is a big mover with a lot of bounce and airtime in trot and canter. She was very balanced on the voltes, had super cadence in trot on the diagonals, in the shoulder in as well as in the half passes, and there was a good stretch into the contact on the long rein without losing the rhythm. The left walk pirouette was nice, the extended walk had plenty of overstep and was relaxed, the right pirouette could have been a bit more active. The canter work looked very polished, only the second flying change to the right was short behind, but the simple change following was good. In the extended canter the mare stays a bit croup high. It was a high quality test with little to comment on. 
All five judges saw her as the winner of the class and rewarded her a personal best score of 78.030%. The judges on the long side were at 76%, those on the short side between 77.9 and 79.7% even. Rose rode on Friday in the first group for the individual test and that score made her overnight leaders. On Saturday no one outclasses her so the Lüttjensee based Oatley won individual gold.
"I'm still shaking. I am so happy with my mare, she did so great," said Rose after her ride. "We went into the test with full concentration and now we can just be proud. I just hope for a nice round in the freestyle and that everyone is happy: Mom and the whole team and of course my mare and me."
Libertad Puts Best Foot Forward
Allegra Schmitz-Morlramer and her 11-year old Hanoverian Libertad (by Londontime x San Remo) were last year's European Junior Riders individual test gold medal winners, but this year started off in Kronberg as being the drop score for the German team, albeit with a 73+ score.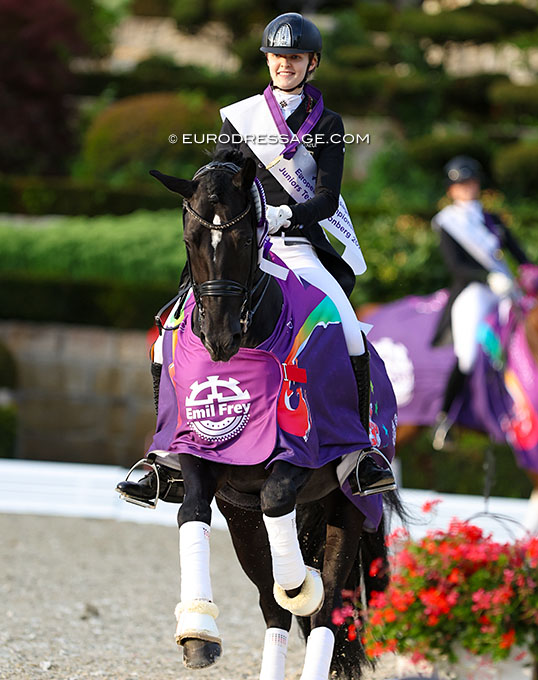 Trained by Sonja Ellerbrock, Allegra went into the arena trying to set the record straight and produced a score of 76.794% which placed her second, good for silver. Four judges had her second; one third. Her individual marks ranged between 75.735% and 78.824%. The half pass left could have had a bit more crossing behind but overall they produced very nice, soft footed trot work, all well balanced and very consistent in the bridle. At times one wishes Libertad to be a bit quicker behind. He could also flex a bit more to the right. The collected walk was mediocre, clearly losing clarity on the rhythm (6.3?). The walk pirouettes were fine but rather slow. The canter work was expressive with nice half passes and flying changes. The end halt was not immobile. 
"I had a very very good feeling today, Libertad was much more relaxed than on Thursday," said Allegra after her test. "I was able to really get to ride. I am overjoyed with the round and how he 'performed'. In general, Libertad is a rather shy horse, but in the arena he doesn't hide and likes to show what he can do. Otherwise he is very calm and you don't even notice that he is a stallion. He really is a super relaxed horse."
Worth noting is that the gold and silver medal winning horse were bought out of Ingo Pape's stallion station in Hemmoor, Germany. 
Bronze for Baumgürtel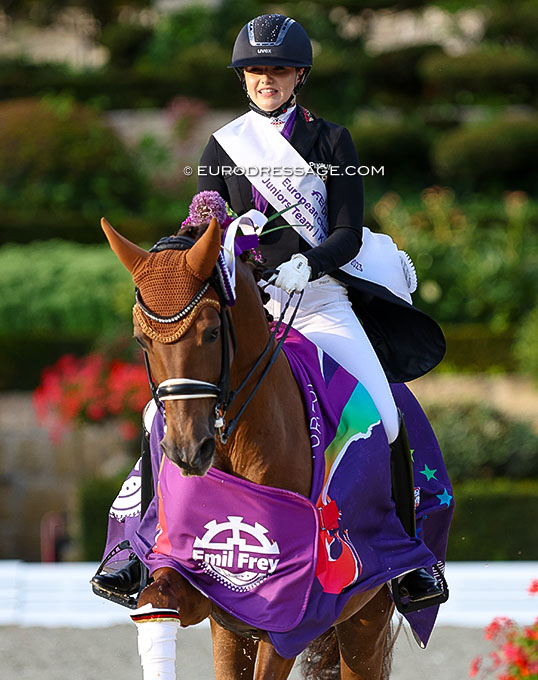 Lana-Pinou Baumgürtel is riding her third European Championship in her career so far, starting on ponies in 2019 and returning on the German team in 2022 as a junior. She won team medals each year but today in Kronberg was her first individual medal. Last year her team ride was Founder (by Foundation), this year she brought the 9-year old Westfalian mare Emma (by Escolar x Laurentianer).
The 18-year old Pinou and her chestnut Emma began with two confident trot extensions and a nice cadence in the lateral movements.  The mare could have stretched even more into the contact. Also in the two half voltes, Baumgurtel rode straight on the centerline for too many strides instead of really bending and flexing on 10 meter half voltes. Emma got stuck in the left walk pirouette. Three of the four flying changes were lovely and straight, the simple change was a bit hesitant. Also the final halt was a bit crooked to the right. Nevertheless it was a  very solid ride which the judges rewarded with a 74.088%, although the individual marks went from 71.912% up to a 76.029%. The pair got bronze. 
"I hardly had any mistakes today, I am super satisfied and had a great feeling," said Pinou. "Emma gave her absolute best and I am very proud of our round. Of course, there are always a few things you can do better, but I think we did quite well in the test today. In the last weeks we worked again on a few little things, which we were also able to transport well into the arena today - I'm also very proud of that."
A Fraction of a Point Between Jöbstl and Graham
No less than six riders scored in the 73% range and competed for individual medal glory, but it were Austrian Florentina Jöbstl and British Myles Graham who were on each others heels and just a fraction apart from each other.  Jöbstl and the 14-year old Hanoverian stallion Bodyguard (by Burlington x Pik L) finished on 73.971% while Graham and the 16-year old AES mare Nibeley Union Hit (by Union Jack x Sandro Hit) were a hair's breath behind them with 73.941%
Jöbstl and Josef Wilbers' Bodyguard showed good ground cover in the trot lengthenings, but at times the horse dropped in the poll in the voltes and skates through the corners. They rode a very nice left walk pirouette, a lovely extended walk with clear V-moment in the rhythm, but got a little unclear in the walk rhythm in the right walk pirouette. The first flying change was crooked, the other three were expressive. He ambled in the simple change though, but the extended canters were well executed. The judges' marks went from 72.794% to 75.000%. She finished fourth. 
"Bodyguard is actually a real showman. He always gives much more at the show than at home, at home he is more in his 'comfort zone'," said Florentina. "But he is already a real stallion. You have to say who's boss, otherwise he won't give you anything."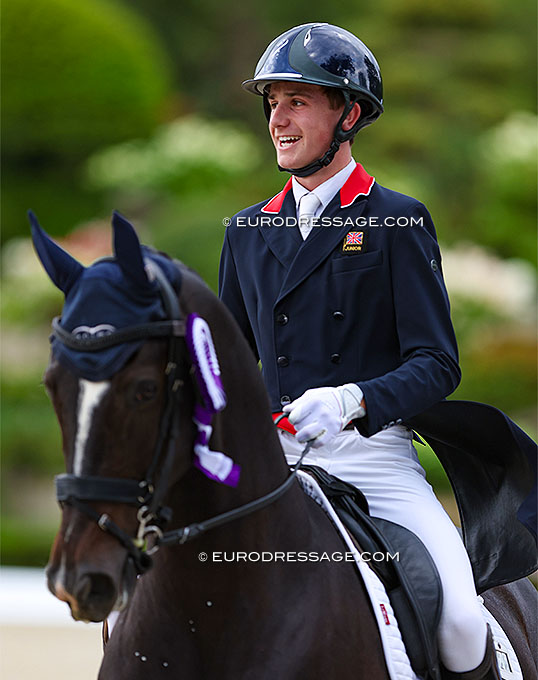 Myles Graham was the last rider to go in the class, a starting place that often works to a rider's advantage with judges more benevolent at the end of the class because they can compare more. Graham and "Una" were already on strong form in the team test and carried that through in the individual. The 16-year old Briton presents the mare in a very consistent frame, her nicely foaming. She could have stretched a little more into the contact when given the rein, but the medium and extended trot showed a clear difference. There was good crossing in the half passes. The left walk pirouette had a tiny backward step, the extended was very clear in the 4-beat rhythm. Graham rode the canter extensions with good forward energy and all flying changes looked easy. The judges were clearly divided on him with marks between 72.647% and 76.176% (2nd and 9th). 
"It's already been a super week here so far and Una has exceeded all my expectations. It's just wonderful, sensational," said Graham.
Six with 73%
The other three 73% earning riders were French Anna Dupuy Pelardy aboard the 9-year old KWPN bred Jarina des Vallees (by Everdale x Sandro Hit) who was fourth in the team test and now sixth in the individual (73.882%). They had German Josephine Ruppert on the 10-year old Bavarian bred Bella Donna (by Belissimo M x Dimaggio) right behind her on 73.853%, while Danish Annabelle Rehn and Vestervangs Garson (by De Noir x Ragazzo) slotted in 8th with 73.530%.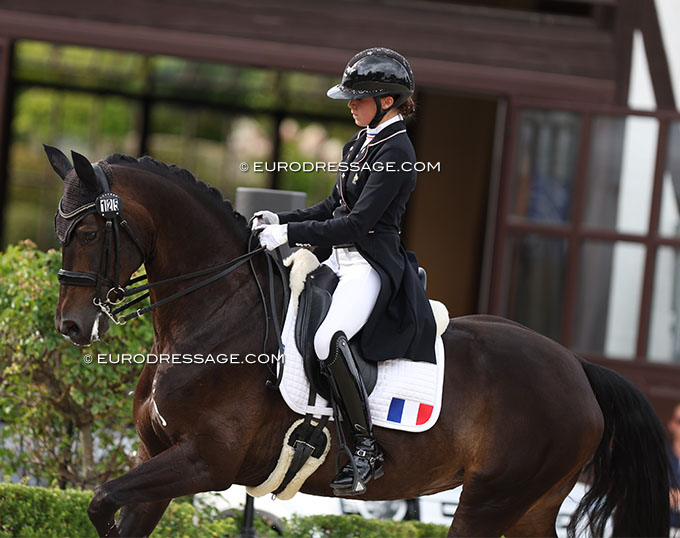 "I had a very good feeling in the arena today," said Dupuy Pelardy. "Jarina was not so fresh today, but still she gave me a good feeling. I've only had this horse for seven months and we haven't competed that many shows together, but it's getting better and better."
The 2023 European Junior Riders Championships comes to a conclusion tomorrow with the Kur to Music Finals. The 18 highest scoring riders (limited to three per nation) move to the freestyle final. For Ruppert and Danish Theresa Rosenkilde their adventure in Kronberg has come to an end as they will not be allowed to move forward. 
- Text and Photos © Eurodressage (this article expresses Eurodressage's' eye-witness account and opinion about the competition).
NO Reproduction ALLOWED / NO SCREEN SHOTS !!!!
Eurodressage took photos of (almost) all competitors. If you are interested in photos for social media use, send us an email and you can BUY our photos 
Related Link
Eurodressage Coverage of the 2023 European Children / Junior Riders Championships