German Sport Horse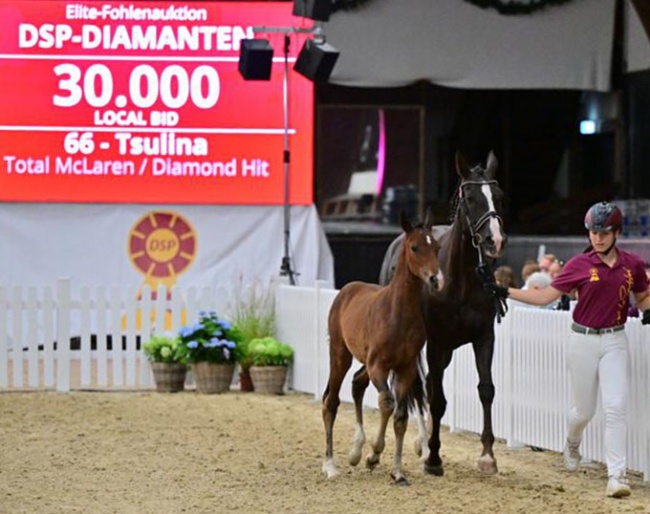 The filly Tsulina became the price highlight in the 2023 DSP "Dressage Diamonds" foal auction held at Hofgut Kranichstein in Darmstadt on 22 July 2023.
A collection of 52 foals was originally listed for sale, 47 of them were sold. The average price was 10,191 euro. 
The best seller was Tsulina (by Total McLaren x Diamond Hit), bred by Bernd Broghammer. She sold for 30,000 euro to Austria.
Filly Diva Bella (by Dynamic Dream x Brisbane), bred by Caroline Tanner, fetched 27,500 euro. 
Vantastic (by Va Bene x Furst Jazz), bred by Hans Claus, sold for 25,500 euro, while  Something Special (by So Perfect x Don Olymbrio L) fetched 22,000 euro. Fraulein Hoss (by Feliciano x Romanov) sold for 20,000 euro.
Paya GE (by Franklin x Furst Romancier) fetched 17,500 euro
Franky (by Fair Deal x Liberator) found a new owner in Austria for 15,500 euro, Fineline (by Filox x Danone) to Austria for 15,000 euro, Feline (by Feliciano x Dante Weltino) to Austria for 14,000 euro.
Mila Grace (by Morricone x Chico's Boy) sold for 12,000 euro, and two foals sold for 11,000 euro: Valina (by Va Bene x Florestano) and Voll Cool (by Va Bene x Foundation).  The latter will move into Ukrainian ownership.
Best Deal (by Benicio x Furst Romancier) went for 10,500 euro. Powerful GE (by Le Formidable x Apache) and Vonderland (by Va Bene x Rubin Royal) went for 10,000 euro.