Finland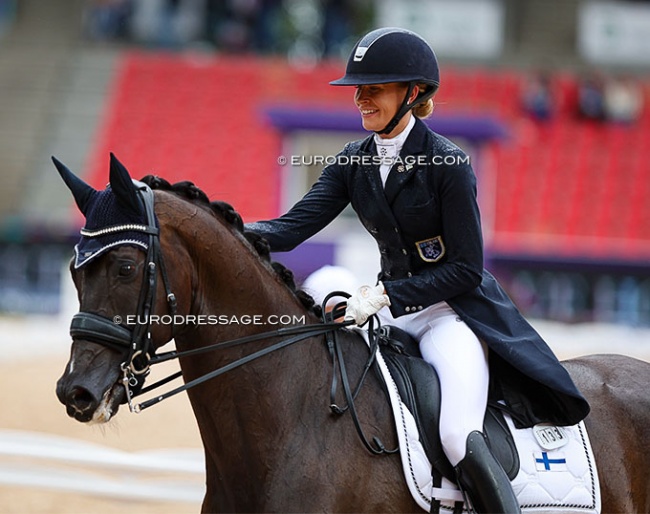 The Finnish equestrian federation has kept Finnish dressage lovers on the edge of their seat to announce their team close to the definite entry deadline of 25 August. It has now selected the team that will represent Finland at the 2023 European Dressage Championships in Riesenbeck (GER).
The event takes place on 4 - 10 September 2023.
Headed by team trainer Rien van der Schaft, Finland is sending:
Emma Kanerva and Greek Air (reserve horse: Mist of Titanium)
Henri Ruoste and Campari
Anna Tallberg and Grevens Zorro
Yvonne Österholm and Ironman H
The travelling reserve is brand new Finnish champion Ville Vaurio on G-Star.
"We have four riders who are very close to each other based on the results," Van der Schaft stated. "The competition results are not quite comparable, because each show has its own level, but Emma [Kanerva] is one of the top riders at the moment. (...) Deciding the team was difficult. In addition to the results, we also looked at the development of the riders towards the Championships and the age and experience of the horses."
Finland will be aiming for an Olympic team spot in Riesenbeck. Last time Finland was represented with a team at the Olympics was in 1988 in Seoul, where Anna Tallberg's grandmother Tutu Sohlberg competed and Team Finland finished sixth. In 2000 Finland also sent a team to Sydney, but two horses got injured and Heidi Svanborg and Elisabet Ehrnroot ended up competing as individuals.
Finland has also nominated two individual para riders for the 2023 European Para Dressage Championships in Riesenbeck. They are Laura Kangasniemi on Goldprins (Grae IV) and Jonna Aaltonen on Laxton For U (Grade V).
Photo © Astrid Appels
Related Link
Eurodressage Coverage of the 2023 European Dressage Championships