2023 European Para Dressage Championships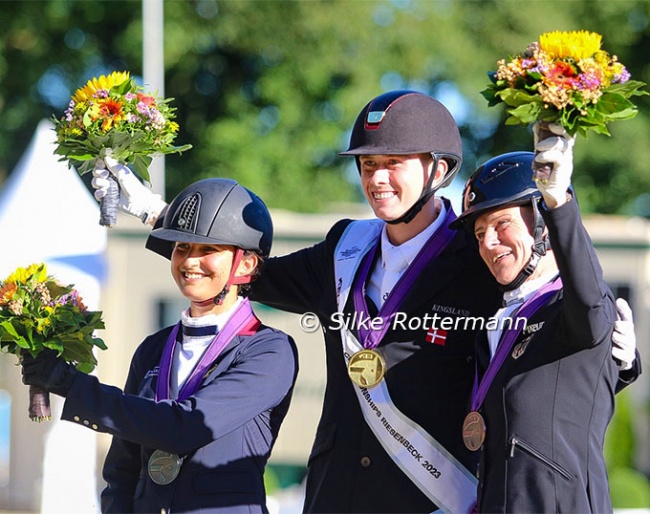 After some rather nail-biting style gold medals in the two grades (I and II) on the first day of para competitions at the 2023 European championships in Riesenbeck (Germany), the Grade III individual class held no such drama and one was tempted to say it was 'business as usual' for Danish Grade III superstar Tobias Thorning Jörgensen.
Temperatures were truly soaring in the afternoon on Tuesday, the 5th September 2023, and the Grade III individual class threatened to become a real heat battle for the involved horses and riders alike. The huge tribune on one long side of the para stadium consequently was rather avoided than frequented, with spectators looking for some shadier places, although there were hardly any available.
Horses and riders used the comparatively cool indoor arena a stone throw away from the stadium to prepare in comparatively pleasant temperatures. That way they avoided getting soaking wet in their black attires before it counted for gold, silver, bronze and more. The majority of competitors, when coming out of the indoor arena, just stayed a short time in the outdoor ring next to the stadium, to psyche up if needed the last crucial minutes before it counted. Saving energy and staying not only mentally, but also physically cool was the motto of the day.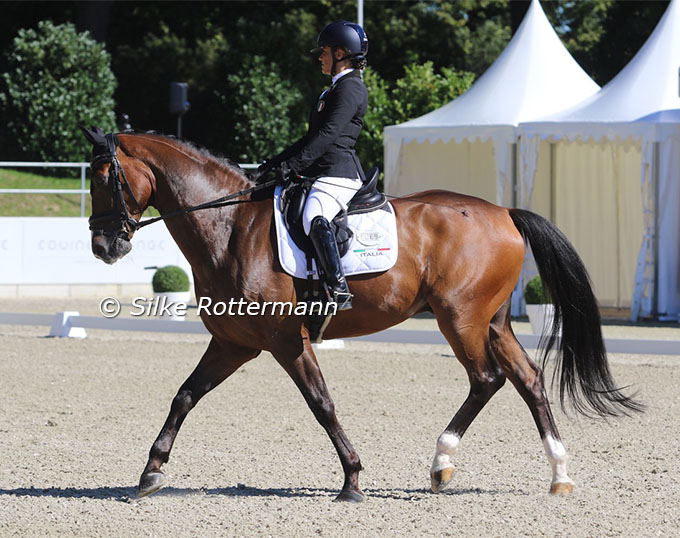 Still best known for the wonderful partnership Francesca Salvadè shares with her Danish gelding Oliver-Vitz for long years, she choose to take her 9 years younger horse Escari, an only 6-year-old son of Escolar, to Riesenbeck after encouraging results, for example at the CPEDI Stadl Paura in May, perhaps also in regards to next year's Paralympic Games in Paris. The Italian was the first of a handful of riders in a field of 11 who could be considered a possible medal candidate. She and the youngest horse of the class did not disappoint. The harmonious Hanoverian gelding is brimming with talent and showed a fluent test to get a generous 71.300% by the five judges: Sarah Leitch (GB) at E, Anne Prain (FRA) at H, Ineke Jansen (NL) at C, Elke Ebert (GER) at M and Eva Andersson (SWE) at B.
Right after the dynamic duo from Italy, the 2019 double bronze medalist in Rotterdam, Barbara Minneci from Belgium, entered the ring to challenge this result.
Known as the "side-saddle-rider" in para dressage for a long time, the 55-year-old from Brussels underwent intensive physiotherapy for over half a year in 2021 to become finally able riding astride again. Minneci presented her now 14-year-old Oldenburger gelding Stuart (by Sir Donnerhall-Diamond Hit) in a nice frame and good contact throughout their ride which was dominated by great harmony, but lacked a bit this sparkle and dynamic which is simply required to win the medal nowadays. Just under 70% the Belgian ended in 6th place this time.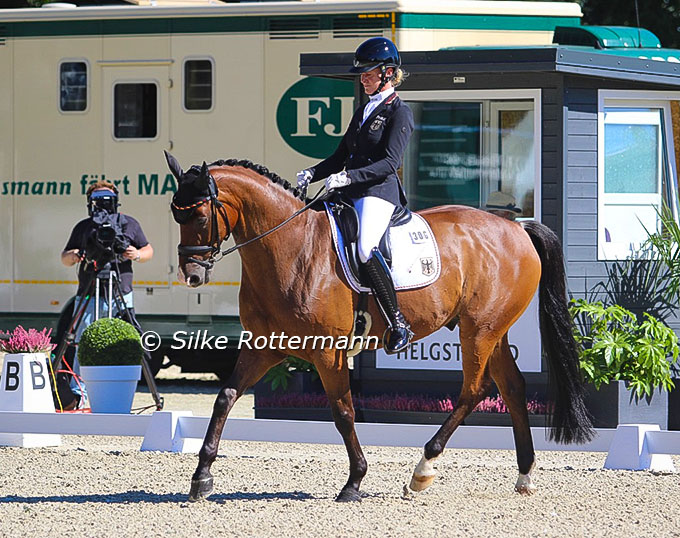 Before the compulsory break between two blocks, Germany's Melanie Wienand had to put a really good score on the table if she wanted to have a say in the medals because with hot favorite Tobias Thorning Jörgensen, Dutch Lotte Krijnsen and France's para superstar Chiara Zenati three more came in the last block of starters.  Wienand who used to be an auction rider at the famous Verden auctions until she suffered a very serious accident there about a decade ago, has only come onto the para scene a few years ago and has steadily improved her performances with Lemony's Loverboy whom she owns since foal days. The son of Lemony's Nicket showed a ride with no flaws, precisely ridden by his well seated rider and without any remarkable tension. 72.633% were a result which in the end meant the bronze medal, in the end coming quite close to silver medalling ride after the break. However, it cannot go unmentioned that the five judges were not quite in unison regarding this pair, differing almost 9% in their results (from 68.500% to 77.333%).
But lets be honest, judging para dressage is certainly a challenge and an art in itself: So many different types of horses, presented by riders with partly very different disabilities resulting in different ways to take an impact on the horse (for example some Grade III riders can use their legs quite well, others not at all). As a result there are Grade III horses in a quite horizontal balance and others more collected, creating a different way of going and impression.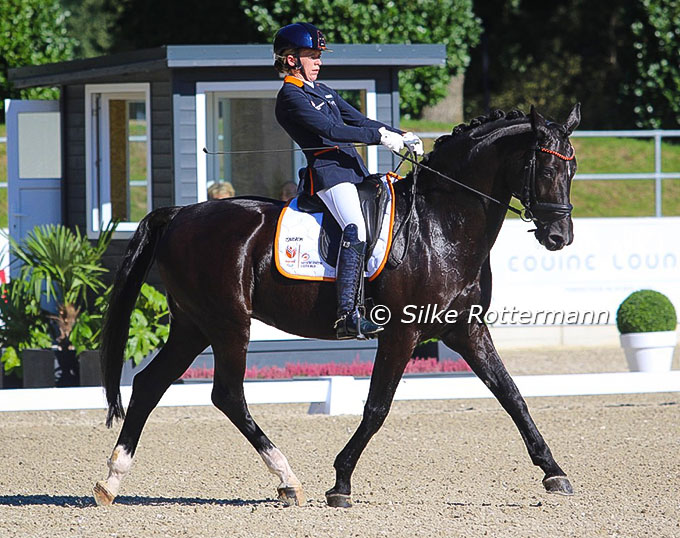 The Netherland's hope Lotte Krijnsen and her long-time partner Rosenstolz N.O.P., vice World champions last year in Herning in the freestyle and double bronze medalists at Europeans already back in 2015, certainly did not disappoint. The impressive black Oldenburger mare by Rotspon-Sandro Hit with her stallion-like neck and her petite rider proved with an expressive and harmonious ride they are still one of the best in this grade. With 72.533% they remained just a tiny whisker behind Wienand and had to be content with 4th place.
When France's Chiara Zenati went to the Tokyo 2021 Paralympics she was just 18 years of age and at the very beginning of her international career, with no heavy expectations on her shoulders. The federation had scouted her during a talent scout in view to the 2024 Paralympics in Chiara's hometown Paris and enabled the ever cheerful young woman to work with Cadre Noir écuyer Sebastien Goyheneix and the highly experienced para horse Swing Royal IFCE.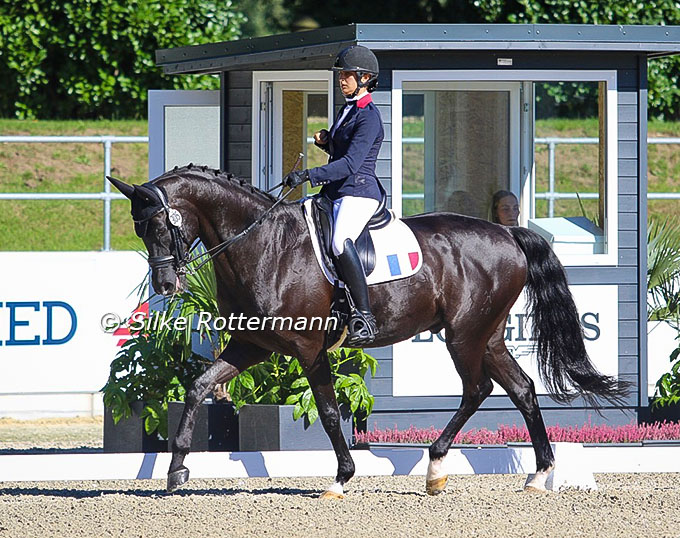 At Riesenbeck Chiara had to deal not only with high expectations after a very successful season leading up to the Europeans, but also with a big interest of the press, but she kept her focus and showed perhaps the most elegant ride of the class. Riding one handed with a double bridle due to the problems an inborn hemiplegia causes on her right side, the Saumur based French and her already 17-year-old Hanoverian by Royal Blend risked all to fulfill the dream of winning a medal. Swing, who is clearly influenced by his dam's sire, the French bred Anglo Arab Matcho, moves with remarkable light-footedness and ease.
With 72.900% Zenati put her foot down on silver at last ahead of Melanie Wienand.
The dynamic Danish duo of only still 23-year-old Tobias Thorning Jörgensen and his gorgeous 15-year-old Danish mare Jolene Hill (by Blue Hors Schufro Hit-Windsor) were the title defenders from Rotterdam 2019. Both stunned the crowds once again with their degree of harmony, their great precision and the grey's wonderful swinging trot. The judges not only awarded a whopping 77.767%, but all five put the hot favorites in an undisputed number 1 spot, almost 5% ahead of Zenati.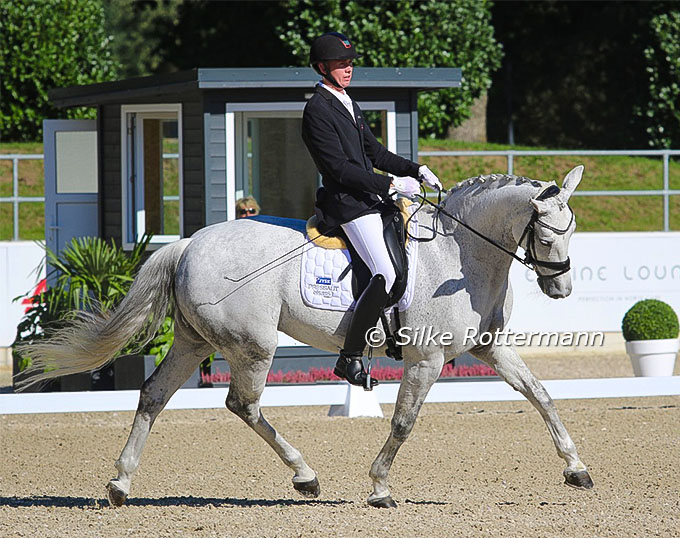 The prize-giving became a heartwarming, but noisy affair with all three medal winners having had their enthusiastic supporters on the tribune, waving flags, cheering, whistling and showing posters. The three four legged medalists proved their exceptional character by not batting an eyelid, standing there relaxed with their proud grooms next to them. 
Grade III Riders for the Team Championship
On Thursday, 7th September 2023, the Grand Prix B was ridden in Grade III, counting for the team result and as 2nd individual qualifier for the last day of para dressage on which the freestyle finals would take place.
Whereas Tobias Thorning Jörgensen and Jolene Hill again proved their supremacy with having all five judges placing them 1st and delivering an outstanding 77.434% for the Danish team, the tables turned behind them.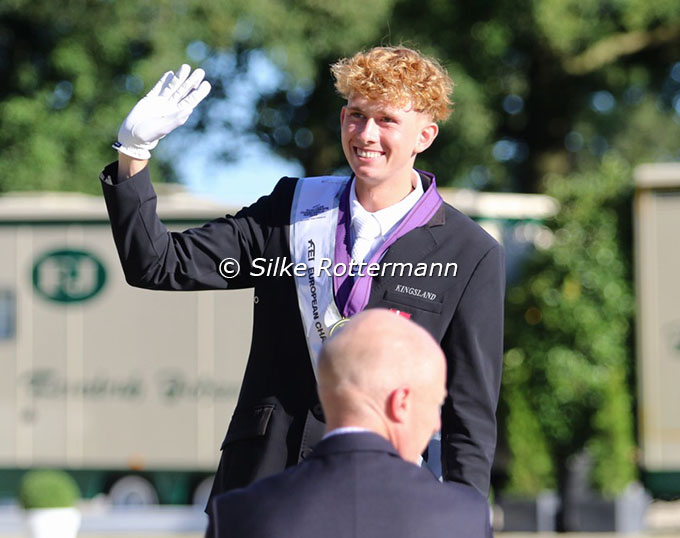 Germany's Melanie Wienand, certainly riding her Lemony's Loverboy on a high after having won her first ever championships medal two days earlier and determined to win yet another in the team competition, scored 73.933% and stayed ahead of Chiara Zenati and Swing Royal IFCE (72.767%) this time.
Italian Francesca Salvadè managed to repeat her good performance from the individual competition with the inexperienced Escari who at 6 years of age was the youngest horse in the para classes in Riesenbeck, coming very close to Zenati on that day.
Text and Photos © Silke Rottermann for Eurodressage (this article expresses Silke Rottermann's eye-witness account and opinion about the competition).
Related Links
Scores: 2023 European Para Dressage Championships
Eurodressage Coverage of the 2023 European Dressage and Para Dressage Championships