2023 European Para Dressage Championships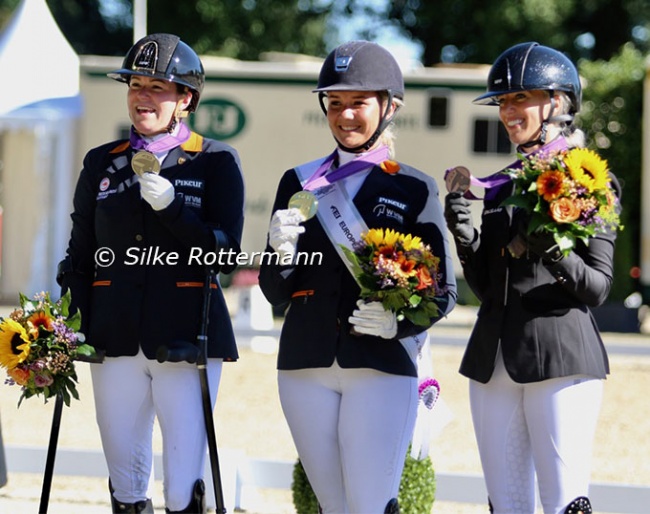 Two horses as orange as their country's national colour, two riders hoping to take the European crown for The Netherlands. Relative newcomer Demi Haerkens and Grade IV legend Sanne Voets had a similar situation 12 months earlier at the World championships in Herning with the latter retaining the crown there. So the first Grade IV class at this year's Europeans promised an exciting "Dance of the Titans".
It was a pretty early start of the first of two para competitions on Wednesday, 6th September 2023, with the first rider having to go in at 9 am. But despite the morning hour, the sun had already warmed up significantly in comparison to the days before.
The draw determined that Demi Haerkens had to go in the first block of riders before the break and Sanne Voets being the very last of 13 starters after 11 pm which meant the 25-year-old blonde from Helmond in The Netherlands really had to risk it all as she could not know what her compatriot and strongest rival would deliver later on.
Therefore, not only due to this expected duel , the Grade IV individual test in Riesenbeck seemed to become an interesting class. The bronze medal was the target of several candidates and it would be absolutely day form which would decide if France, Sweden or Belgium would snatch it.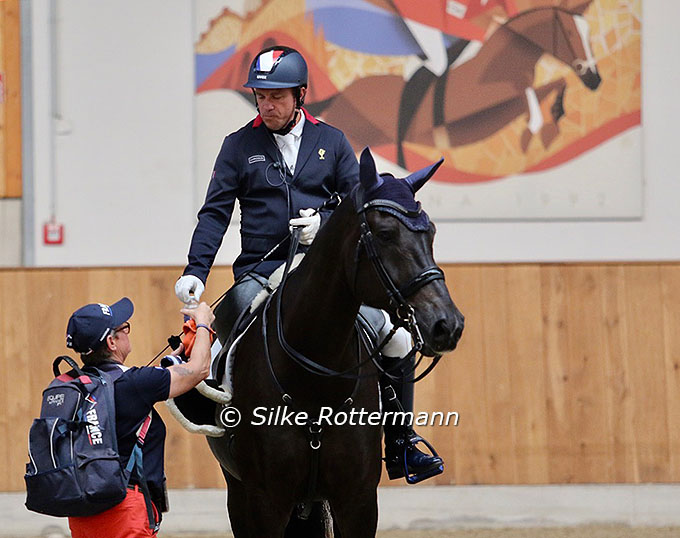 The very first in the ring was Vladimir Vinchon from France and his big framed Pégase Mayenne, 10-year-old son of Fidertanz bred in Oldenburg who was formerly known under the name of "Fidertanz for Rosi". The brown gelding partners the former international jockey who lost his right leg in a car accident almost 30 years ago since a few years now.
Pégase Mayenne was very consistent in most of the required movements, with Vinchon most of the time keeping him out in front and in a nice frame. The five judges rewarded this with 72.305% which was an encouraging beginning of the class.
Right after the French pair Manon Claeys from Belgium and her still only 8-year-old mare Katharina Sollenburg entered the arena. Both had already been at the 2022 World Championships at Herning after Manon's top horse San Dior had to be retired from sport. Katharina Sollenburg (by Electron-Jazz) is a strong big framed mare with the look of a Grand Prix horse. She managed to stay nicely up and in open in the (double) bridle through most of the ride. Manon kept her exemplarily in this nice frame, although she had to take care to keep the young horse's balance  in the extension in which she successfully juggled between expression and keeping the balance. With 72.833% both overtook Vinchon and it was now to sit and wait what this result was worth, with 11 more pairs to come.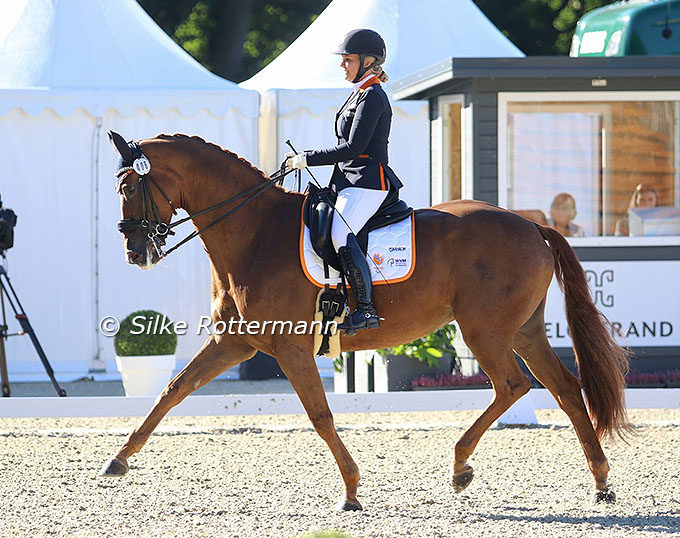 With the fifth starter it turned orange around the arena. Demi Haerkens absolutely gorgeous 15-year-old KWPN mare EHL Daula N.O.P. (by Gribaldi-Michelangelo) entered the stadium in an expressive light-footed trot. Originally internationally campaigned by Dutch Danielle Heijkoop at small tour level, the mare is now presented by Haerkens in para sport where she is no doubt exceptional with her overall appearance and quality of gaits. Haerkens who suffers from a muscle nerve disease which weakens her muscles, presented the mare throughout their ride in a nice frame and consistent contact. The extensions in trot and canter were ridden in a nice rhythm, with the mare coming back easily when asked to. The simple changes were executed on point. The judges dug deep in their mark box and awarded huge 77.556%.
Right after the break which most used to cool down, Rene Igelski and her pretty 14-year-old daughter of Benetton Dream, Beyond Dreams, started for Denmark. It was not her first team appearance. Exactly 40 years from Riesenbeck Igelski won European silver on the Danish team, then spearheaded by the legendary Anne-Grete Jensen and Marzog at Aachen.  Igelski showed a nice harmonious performance, even though the dark brown mare could sometimes even push a bit more from behind in trot. The canter tour was well executed and ridden forwards. In the extended walk on the circle Beyond Dreams had a wobble which costs some points.
With 71.000% they placed 6th in the end.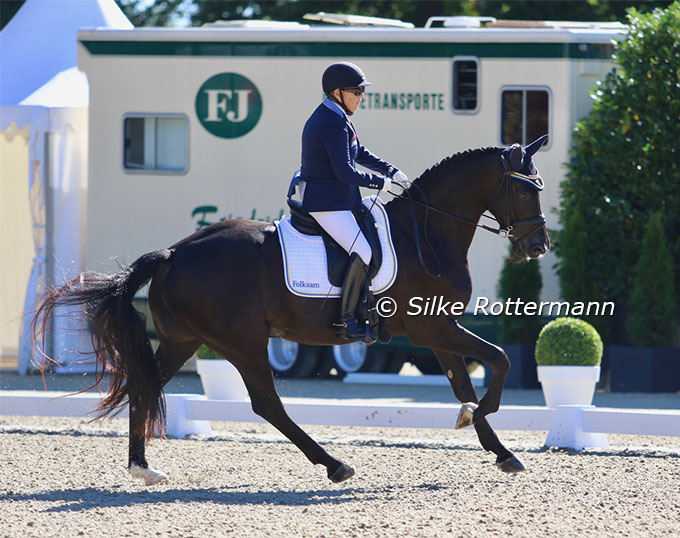 Louise Etzner Jakobsson from Sweden and her sensitive black KWPN gelding Goldstrike B.J. had one of those days on which all came together. The 63-year-old from the island of Gotland who had suffered a horrific stable accident 12 years ago, has a prolific equestrian background, once having worked for German dressage trainer Jürgen Koschel back in the days. Goldstrike,  who is by Dreamcatcher out of a Jazz-dam, was really with his rider on that day. Both showed a quiet correct ride with no real mistakes, the horse always ridden from back to front, developing correct impulsion instead of just speeding up. Ridden in a simple Baucher snaffle with a strikingly loose noseband, Goldstrike represented good classical equitation. Results between 74.028 % (Anne Prain and Eva Andersson) and 69.722 (Sarah Leitch) meant an overall percentage of 72.833 and 4th place.
The tension palpably rose when the absolutely dominating Grade IV rider of the past 7 years entered the arena. Dutch Sanne Voets and her now 15-year-old Dutch bred Demantur have won 3 Paralympic gold medals and 6 golden ones at World championships. They were als the title defenders from the Europeans in Rotterdam 2019.
A year before in Herning they had managed to keep Demi Haerkens and her mare at bay and right after beginning her test in Riesenbeck, everyone got aware that Voets wouldn't easily hand the gold over to her team member.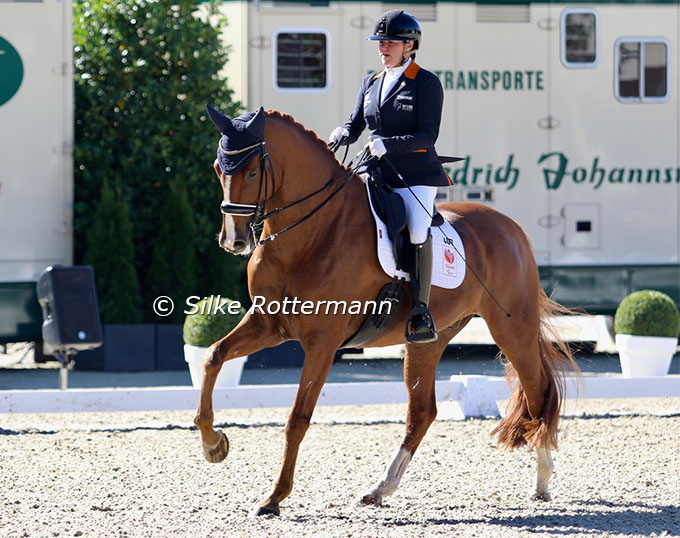 The 37-year-old gave it her all and took the risks throughout their ride. Demantur, this athletic son of Vivaldi, responded beautifully and showed no real weak spots. The marks kept coming consistently high, with a few less high ones in the walk tour. It was a perceived virtual head-to-head dance, but in the end Haerkens took the upper hand and Voets got the silver with 75.916%.
A fantastic "double Dutch" on the podium left the orange camp in high excitement and they celebrated their two medals accordingly during the prize-giving.
Grade IV Riders in the Team Championship
On Friday, the 8th September 2023, the Dutch duo repeated their coup and  in the Grand Prix B remained in just the same order like two days earlier: Demi Haerkens hold Sanne Voets again at bay, contributing impressive 79.730% to a Dutch team result, while Voets remained in the high 70s scores at 76.460%.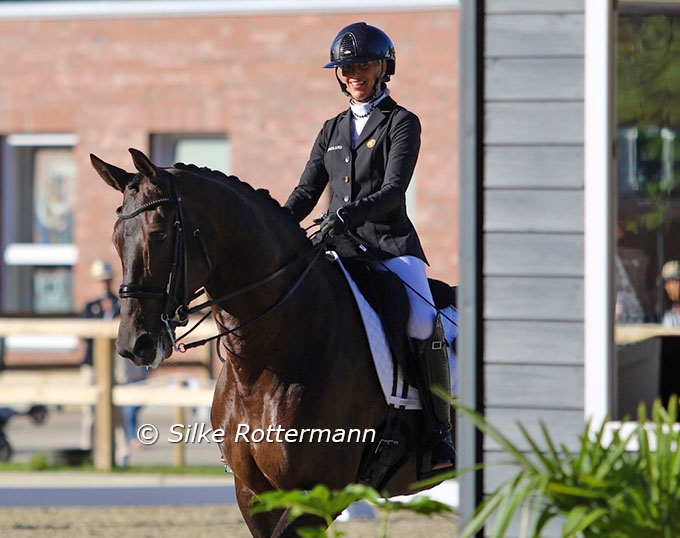 French Vladimir Vinchon improved two places into 3rd with 74.054%, whereas Manon Claeys for Belgium came 4th this time (73.703%) and Swede Louise Etzner Jakobsson 5th this time (72.567%).
Text and Photos © Silke Rottermann for Eurodressage (this article expresses Silke Rottermann's eye-witness account and opinion about the competition).
Related Links
Scores: 2023 European Para Dressage Championships
Eurodressage Coverage of the 2023 European Dressage and Para Dressage Championships