2023 European Para Dressage Championships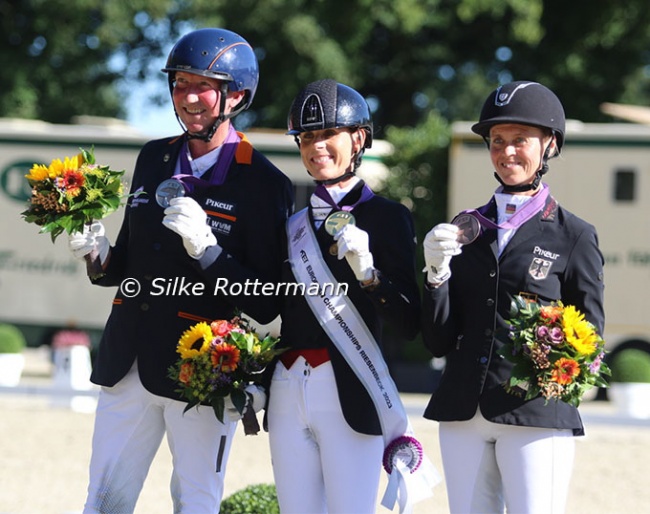 For more than one decade three riders are practically dominating the highest grade in international para dressage and shared titles on the European, World and Paralympic stage amongst each other. We are talking about Michèle George from Belgium, Sophie Wells from Great Britain, and Frank Hosmar from The Netherlands who have raised the bar in Grade V, with other competitors trying to get hold of them. With Sophie Wells' having to fall back on her inexperienced 7-year old reserve horse instead of her top ride Don Cara M, it seemed that Riesenbeck would be a head to head between the Belgian Queen of para dressage and her long-term challenger from The Netherlands.
The Grade V individual class at this year's Europeans was by far the largest one with 18 riders from 14 different nations. Belgium, Sweden, Great Britain and Denmark had two riders each in this class in which the majority of horses is trained to a higher level than required (about medium), with some starting at PSG-or even Grand Prix-level. The degree of collection, the submission, and the overall quality of gaits naturally have to be higher than in the lower grades, but this also means that horses of a certain price range are required which are hard to afford for quite many para riders, some develop the horses themselves, others get them provided by generous patrons or breeders.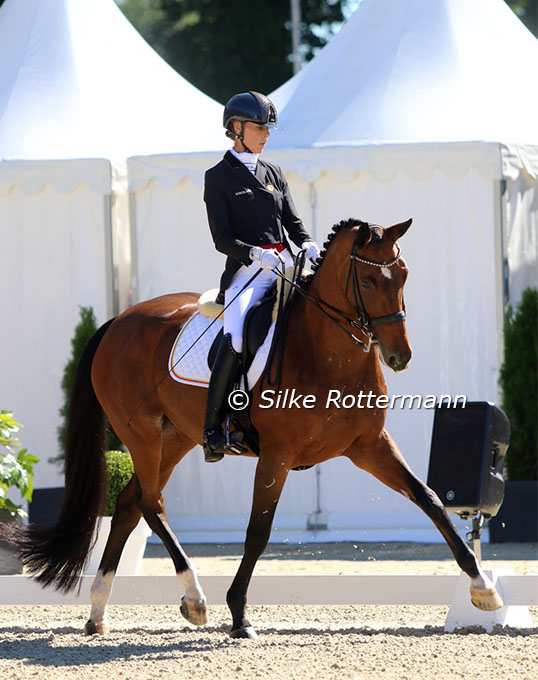 Riesenbeck saw this overall development confirmed with so many quality horses and some seriously good riding, even though one has to admit that certain trends, which are now mainstream in able)bodied dressage, have also found their way into para dressage.
The jury, consisting of Ineke Jansen (NL), Elke Ebert (GER), Eva Andersson (SWE), Sarah Leitch (GB) and Anne Prain (FRA) was a complete different one from the one that judged the head-to-head of George, Wells and Hosmar at the 2022 World Championships in Herning. 
First to go of the potential medal candidates, to which also German Paralympic bronze medalist Regine Mispelkamp belonged, was Belgian Michèle George and her now 13-year-old Hanoverian mare Best of 8. The bay Bonifatius-offspring came to George four years ago through German dressage legend Isabell Werth and they clicked right away, medalling not long after at the 2019 Europeans in Rotterdam, before becoming double Paralympic champions in Tokyo, and double World champions in Herning over the past two years. However, George's preparation for Riesenbeck had suffered a setback in spring when she sustained broken ribs right at her home CPEDI in Waregem. She had to cancel her start at the show after a brave attempt in the Grand Prix A class in which she came third. In Riesenbeck the 49-year-old didn't let that missing ring practice bother her whose strength it to ride with such a routine and precision that mistakes are an exception. Only Best of 8's last halt was a bit abrupt and the (double) bridle contact could be lighter at times.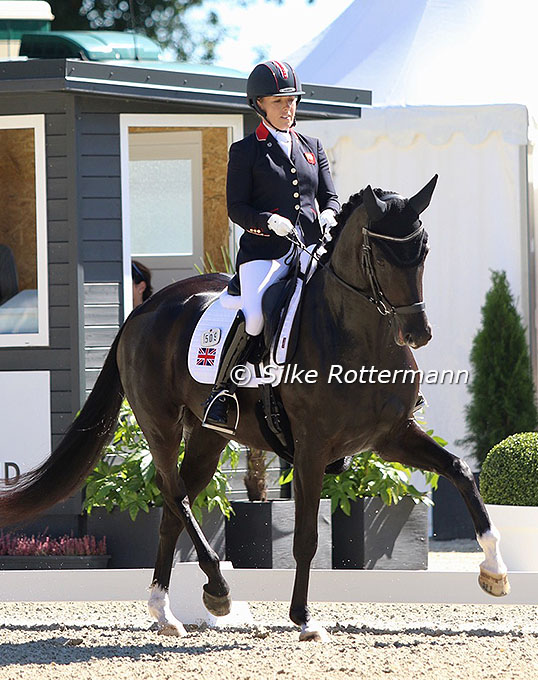 Scoring 76.308% George set a very high bar for her direct rivals of which 33-year-old Sophie Wells was the next to go in 4th. Sophie who runs her own  very successful training stables in England, has won an incredible number of titles and medals over the past 14 years and also took part in able bodied Europeans at the Young Riders and U25 Grand Prix, before focusing entirely on para sport. She sat on one of two just 7-year-old horses, the Danish bred mare LJT Egebjerggaards Samoa who was a blank page at international championships. Sophie put in all her experience to give the black mare confidence. In the medium trot Samoa broke in canter which brought the marks down in this movement. Both scored 71.846% percent, even though the judges' verdicts differed from 69.615% (Ebert) to 74.359% (Jansen).
The Swedish pair of Lena Malmström and Fabulous Fidelie, not only after placing three times second at the "Aachen of para-dressage" in late April in Waregem, were ones to watch out before the break. For a few years now the gorgeous Swedish bred liver-chestnut mare by Floricello x Don Romantic and her 54 -year-old rider from Hässleholm stands out with their beautiful classical riding. Even though Malmström who trains with Kerstin André in Sweden had to take care not to let a bit of tension creep in. The 11-year-old mare showed a balanced program with very correctly developed trot extensions and tidy half pirouettes in walk. The judges' were pretty in unison and scored her 72.897% to let them finish 4th in the end of the class.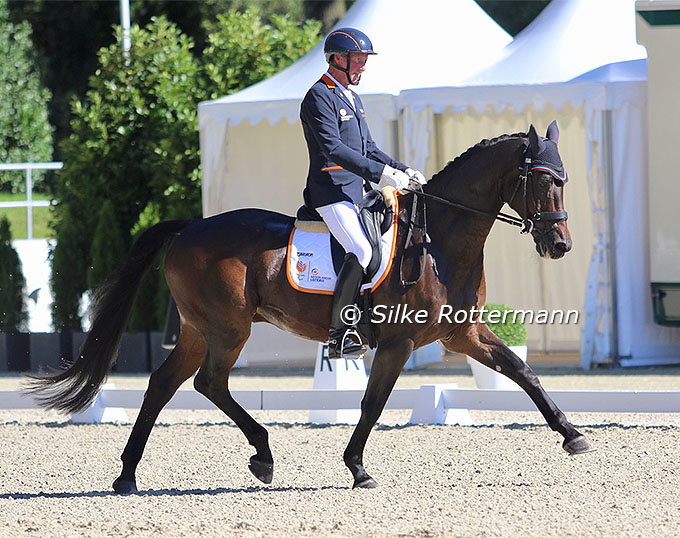 The first of the medal contenders after the break was Dutch legend Frank Hosmar and his once-of-a-lifetime horse Alphaville N.O.P.. The elegant dark bay, bred in The Netherlands by Sandreo x Iglesias, is 18 years now and has an incredibly long and distinguished career behind him, plastered with titles on the European and World stage and medalling at three Paralympic Games with the tall the 55-year-old. The gelding, who had become seriously ill after Tokyo and had been nursed back to health by his rider, was presented with striking elevation, was still fresh and athletic to score exactly 76.000% and finish close to George in silver medal position. Remarkably Hosmar received the highest score of the entire field from French judge Anne Prain who saw him at 78.333%.
Right after Alphaville N.O.P., the tall leggy FJ Veyron and British team newcomers Charlotte Cundall entered the arena to give their international championships debut. FJ Veyron who is an Oldenburg by Vivaldi out of a Fidermark dam, bred by former British Olympian Nicola McGivern. The former 3-star-eventer and the 2014 winner of the Potential International Dressage Horse of the 4-year-olds in Britain, known by his nick-name "Duke," had achieved encouraging results in Hartpury and Kronenberg and they absolutely justified the faith the selectors had shown in them. Respectable 72.308% meant a fabulous 5th place at this first attempt and best British pair on that day.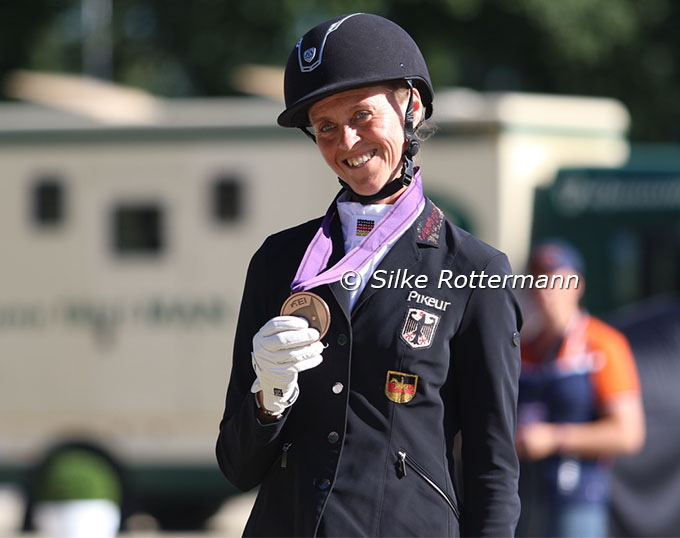 While gold and silver seemed to be awarded, Regine Mispelkamp, the host nation's hope for a medal, entered the stadium riding her top horse, the 11-year-old Highlander Delight's with whom she had made a steep rise in 2021, winning the freestyle bronze in Tokyo. Mispelkamp, who runs a training stable in Geldern (GER), was  determined to give the medal hunt a go, although her stallionlike KWPN gelding already showed a slight resistance in the first volte in trot. This certainly did not deter the 53-year-old to present her liver chestnut to the best of his abilities. Overall the extended walk of the Florencio-offspring is remarkable, Highlander Delight's marches through his whole body and lengthens his neck exemplarily. The trot extensions were regular, even though the horse could be a bit longer in his neck which is quite short by nature. With 74.295% Mispelkamp won a much celebrated individual bronze medal and with it took care that every single of the four German riders got an individual medal in their respective grades in Riesenbeck—an outstanding success for the riders of the host nation and their national coach Silke Fütterer.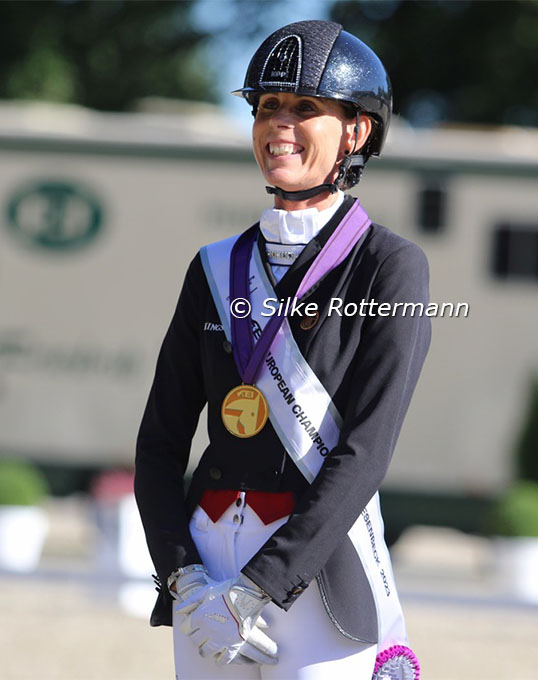 The Grade V individual competition in Riesenbeck not only saw an impressive number of riders and countries taking part, but overall an outstanding level of performances. At the World championships in Herning 7 of 17 starters achieved a result of over 70%, whereas in Riesenbeck  11 of 18, more than 50%, did so. Of course, the increasing level of performances has the downside already mentioned at the beginning: It comes with the need for exceptional horses who are in a price range which put some talented riders in front of a seemingly unsurmountable wall. Despite the increasing popularity of para dressage and its global growth, the possibilities for sponsorship, let alone prize money, are a far cry from  able bodied dressage. There seems to be an increasing need for a certain financial background or other support to do para sport at this level and be competitive. In that regards para dressage is at a crossroad and has to take care it is not turning into a direction it becomes an elite sport of those who can afford it.
Grade V Riders in the Team Competition
On Friday, 8th September 2023, the Grade V Grand Prix B was ridden to determine team medals as well as individual freestyle qualification.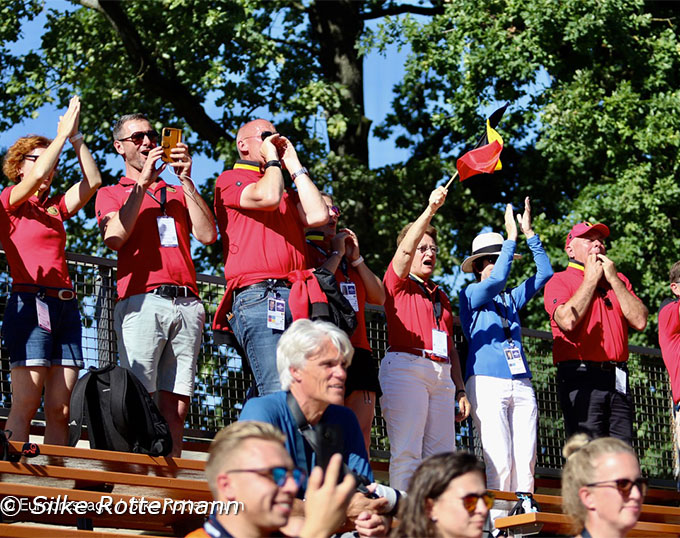 Still in unrelenting heat The Netherland's Frank Hosmar managed to stay ahead of his permanent rival Michèle George, scoring 76.447% for his team which rode on a very high level in the team competition.
Germany's Regine Mispelkamp repeated her 3rd place from Wednesday and put 74.079% for her country's attempt to win a team medal on the table. She had, however, to share 3rd place with Britain's Sophie Wells who scored the identically for her team with an improved performance on her young inexperienced mare.
Text and Photos © Silke Rottermann for Eurodressage (this article expresses Silke Rottermann's eye-witness account and opinion about the competition).
Related Links
Scores: 2023 European Para Dressage Championships
Eurodressage Coverage of the 2023 European Dressage and Para Dressage Championships