2023 European Para Dressage Championships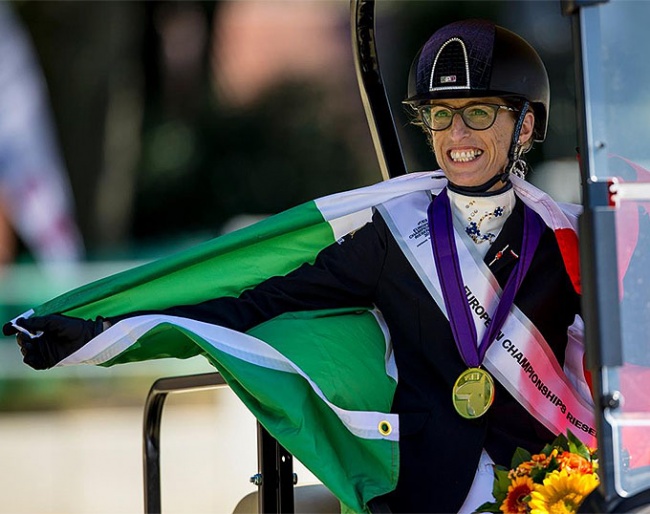 -- FEI press release by Stinna Tange
If there has been any doubt about the development that Para Dressage has gone through the last few years, this FEI Para Dressage European Championship in Riesenbeck has surely proven it. With the freestyle in all five grades being won with over 80% scores it's evident that Para Dressage has been raised to a whole new level across all grades. The quality of both the horses and the riding in all grades is phenomenal, and to win medals the riders have to bring their very best.
Grade III
Entering the arena to the tune of Dolly Parton's 'Jolene', Tobias Thorning Jørgensen (DEN) and the outstanding grey mare Jolene Hill danced their way to another gold medal in Grade III. Scoring an exceptional 83.833%, Tobias let noone challenge his currant dominance in his grade. The silver medal went to the elegant French combination Chiara Zenati and Swing Royal Ifce with 77.773 %. In bronze was Lotte Krijnsen (NED) Rosenstolz N.O.P with 75.680%.
Speaking with Tobias Thorning Jørgensen after his ride, he said; "It felt amazing in there today! I really love my freestyle and Jolene grows a little every time I ride it. Today my trot work was very fluid, and I really think my transitions were good. I would like a little more quickness, if I have to be very critical, but I really think fluidity was the highlight of today".
About his music, Tobias says; "It was important to have some music that lifts the horse, and of course I had to ride into the song Jolene! I would like to have a dramatic ending as well, so I chose a Danish football song from the Danish team to put in there so, yeah, I really thought about putting in some music that lifts her and shows both the dramatic side and the flow that we have"
Grade II
The high level of the freestyles continued as yet another grade is won with a score of over 80%. The German Grade II sensation of these championships - Heidemarie Dresing and Horse24 Dooloop - finished off an incredible week with 80.353 %, and gold in the freestyle.
Following closely in silver position was the British duo Georgia Wilson and Sakura with 79.367 %, while the bronze medal was claimed by the Norwegian rider Ann Cathrin Lübbe and La Costa Majlund with 74.540%.
Speaking after her ride, Heidemarie says; "It feels like a dream come true! My dream was to ride 80%, as I said at the press conference, but after the ride I was not sure I reached that goal until I heard it over the speakers, so I was super happy that it came true" "I think my music supports the program and the horse, so it becomes an artistic expression, and today that all came together perfectly"
Grade I
The riders in Grade I delivered high quality and expressive freestyles which were rewarded with a lot of great scores. Taking the gold today with a massive 81.640% was the Italian Dressage queen Sara Morganti riding Mariebelle. Michael Murphy and Cleverboy from Ireland also did a fantastic job, and delivered a flawless freestyle scoring just below 80 with a total of 79.887%. It was a close call for the bronze, but in the end Germany's Martina Benzinger and her horse Nautika had the margins on their side, and finished on 78.347% and were able to claim the podium spot.
Unfortunately, the European champion from the individual competition, King of the Dance, did not pass the second vet-check yesterday and therefore Rihards Snikus (LAT) was not able to compete today.
Sarah Morganti said after her ride: "I am really, really happy. I hoped for a gold medal because I don't have a European one, it is really so incredible that I can't even believe it! Especially because I am here with my second horse actually. It is incredible!"
"She was a little shy in there today maybe, but she really listened to me and did her best. She is still unexperienced but with more experience she will get more confident in the arena hopefully"
Grade V
Michèle George (BEL) and her lovely mare Best of 8 danced their way to the top of the podium in Grade V after delivering a flawless freestyle and scored 81.275% here at the FEI Para Dressage European Championship in Riesenbeck (GER). Following in silver position was the well-established Dutch duo Frank Hosmar and Alphaville N.O.P. with 79.045 %. With a score of 76.550 %. The bronze medal went to Sophie Wells (GBR) riding the youngest horse of the championships, the just seven-year-old LJT Egebjerggards Samoa.
"It felt amazing in there! It was dancing and I love dancing and she loves dancing so you can just imagine those two coming together. She is my princess. I always try to focus on my mare and on my riding and what happens next to me I don't notice".
"My favourite part of today was the mare's attitude. Her willingness to work, to show that she is the princess, she is the queen! She really wanted to go today, and I had an amazing feeling already during warm-up and when we entered the arena and she just grew"
Grade IV
It's been a dreamy week for the Dutch debutant Demi Haerkens and her horse EHL Daula N.O.P. as they have secured all three gold medals possible at this FEI Para Dressage European Championship. Finishing off the freestyle with 82.070, she cemented her dominance at these championships.
Sanne Voets and her lovely dance partner Demantur   delivered an unbelievable powerful and fluid freestyle, finishing just behind Demi with 81.595%. In bronze we had another strong performance by Belgian Manon Claeys and her mare Katharina Sollenburg and they finished on 78.025%.
Demi Haerkens said after her ride: "It is still a little bit unreal for me, but we did it! And I am so, so happy we did it together, and with the team, and Daula did an amazing job in this heat everyday pushing it, becoming better, more quality, the exercises were good. She can be hot sometimes, but this time she stayed with me and, yes, she is one of a kind".
"When you sit on her it is like you dance together and it is so light footed, and it feels amazing! It is really giving me goosebumps when I am riding her".
Related Links
Scores: 2023 European Para Dressage Championships
Eurodressage Coverage of the 2023 European Dressage and Para Dressage Championships