2023 European Para Dressage Championships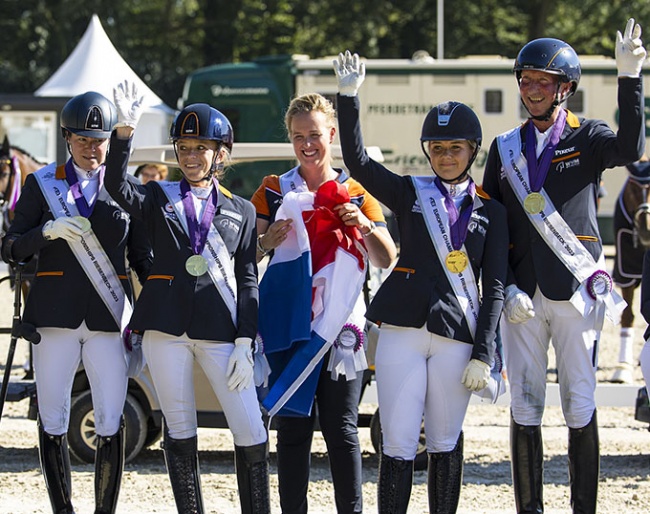 While their able-bodied colleagues currently struggling to get on the team podium - a once so familiar place for them - the Dutch para riders continued to ride on a high and retained the coveted highest step on the podium in the team competition at the 2023 European Para Dressage Championships in Riesenbeck. But behind the riders from The Netherlands four European countries fought for the remaining two medals, while others hunted the sole remaining team place available in Riesenbeck for the 2024 Paris Paralympic Games.
The Para team championships always hold their very own fascination. The team tests usually runs over two full days splitting up the five grades.  However, the nation which leads after day one might not necessarily find itself on the podium or even near it on the decisive second day. The simple reason lies in the fact that countries have four team members in different grades which means that some may have already three riders on day one and others only one, leading to sometimes insignificant interim results.
In any case the FEI regulations determine that each team needs to have at least one rider in one of the lower Grades I, II or II which means at least one competes on the first day of team competition. In all give grades the so-called "Grand Prix B" is ridden which at the same time served as the second qualifier for the freestyle finals on Saturday in Riesenbeck.
Thirteen in the Running
Since the last European championships in Rotterdam 2019 The Netherlands, Great Britain and Denmark have dominated the team competitions on European soil, with the USA was the only non-European nation to crack into this phalanx with bronze at the 2021 Paralympics in Tokyo and at the 2022 World Championships.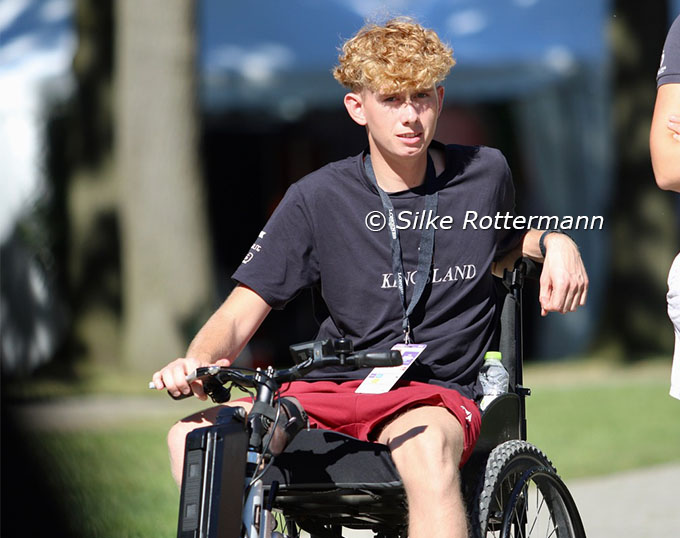 Denmark, however, was represented in Riesenbeck with a partly different team from the one which had won silver closely behind The Netherlands a year earlier in front of their home crowds in Herning. They were down to three riders after the individual competition, missing a possible drop score. The Dutch team was pretty much unchanged from the 2017 Europeans in Gothenburg, with three of the same riders and horses still on the team.
Germany, which had won their last international team medal (bronze) five years ago at the WEG in Tryon, was highly motivated to regain a place in the sun at their home championships. They were the only team of which every single rider medalled in their respective grade in the individual competition the days before. Great Britain can never be underestimated, but with two new pairs on the team and Sophie Wells without her number 1 horse it rather seemed unlikely for them to challenge The Netherlands this year.
In Riesenbeck teams of 13 different nations competed over two days, 10 of them had 4 riders and a drop score at their disposal. Portugal and Finland, which still had teams in Rotterdam, were represented with individual riders this time.
Day 1: 7 September 2023
The team championships kicked off on Thursday 7 September 2023 with the classes of grade I to III. With three outstanding riders in all three grades on day one of the team championships, host nation Germany took a convincing lead after the first day.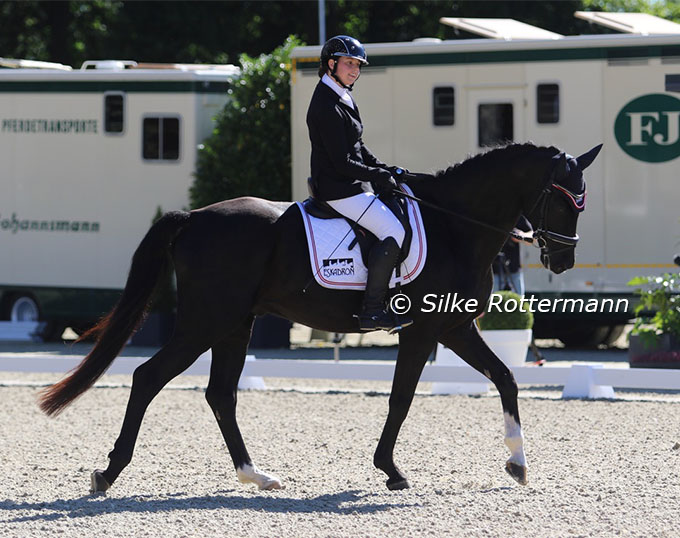 Grade III individual bronze medalists Melanie Wienand and Lemony's Loverboy got 73.933% in the first class of the day which even put them ahead of France's individual silver medalist in the team class, Chiara Zenati and Swing Royal IFCE in the Grand Prix B and Germany on a medal path.
Freshly crowned European individual champion in Grade II, Heidemarie Dresing and her absolutely smashing new horse Horse24 Dooloop, could even improve on that by contributing an outstanding 77.567%, winning her Grade.
Individual silver medalists Martina Benzinger and her 17-year-old Lipizzan Nautika showed themselves apparently unperturbed by the heat to score over 75% in the Grade I competition and confirmed Germany's strong position, whereas Italy also enjoyed a strong start on that first day with three team riders scoring over 70%. Their flagship rider, Grade I World champion Sara Morganti, who had suffered a very difficult start into the championships in the individual competition, impressively recovered from it by winning the Grand Prix B in Grade I with big 78.250%.
Day 2: 8 September 2023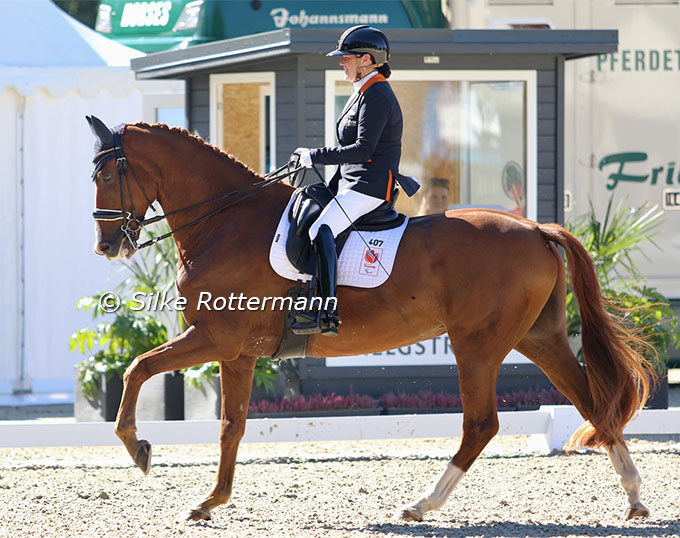 The second day of team competition, Friday 8 September 2023, showed how much Germany's and Italy's overnight score were worth, with The Netherlands and Belgian having their supposed strongest team riders on that day and Great Britain their two individually highly placed Grade V riders, Sophie Wells and Charlotte Cundall.
As expected all three Dutch team riders absolutely delivered what was expected of them, with Frank Hosmar and his incredible Alphaville N.O.P. beating Michèle George and Best of 9 and referring her to second place in the Grade V class with 76.447%. The two Grade IV ladies, Demi Haerkens riding Daula N.O.P. and Sanne Voets with her long-time partner Demantur N.O.P., contributed 79.730% and 76.460% to celebrate another double win in their class. With such three outstanding performances The Netherlands' supremacy and well deserved team gold medal at the Europeans in Riesenbeck with the strong team score of 232.637% was out of question.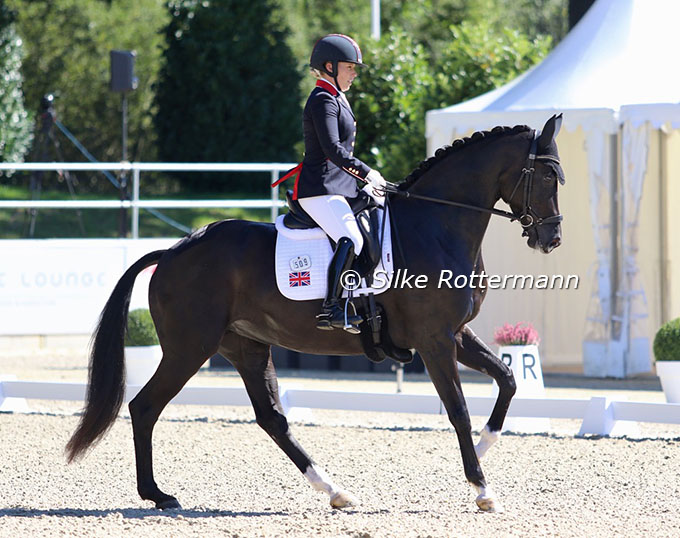 Germany's sole team rider on the second day, Regine Mispelkamp and Highlander Delight's tied in third place with Britain's Sophie Wells and her young mare LJT Egebjerggards Samoa behind Hosmar and George in the Grade V Grand Prix B. More importantly the petite blonde 74.079% even improved Germany's overnight score and secured the team silver medal for with a strong overall result of 226.979%, ahead of Paralympic team champions Great Britain more than 4% behind with 222.663%.
Less than 1% behind, Italy finished in a strong 4th position, coming closer to a team medal than all the years before with 221.983%. However, Belgian was on their heels with just 0,881% percent less. The fact how close Italy and Belgium had come to bronze medalist Great Britain shows that more than ever the actual day form can play a really decisive role and that medals are not always carved in stone because it perhaps looked like this on paper beforehand.
The Swedish Team Books Paris Ticket
The European championships team competition in Riesenbeck was not only a medal hunt for the best teams there, but also a contest in itself between not yet qualified European nations to get the last slot available for the 2024 Paralympics.  The Netherlands, Denmark, the USA, Great Britain, Belgium, Germany and Italy already gained their qualification for the 2024 Paris Paralympics in front of the magnificent Versailles castle at the 2022 World championships in Herning.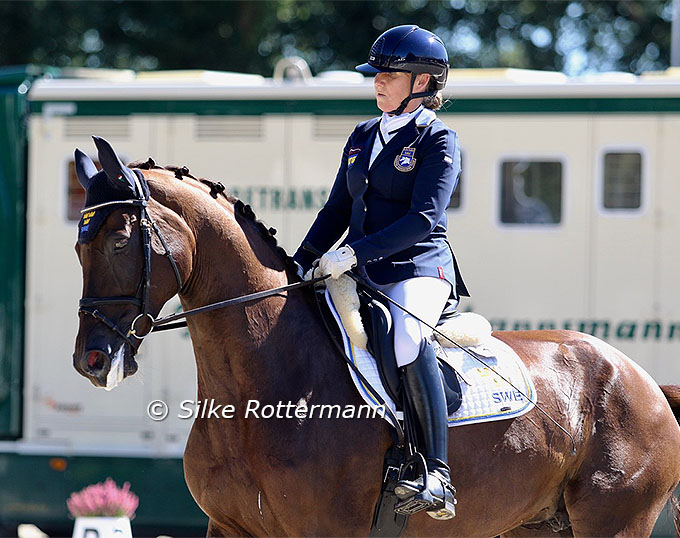 This specific contest for a ticket to Paris turned out to be one between Austria and the Swedish ladies' team. In the end Sweden took the upper hand by more than 3,3%, spearheaded by strong 72.567% from their Grade IV rider Louise Etzner Jakobsson with Goldstrike B.J. and Grade V rider Lena Malmström scoring 71.868% on Fabulous Fidelie.
Austria on the other hand had their best score in Pepo Puch's 72.367% on Sailor's Blue, followed by Julia Sciancalepore and Heinrich's 70.375%. Austria's Grade 4 rider Bernhard Brugger who was the very last rider of the entire team competition on his trusted partner Bellagio needed a really high score to turn the tables at the very last moment, but it was not to be in the end. Austria's very last chance to ride at one of the birthplaces of classical equitation in Versailles is via the world ranking until the deadline, which is  1 January 2024.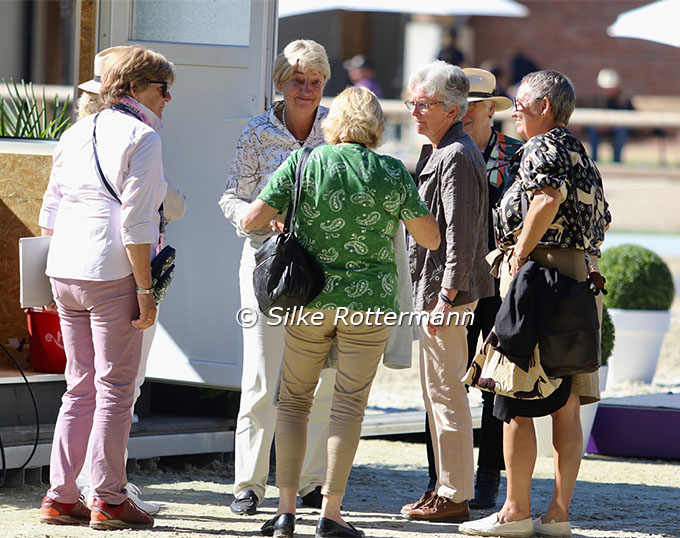 On European soil only three more CPEDI competitions will be held before that deadline, where riders can add valuable points to the ranking: this weekend one in Warsaw, followed by a CPEDI in Motesice (Slovakia) at the beginning of November and in Genemuiden in The Netherlands in mid December.
Whoever ends up competing with the most magnificent backdrop para dressage has ever had next year in Versailles, knows he will face a strong, but super exciting competition for the medals and a place on the podium. Let's look forward to that!
Text and Photos © Silke Rottermann for Eurodressage (this article expresses Silke Rottermann's eye-witness account and opinion about the competition).
Related Links
Scores: 2023 European Para Dressage Championships
Eurodressage Coverage of the 2023 European Dressage and Para Dressage Championships