U.S.A.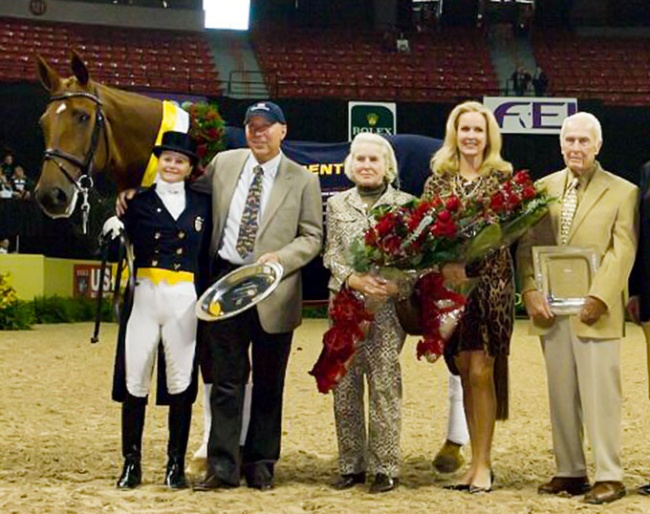 Peggy Thomas (née Chatterton) passed away peacefully on 3 September 2023 at her home in Las Vegas, Nevada. She was 97 years old.
Peggy and her late husband Parry Thomas (1921-2016) were principal benefactors of U.S. Dressage sport in the 1990s-2000s and sponsors of Debbie McDonald and Adrienne Lyle.
Born 23 August 1926, in Preston, Idaho, Peggy lived in Salt Lake City, Utah in her childhoord and graduated from the University of Utah in 1947.
She married Parry Thomas shortly after graduation and moved to Las Vegas in 1954 when Parry took control of the Bank of Las Vegas, which later became Valley Bank of Nevada and, finally, Bank of America Nevada. Parry Thomas, a visionary banker, helped finance the development of the casino industry in Las Vegas.
As the matriarch of the family Peggy raised five children:  Peter Thomas (wife Nancy Paxman), Roger Thomas (husband Arthur Libera), Dr. Steven Thomas (wife Karen Parker), Tom Thomas (wife Leslie Goodman), and Jane Thomas Sturdivant (husband Peter Sturdivant). She had 14 grandchildren and 21 great-grandchildren. With youngest daughter Jane she shared a keen interest in horses.
Commuting between Las Vegas and Sun Valley, Idaho, Peggy Thomas loved the outdoors, was a great skier, and passionate about horses and riding, which she did well into her 80s. 
The couple founded River Grove Farm in Hailey, ID, where Debbie McDonald and Brentina rose to greatness. They won the 1999 Pan American Games in Winnipeg and competed in two Olympics, winning team bronze at the 2004 Games in Athens. The pair also wrote history for the U.S. by becoming it first ever World Cup winner after Ulla Salzgeber's Rusty tested positive to doping. 
MT Express posted, "Peggy Thomas was more comfortable in the natural beauty of wild woodlands than in the many glittering ballrooms and galas she attended in her life. She will be laid to rest in her beloved Sun Valley, surrounded by the wilderness she loved."
Related Links
In Memoriam: Parry Thomas (1921-2016) Leaves Legacy on U.S. Dressage
Parry Thomas and Wizard Honoured at 2015 World Cup Finals
Jayne Thomas Receives "Dream" Present
What's Happening: January 2010 - Part 2
Brentina Retired
Verden Auction Horse Brentina
Debbie McDonald and Brentina, USET Athletes of the Month July 1999