Germany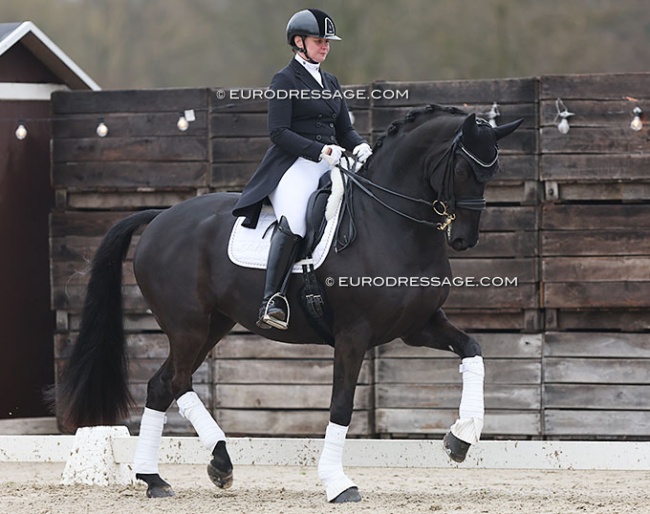 German Grand Prix rider Andrea Timpe will be replacing Hendrik Lochthowe as head rider at Gestüt Riedmühle in Butzbach, Germany. She will begin her new job on 1 January 2024.
Hendrik Lochthowe
Lochthowe has worked at Riedmühle for six years but is now ready for a new start. He first learnt dressage under the auspices of his uncle Norbert Lochthowe, before becoming head rider for Oldenburg stallion owner Harli Seifert.  In 2011 Hendrik moved to Gestut Meggle in the south of Germany
In 2017 he wanted to take the step into independence but received an offer he couldn't refuse to ride for Ralph Uwe Westfhoff and Marga Groeninger at their Gestüt Riedmühle near Frankfurt.
Hendrik used to be trained by Wolfram Wittig but has most recently been coached by Johnny Hilberath. His top Grand Prix horse is Bricco Barone, with whom he won the 2023 German Professional Dressage Riders Championships on 17 September. A month earlier  the 43-year old Lochthowe announced his decision to leave Riedmühle.
Andrea Timpe
Lochthowe's vacant spot has now been filled by Andrea Timpe. 
It is a big move for the 38-year old Timpe, who was running her late father Wulf Timpe's stable "Reitanlage Am Balkhauserweg" in Velbert Nierenhof near Hattingen (GER). The yard is family property since 1928 and had been hosting a big national dressage show, the "Nierenhofer Dressurtage," in July since 1998.
Andrea was member of the German team at the 2006 European Young Riders Championships in Stadl Paura, winning team gold and placing sixth in the Kur on Welttender (by Weltmeyer x Lungau).  In 2014 she won silver at the 2014 German Professional Dressage Riders Championships. This year Andrea won the 2023 Hamburg Dressage Derby.
A New Chapter
While Lochthowe will be moving to independence, Timpe will be riding for a employer for the first time in her life. 
"A lot has changed after my father's death last year," Timpe told Eurodressage. "He was my biggest supporter, manager and sponsor. I think it's time for a new chapter in my life and Riedmühle is the right place for it; a paradise for horses and riders!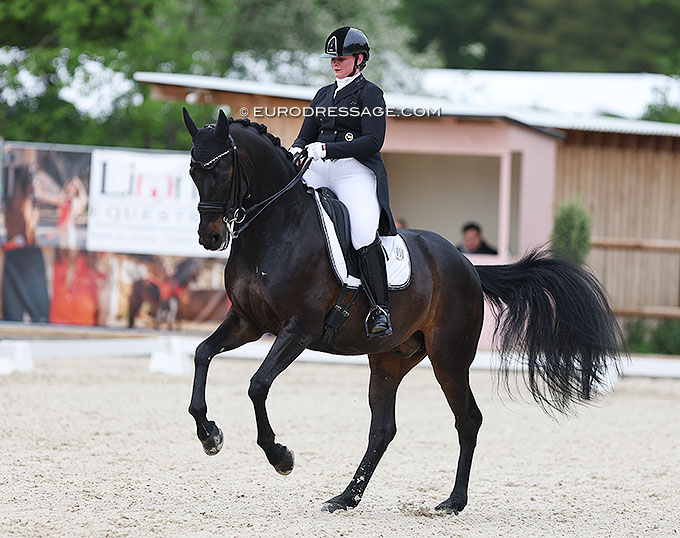 Timpe has produced and competed numerous horses to Grand Prix level including Don Darwin, Danny de Vito, Dixieland, Rosselini G, and For the Memory.  She is currently competing Grand Prix horses Don Carismo (by Don Crusador x Carismo) and recently rode  auction acquisition High Fashion (by Helium x De Niro)  to a 17th place in the 6-year old finals at the 2023 Bundeschampionate. 
Andeea has also been competing Friesenball (by Furstenball x Sandro Hit), as well as small tour horses Dschingis Khan (by Don Henrico x Fabriano) and First Class (by Fidertanz x Rouletto), but they will not be joining her at the new base. 
"Don Carismo and High fashion come along," she said. "First Class is retiring at the end of the year. Friesenball is for sale and Dschingis Khan remains with his owner, who also rides him in competitions herself. There are a few more horses and clients that have grown close to my heart over the years. That's the sad side of it."
Timpe will be taking her time to get to know the new horses at Riedmühle before making show plans. 
"The horses and I have to get to know each other first and my horses have to settle in," she explained. "Then we'll see how it develops."
Photos © Astrid Appels
Related Links
Andrea Timpe Wins the 2023 Hamburg Dressage Derby
Andrea Timpe's Don Darwin Retired from Sport
Hendrik Lochthowe Leaves Meggle for Westhoff's Gestut Riedmuhle
Hendrik Lochthowe Wins 2023 German Professional Dressage Riders Championships
Matthias Bouten Signs Contract as Meggle's Head Rider