2023 Italian Dressage Championships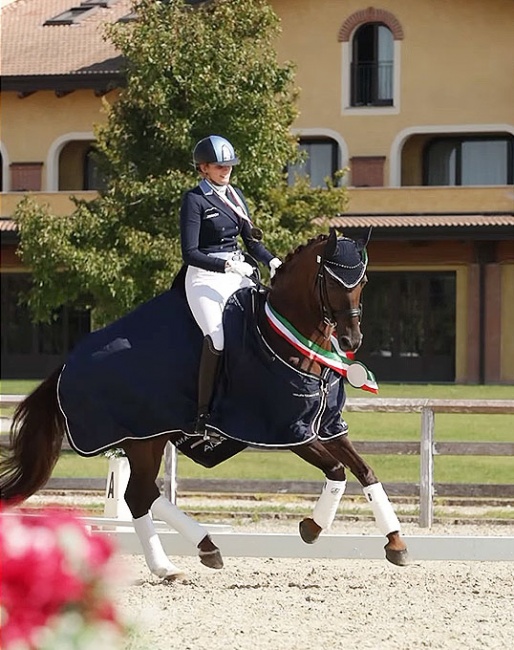 It was an action packed weekend at Scuderia Malaspina in Ornago (ITA) where not only a CDI was hosted but also the Italian Dressage Championships took place. From young horse level to Grand prix there were classes for all. No less than 15 podium ceremonies took place and that is only counting the FEI level divisions. 
At Grand Prix level it was Valentina Remold who stole the show winning the most important class of the championship. As the Italian Equestrian Federation this year had deliberately set the bar at 69% internationally to qualify for the 2023 European Dressage Championships in Riesenbeck, not a single individual Italian rider was able to compete in Riesenbeck as this mark is above the scoring level of any Italian at this moment. FISE was spared of the costs of sending riders up there. 
For Remold, who had produced a very strong international season aboard the 17-year old Westfalian mare Fraulein Auguste MJ (by Florencio x Worldly) posting 68% at CDI shows, the Nationals were at least some sort of consolation for not being allowed to move in the spotlight at the Europeans. Remold scored 68.783% and was the highest scoring Italian rider in the CDI Grand Prix class which also counted as the "Technical Championship". The gold was hers.  "I am really proud of what we achieved today," Valentina took to Instagram.
Tokyo Olympian Francesco Zaza is back in action with the 11-year old KWPN bred High Hopes W (by Wynton x Donnerhall) and took silver with 68.717%. Valentina Truppa and the 11-year old Smile di Fonte Abeti (by Sandro Hit x Donnerhall) scored the pair's career best score in the Grand Prix, right at the Nationals. With 67.739% they got bronze. She also picked up the gold medal in the freestyle.
Results - 2023 Italian Dressage Championships
4-year olds
1. Ramos Aleluia Nelson - Lucio Impero Di Fonteabeti (by Secret) - 175.600%
2. Ramos Aleluia Nelson  - Itala Di Fonteabeti (by Knock-out) - 170.000%
3. Trufelli Riccardo Horses  - Indian Boy Di Fonteabeti (by Jovian x Royal Classic) - 168.400%
4. Gabriel De Nogueira Freire Leandro  -  Indaco Di Fonteabeti (by Jovian) - 166.800%
5. Callegari Cristina  -  Lime Del Garda (by Le Vivaldi ) - 163.400%
6. Alfonso Pomares Victor  - Furst Esterhazy (by Fürst Toto x Sandro Hi) - 161.800%
7. Boggi Margherita  - Florentine Ii (by Finest x Furst Nymphenburg) - 158.800%
8. Rapazzoli Francesca  - Cara Del Castegno (by Beldonwelt) -  147.800%
9. Stani Vittoria Isha - Vitaniro Ps (by Vitalis x Furst Heinrich) - 143.800%
10. Soldi Ester  - Celeste Del Castegno (by Beldonwelt) - 140.800%
11. Cola Elena  - Ocean Bordeaux (by Bordeaux x Damon Hill) -  139.800%
11. Marten Canavesio Martina  - Murisenghi (by Avabin) - 139.800%
13. Grillini Chiara  -   M.leroy (by M.brio x Zafferano Di Cortevecchia) - 138.200%
14. Rusak Lizaveta  -   Orville (by Love for You) - 134.400%
15. Righi Tommaso  - M.lanciotto Di Val Mora (by M.brio x  Zigolo Ii) - 129.400%
5-year olds
1.  Sangiorgi Francesco - Bonso (by Bon Coeur  x Santino) - 169.600%
2. Gabriel De Nogueira Freire Leandro  - Hubertus Di Fonteabeti (by Floriscount) - 165.200%
3. Maroni Nausicaa  - Zambrone (by Zoom x Biasini) - 165.000%
4. Farina Leonardo  -  Frollein Fantasy (by for Romance ) - 163.800%
5. Farina Leonardo  -  Henry Di Fonteabeti (by Valverde  x Don Frederico) - 157.600%
6. Parmeggiani Giulia  - Hellen Di Fonteabeti (by Valverde) - 149.200%
7. Carnevali Carolina  -  Frangelico (by Farrel  x Fidertanz) - 147.200%
8. Ecchia Francesca  - Grace Killy (by Killy x  Discovery) - 146.200%
9. Simoncini Francesca  - Usil (by Utah Van Erpekom D'15) - 142.800%
10. Josi Margherita  - Vevey (by Vitalis x  Damon Hill) - 141.600%
11. Blesio Laura  - Dream Maker (by Don K) - 136.400%
12. Rivellini Chiara  -   Ojeda (by ??) - 128.600%
13. Brancaleone Antonio  -  M.iroso (by M.polluce Di Castelporziano x M.lasco ) - 123.400%
6-year olds
1. Gabriel De Nogueira Freire Leandro  - Golia Di Fonteabeti (by Zack  x Rohdiamant) -  167.600%
2. Gabriel De Nogueira Freire Leandro  - Grandioso Di Fonteabeti (by Zack) - 161.200%
3. Coperchio Ginevra  - Toronto (by Toto Jr x Sandro Hit) - 160.000%
4. Rapazzoli Francesca  - Goccia Di Fonteabeti (by Franklin) - 154.000%
5. Corradini Alessio  - Gaia Di Fonteabeti (by Grand Galaxy Win T  x United) - 151.600%
6.  Simeone Mina Felicitas  - Grace Di Fonteabeti (by Franklin  x Royal Classic) - 147.000%
Jimenez Romero David  -  M.gastone Della Turchina (by M.vandalo Degli Scalchi) - ELI
Zaza Francesco  - reamcatcher (by Don Noblesse)  - ELI 
7-year olds
1. Maroni Nausicaa C - Franky Di Fonteabeti (by Franklin) - 154.818%
2. Ramos Aleluia Nelson  -     Fortuna Di Fonteabeti (by Apache ) -  147.865%
3. Sangiorgi Andrea  - Soiree's Night Ps (by Soiree D' Amour x Negro) - 145.954%
4. Giovannini Andrea  - Brandy Yet (by Imbal Yet) - 138.217%
5. Perbellini Ludovica  -  Serafina Khr (by Sporcken  x Hofrat) - 137.082%
6. Maruffi Mattia  -  Cabodancier (by Dancier  x Cabochon) - 134.872%
7.  Soldi Ester  - Rosenfeld (by Rosengold x De niro) -  128.986%
Pony Riders - Technical
1. Simeone Mina Felicitas  - Chica Del Sol  - 134.545%
2. Bonaglio Alessandro  - Hb Daily Sunshine  - 132.291%
3. Maniezzi Camilla  - Big Dresscode - 130.271%
4. Cadura Alessandra  - Ulior De Belebat - 128.136%
Pony Riders - Freestyle
1. Bonaglio Alessandro  - Hb Daily Sunshine  - 69.292%
2. Simeone Mina Felicitas  -  Chica Del Sol  - 67.925%
3. Maniezzi Camilla  - Big Dresscode -  65.875%
Children - Technical
1. Volpi Vittoria  - Dorotea Di Fonte Abeti  - 147.854%
2. Cristaldi Aurora  -   Incredible Dream  - 143.511%
3. Scotto Di Carlo Monica  -  Flora Del Castegno  - 140.264%
4. Arnofi Sofia - Deep Impact  -  133.154%
5. Palma Veronica  -   Edward Della Mulignana  -  131.882%
6. Borghesi Matteo -  Grace Dbg  - 128.221%
7. Chen Sofia  -   Napoli  -  119.471%
Junior Riders - Technical
1. Spönle Virginia  - Bob Marley - 142.090%
2. Magni Mariavittoria  -   Erienagonda  -  136.216%
3. Camerlengo Ludovica -   Wispering Romance  -  135.040%
4. Moncecchi Chanel  -   Da Vinci  -  133.191%
5. Zara Edoardo  -  Donnatelli  -  132.201%
6. Bodei Claudio  -  Sylvester Ii  -   129.183%
7. Vallarella Carlotta -  Jaquar  -  128.100%
8. Candela Beatrice  -   Pie's Ratzinger  -  127.533%
9. Pirovano Alice  -   Vancouver  - 124.945%
10. Ferracci Azzurra  -    Don Perignon  - 123.790%
11. Girardi Levante -  Le Contendro  - 123.482%
12. Castano Arianna  -  Britnay  - 122.097%
13. Ulivi Ginevra  -Gvr O  -  115.761%
Junior Riders - Freestyle
1. Spönle Virginia  -  Bob Marley  - 77.000%
2. Magni Mariavittoria  - Erienagonda  - 71.025%
3. Camerlengo Ludovica  - Wispering Romance  - 70.050%
4. Pirovano Alice  -   Vancouver  - 69.117%
5. Moncecchi Chanel  - Da Vinci  - 68.317%
6. Candela Beatrice  - Pie's Ratzinger  - 66.292%
7. Zara Edoardo  - Donnatelli  - 65.117%
8. Girardi Levante -  Le Contendro  - 64.608%
9. Ferracci Azzurra  - Don Perignon  - 63.517%
10. Rondinini Clarissa  -  Sweet Chocolate  -  62.167%
11. Bodei Claudio  -    Sylvester Ii 07 - 61.425%
Young Riders - Technical
1. Duranti Maria Vittoria  - Bionika Di Fonteabeti  - 141.078%
2. Lippi Martina -  Rubin's Rockstar  - 140.147%
3. Sangiorgi Caterina  -  Totally More Rh  -  133.774%
4. Bianco Ginevra  -   Dali Salvador  -  132.304%
5. Bancora Rachele  - Exupery  -  126.509%
6. Viciani Valentina  -  Flying Dutchman V.d.m.  - 124.559%
7. Poles Michelle  -  Seven-up - 121.765%
Young Riders - Freestyle
1. Bianco Ginevra  - Dali Salvador - 68.192%
2. Duranti Maria Vittoria  -    Bionika Di Fonteabeti  -  66.775%
3. Lippi Martina  - Rubin's Rockstar  - 66.742%
4. Viciani Valentina  -  Flying Dutchman V.d.m. - 64.533%
5  Bancora Rachele  - Exupery  - 60.333%
Seniors - Small Tour - Technical
1. Arturi Beatrice  - Morricone Ii  - 139.216%
2. Corradini Alessio  -   Queen Newcastle  - 136.421%
3. Coperchio Ginevra  - Lude Fan De Marren  -  134.510%
4. Cola Elena  - Fubine  - 131.422%
5. Berni Lucia - Evelyn Di Fonte Abeti  - 131.030%
6. D'onghia Domenico  -   Fuser  - 130.638%
7. Geri Francesca  -  Bellamy  - 130.245%
8. Tiozzo Leonardo  -  Brandon  - 130.000%
9. Massarenti Silver  - Habibi Angelus  - 128.382%
10. Milla Maria  -   Ilenar - 126.960%
Seniors - Small Tour - Freestyle
1. Arturi Beatrice - Morricone II  - 72.800%
2. Coperchio Ginevra  -   Lude Fan De Marren  - 70.683%
3. Corradini Alessio  - Queen Newcastle  - 69.708%
4. Berni Lucia  -  Evelyn Di Fonte Abeti  - 67.933%
5. Cola Elena  -  Fubine - 67.200%
Seniors - Big Tour - Technical
1. Remold Valentina  -  Fraeulein Auguste Mj - 68.783%
2. Zaza Francesco  - High Hopes W  -  68.717%
3. Truppa Valentina  - Smile Di Fonteabeti  -   67.739%
4. Wahlund Nathalie  -  Cerano Gold  -  67.370%
5. Carnevali Carolina  -   Drew Doughty  -  66.457%
6. Sangiorgi Pierluigi -   Gelo Delle Schiave  -   64.000%
7. Miloserdova Tatiana  -  San Francisco T  -  63.783%
8.  Paradiso Philipp  - Sandro Star  -  63.326%
9. Rustignoli Micol  -  Rocco Del Castegno  -  63.261%
10. Rapazzoli Francesca  -  Gigi Amoroso  - 63.022%
11. Mantica Stefano  -  First Love  -   61.500%
12. Trius Elena -   Furst Donnerhit  -    59.500%
13. Ruggio Mattia  - Herald  - 59.130%
14. Villa Tiziana  -   H  - 58.717%
15. Soldi Ester  -  Dakar - 56.478%
Seniors - Big Tour -  Freestyle
1. Truppa Valentina  - Smile Di Fonteabeti - 74.475%
2. Wahlund Nathalie  -     Cerano Gold  -  73.390%
3. Zaza Francesco - High Hopes W  -    72.940%
4. Remold Valentina  -   Fraeulein Auguste Mj  -    72.420%
5. Carnevali Carolina - Drew Doughty  -  69.475%
6. Paradiso Philipp -     Sandro Star  -  69.155%
7. Rapazzoli Francesca - Gigi Amoroso  -   68.650%
8. Rustignoli Micol  -  Rocco Del Castegno  - 67.590%
9. Mantica Stefano  - First Love  - 65.220%
Related Links
Spagni, Arturi, Di Marco, Coperchio, Rapazzoli, Truppa, Maroni Win 2019 Italian Dressage Championships
Nucci, Merli, Arturi, Remold, Paoli Win 2018 Italian Dressage Championships
Zamperetti, Volpini, Arturi, Alghisi, Remold, Truppa Win 2017 Italian Dressage Championships
Zamperetti, Duranti, Berni, Remold, Campanella, Rustignoli Win 2016 Italian Dressage Championships
Mother and Daughter Campanella Get Silver and Gold at 2016 Italian Dressage Championships
Zennaro, Remold, Menin, Rapazzoli, Rustignoli Win 2015 Italian Dressage Championships
Berni, Remold, Menin, Redaelli, Truppa Win 2014 Italian Dressage Championships
Berni, Mauro, Citelli, Truppa Win 2013 Italian Dressage Championships
Valentina Truppa Sweeps the 2011 Italian Dressage Championships
Pierluigi Sangiorgi Wins 2008 Italian Dressage Championships