U.S.A.
U.S. international Grand Prix horse Harmony's Duval has been retired from competition sport.
Harmony's Duval is a 15-year old American bred KWPN gelding by Rousseau out of Uptown Girl (by Riverman). He is bred by Leslie Malone of Harmony Sport Horses in Colorda, USA.
Duval Partners LLC
The grey gelding was trained and competed at Grand Prix level by Adrienne Lyle. 
Duval was  scouted by Robert "Bob" McDonald at Harmony Sporthorses and acquired as an FEI hopeful. Lyle first competed him as a youngster in 2013. 
When the pair returned to the arena in 2016 Duval had sold to Kylee Lourie, but in 2017 a syndicate was formed to support Lyle and Duval as a 2020 Tokyo Olympic contender. The syndicate is named Duval Partners LLC, a group of Northwest United States dressage supporters including Pam Jones, Bille Davidson, Monica Garner, Jane Thomas, Nancy Benton, Karen Petty and Denise Gagnier.
Adrienne Lyle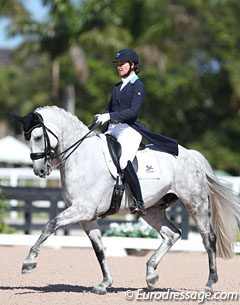 Adrienne Lyle made her international show debut with Duval in 2017 at small tour level, competing him in Wellington that winter, followed by achieving a bronze medal at the 2017 U.S. Small Tour Championship. 
In 2018 they did not show at CDI level, but in 2019 they made their international Grand Prix debut, also in Wellington and competed in Europe in Leudelange and Aachen that summer. 
Duval ended up being Lyle's back-up horse to her Olympic team ride Salvino. The grey consistently produced scores in the low seventies. In 2020 and 2021 they showed only in Wellington. He did not compete internationally in 2022 and his last international was in March 2021.
Christian Simonson
In October 2022 the news was announced that Duval would move on as an Under 25 schoolmaster for Adrienne's student, Christian Simonson.
The new duo made its national show debut in December 2022 in the Intermediaire II at the Global Dressage Festival Fall 2 show and scored 73.382%. The next day they posted 70.256% in the Under 25 Grand Prix.  The pair competed nationally at the 2023 Global Dressage Festival and White Fences in 8 tests between February and May 2023. Their last show was in Parker, Colorado at the Rocky Mountain Dressage Society Championships and open show, where they went down the centerline of Christian's first classic Grand Prix test. They posted 69.239%. The next day they rode another GP class and earned 68.261%
Retirement
After Christian did his first official Grand Prix on the schoolmaster, coach Adrienne Lyle and the owners' group mutually decided to retire the horse from sport.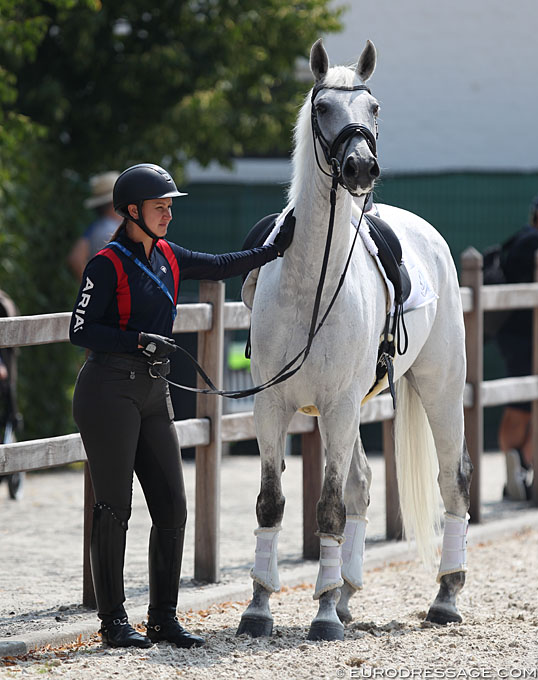 "He has had an amazing career and I feel it's time for him to enjoy an easier pace of life," Lyle told Eurodressage. "He will be going to one of the syndicate owners' farms (Pam Jones) in Washington state where he will be loved and spoiled for the rest of his days."
She continued, "this past year Christian took over the reins on Duval and that has been a fantastic experience for me to watch how much Christian has been able to learn from him. He competed in some U25 classes while in Wellington, but chose to skip the U25 National Championships to focus on his potential PanAm horses. It was very special for me to get to see Christian do his first Grand Prix on Duval, and I am incredibly thankful for all of Duval's amazing owners who always put his happiness first and agreed to having him retire while he is still sound, happy, and healthy and can enjoy an easier pace of life for many years to come!"
Adrienne has many words of appreciation for the owners who supported Duval's sport career. 
"Duval and I had a fantastic journey together and there are so many people to thank throughout his career," she said. "Starting with Bob and Debbie McDonald, who first saw him in a field in Colorado at Harmony Sport Horses, and the Malones who agreed to sell him to us to develop. All of the owners in his syndicate ("Duval Partners") have been the most amazing owners I could imagine. It has been a privilege to share in their joy and their sheer love for Duval and I thank them from the bottom of my heart!"
Photos © Astrid Appels
Related Links
Eurodressage Photo Database: Harmony's Duval
Christian Simonson Takes Over Ride on Harmony's Duval
Lyle and Harmony's Duval Find Their Groove in Grand Prix Special at 2021 CDI-W Wellington
Harmony's Duval Receives Anne Barlow Ramsey Grant to Compete in Europe
Kasey Perry-Glass, Kaitlin Blythe and Adrienne Lyle Win 2017 U.S. Dressage Championships