A Walk on the Premises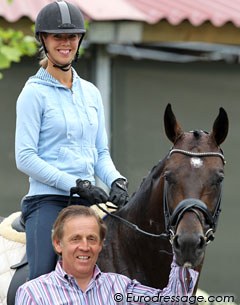 Two years ago the ambitious businessman Patrick D'Eer acquired a dilapidated stable in St.Niklaas, Belgium, which he revamped into QC Stables
, one of Belgium's highest standard equestrian facilities to date. It is not the first time that wealthy investors found their way to dressage, but usually they disappear as quickly as they come. However, D'Eer is already reaping the seeds of his vision on dressage horses as he booked several major international achievements this year with four of his horses.
At the 2010 Oldenburg Elite Mare Show in Rastede, Germany, the 3-year old mare Rosegarden (by Fidertanz x De Niro) ranked eighth in the Brilliant Ring amongst the best bred and internationally owned Oldenburg mares of her age group. Two of D'Eer's 5-year old dressage horses, Roberto Cavalli and Sanvino, finished third at the Oldenburg Regional Dressage show in Rastede and have been selected to represent Belgium at the 2010 World Championships for Young Dressage Horses in Verden. Furthermore, the 5-year old Ruling Cortes qualified for the Bundeschampionate in Warendorf. These are four impressive highlights many breeders and horse owners dream of their entire life.
Renaissance Man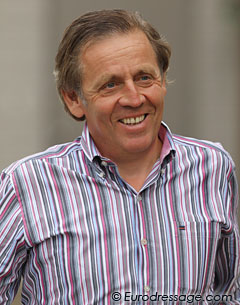 Patrick D'Eer is a renaissance man to the bone. He acquired his wealth with "ModeMakers," a large-scale chain of fashion stores in Belgium selling popular brands such as Esprit, Mexx, and S.Oliver. His attraction to horses is diverse and began twenty years ago. He started as a "gentleman rider" with a keen interest in the trotting and racing industry. D'Eer only began to ride at age 35 but quickly competed as a jockey in Belgium, Germany and France. In the 1980s he successfully raced Jarnaud in France but a disc hernia put an active career in horses on the back burner. D'Eer turned to 4-in hand carriage driving and mastered a team of Kladstruppers with which he did various national driving competitions. Driving kindled his interest for dressage, in all its aspects.
"The step from driving to dressage is small," D'Eer told Eurodressage. "Dressage supplements driving. In dressage you use leg aids, in driving rein and whip aids."
With an open mind to all disciplines, D'Eer takes the best of all worlds. Spooky dressage youngsters are put in a carriage next to an experienced driving horse. "People laugh when I put a 3-year old Sandro Hit in a carriage, but after a few times the horse has confidence and doesn't look at a thing," he stated. "The old experienced guy corrects the youngster."
Patrick is not shy from putting flags, tents and even dress dummies in the middle of the arena to desensitise the horses from strange objects. "Even when the tractor is dragging the ring, I tell my riders to stay in there and let the horses get accustomed to it. You shouldn't take a horse away from danger, because they will get scared and fear triggers their flight instinct."
Furthermore every Tuesday Pat Parelli natural horsemanship training sessions are held out at QC stables. "We do ground exercises with the 3-year olds, so they are easier to handle."
Quality and Confidence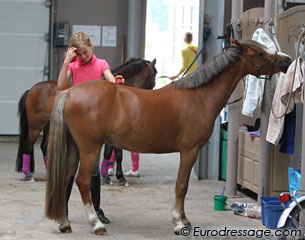 D'Eer always acts with passion, ambition and determination. When he made up his mind to devote his spare time to dressage, he immediately aimed for a high standard. "It's a hobby that got out of control," he admits.
QC Stables, which stand for quality and confidence, are a high-end facility with walker, international outdoor arena, huge indoor with the best footing and availability for 70 horses. Part of the barn is meant for livery, in the other half he mainly keeps his young horses to be reared and trained.
Annually QC Stables host two national dressage shows, one young horse event and one big spring show jumping competition. A staff of 7 young equestrian professionals run the entire yard, teaching riding lessons to novice and advanced riders, as well as host summer pony camps for children. A homey American-style canteen is welcoming and warm for clients to have a drink. In the lounge upstairs private parties are hosted.
"If you want to make it to the big time, you have to do a little of everything," D'Eer explained.
Clients who rent stalls can bring their own vet, farrier and trainer to the barn. "We have a very open policy here, so that each of our clients can develop the way they want," said Patrick.
Foals for a Strong Foundation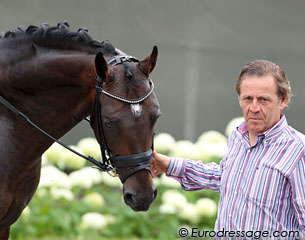 Five years ago D'Eer started laying the foundations of his QC Stables by investing in foals and yearlings of which the first ones are now successful 5-year old dressage horses. D'Eer mainly acquires German bred foals and he especially has a large collection of Oldenburg bred youngstock.
"Our first contacts were made in the Oldenburg area and we feel at home there," he said. "But we also have Rhinelanders, Westfalians and Hanoverians. I'm also not afraid of having up to 30% of Trakehner blood in the pedigree."
Each year Patrick buys up to twenty foals of which some stay in Germany and others move to Belgium. Together with his driving friend Mark Damen and Peter van Rompay the trio reviews up to 2000 foals a year at foal inspections all over North Germany and buys them either on the spot or at foal auctions.
"You only know what a good foal looks like if you've seen that many each year," Patrick explained.
D'Eer looks for that certain something special in a foal. "They have to have good balance and move like a goose: head uphill in the air and with hind legs stepping under." All foals must have three super basic gaits. "In Germany they say, "kein Schritt, kein Pferd" (No walk, no horse) and I'm a firm believer of that."
Over the years Patrick built up an impressive collection of young stock of superb boodlines. Patrick took four yellow post-its out of his wallet to refresh his memory. "My first foals were by Florencio, Don Romantic, Donnerball, Johnson, Rubinero and De Niro," he read from his little memory cards. "I also have four Sir Donnerhalls, a Fidertanz x Feiner Stern, a Depardieu, a Quaterback x Davignon, a Light and Easy, three San Amours, a Faustinus, a Swarovski, a Quaterline and a Quattro x Argentinus."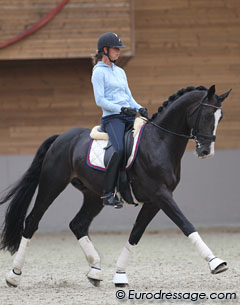 There were many more foals handwritten down on those papers, but D'Eer did not fail to mention on of his future stars: a Don Bosco x Grand Royal foal which finished 8th at the 2008 German Foal Championships in Lienen.
Not afraid to invest in expensive foals, D'Eer believes that quality comes at a price. Five years ago he acquired his first starlets, which are now blossoming in the Belgian and German young horse show circuit. Under Belgian Natasja van den Bogaert, QC's Roberto Cavalli and Sanvino were the only two 5-year olds qualified to represent Belgium at the 2010 World Young Horse Championships.
Other highlights from the QC Young Horse program include Ruling Cortes (by Rubin Cortes), which qualified for the 2010 Bundeschampionate under Marita Pundsack, and the Vechta prize highlight Vogelhochzeit (by Rosario x Alabaster) who is campaigned by Dieter Weichert.
When asked what the ultimate goal of his dressage project is, Patrick replied "finding a foal that will make it to the Olympic Games." The businessman, however, maintains a very realistic view on the matter and immediately added, "but dreams can be deceiving. The daily reality in horses is that any day you can find your best horse dead in his stall."
Two Horses for Verden: Roberto Cavalli and Sanvino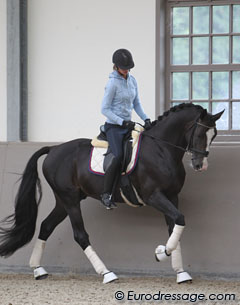 Five-year olds Roberto Cavalli (by Rotspon x Metternich) and Sanvino (by Sandro Hit x Winrich) are the flagbearers of QC Stables and D'Eer hopes that both stallions will make an impression in Verden.
Patrick acquired the black stallion Roberto Cavalli as a 2-year old at a German pig farmer's place. "Somebody tipped me on Roberto," Patrick reminisced. "I went to the place and saw the horse. I instantly knew he was the one. He has it all: black, beautiful and three excellent gaits." D'Eer was confident that Roberto would make it to Verden this year as the black stallion was the leader in the Belgian young horse circuit this year with the highest points.
Sanvino took longer to develop. Only when he became four he started to progress and the past three months he made giant leaps forward. "As a 3 and 4-year old he didn't really stand out. He was always gorgeous to look at, but he truly started to move as a dressage horse as a 5-year old," said Patrick. "Now he's scoring 8.5 and beating many famous stallions in Germany," he added proudly.
Coached by Els Michiels-van Rensbergen, QC's head rider Natasja is a 30-year old single mom who started riding in her childhood by doing hard labour at a farm in exchange for a few rides on a pony. Her roots lie in eventing but during her pregnancy she was afraid of the danger of show jumping and moved to dressage. During her brief partnership with Stefan van Ingelgem, van den Bogaert got to ride many horses and developed her feeling for riding youngsters.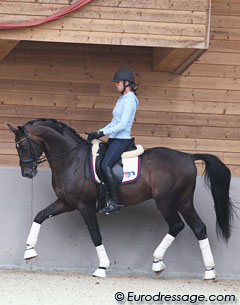 Natasja schooled Roberto Cavalli and Sanvino in a very relaxed way, starting out each ride with a long period of walking, then deep and low rising trot work, followed by an easy going, over the back canter. Then she picked them up the real work and put the horses briefly in the show frame before giving them a break again and allowing them to stretch their neck.
"I want all my riders and teachers to work with the same system, so they all help each other and there are no differences in the way the young horses are brought up," said D'Eer. Natasja added that, "I want healthy, happy horses. After each show my horses go out in the field for three days. I know the risk for injury is bigger in the field, but if you turn them out regularly they are quiet and at ease."
The 30-year old Van den Bogaert remains unphased and unworried about the magnitude of competing at the 2010 World Young Horse Championships. "When we went to Rastede for the Oldenburg championships I was told it was a BIG show with lots of politics, but I didn't care. I don't get nervous because I ride for myself and do the best I can," said the level-headed Natasja.
For more info on QC Stable visit www.qcstables.com
Text and Photos © Astrid Appels
Eurodressage Coverage of the 2010 World Young Horse Championships