Opinions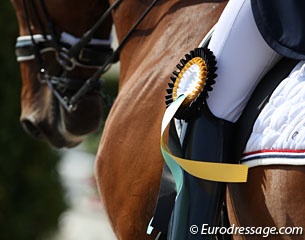 Edward Gal's international Grand Prix debut on his young super star Zonik was the ideal opportunity to check if judging at the highest level has progressed over the past few years. Each time a super star, diva rider goes into the arena - no matter Dutch, German, British, American - they get their halo points. With the promotion of lightness and harmony in judging since the Valegro/Damon Hill age, any lover of top level dressage competition sports has secretly been hoping that the judges would also discard favoritism when any celebrity rider appears in the ring on a new horse.
At the 2017 CDI Roosendaal a new challenge presented itself to the judges with the coming of Gal and Zonik. Their debut in the Grand Prix was highly anticipated and with great anxiety and curiosity one looked at the judges' panel on how they would "handle" the ride. Gal produced a strong test, with clear highlights and the horse showed amazing potential for the future, without a doubt. However there were two big issues, several small niggly bits and a bridle contact with full on curb that did not represent the ruling standard of lightness and harmony. 
The Roosendaal Grand Prix panel had three 5* judges (Roudier, De Wolff van Westerrode and Verbeek) alongside Vint-Warmington and Koffmahn. The ride's final 75.780% score was an agreeable assessment but one couldn't help but wonder why a resisting reinback still scored up to 6.5 and a big mistake in the ones even scored up to 7.5 (or a crooked piaffe an 8). Nonethless the final Grand Prix result was acceptable. 
However, in the Grand Prix Special it was full blown judging covfefe. Zonik won the Special with 76.333% with scores ranging from 71.961% to 80.294%. This is unacceptable at such top sport level!  The Special panel included only one 5* star judge, Francis Verbeek, who had the ride at 71.961%, while the marks of the other judges  (Van Twist 3*, Van Daele 4*, Ardu 4*, Stukelj 4*) ranged from 75.980% to 80.294% with Italian Barbara Ardu's 80.294% score as if she had a Totilas' hallucination. 
Looking strictly at the break down of points, the differences were incredible, especially in some of the most basic movements such as the halt (5 - 8), a trot half pass (5.5 - 7), and the extended canter (7 - 8.5). Also the transitions from piaffe to passage and a simple canter strike off were scored between 6.5 and 8. A canter half pass to the right earned between 7 and 9. The range in these points clearly disclose different visions on what a movement should look like.
All respect to Edward who is definitely not at fault for such big judging booboos. This not only happens to him, but there are more super star riders out there that get generosity points as if they are indulgences. Let's hope that the FEI, its Judge General and the International Dressage Officials Club will work hard on getting their corps in line and rid of this bad habit, pronto!
by Astrid Appels
Related Link
Edward Gal Makes Winning Debut on Zonik at Sunny 2017 CDI Roosendaal