F.O.C.U.S.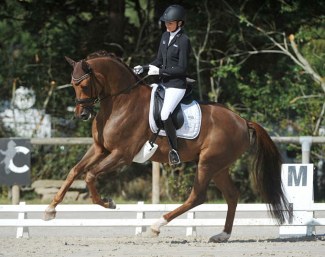 French Olympian Jessica Michel-Botton stepped out of the international spotlight after the retirement of her top Grand Prix horse Riwera de Hus. She was set to make a gigantic Grand Prix come back on super star stallion Don Juan de Hus, but unfortunately that was not in the stars. Now Michel-Botton will be showing Dorian Gray de Hus, the pride and glory of her employer Haras de Hus, at the 2018 World Championships for Young Dressage Horses in Ermelo on 2 - 5 August 2018.
Jessica Michel-Botton has been the head dressage rider at Xavier Marie's Haras de Hus in Le Petit Mars, France, since 2007 and in that position has brought her stellar success in the national and international show ring. With a string of horses she has won the French Young Horse Championships 21 times and has been on the podium no less than 34 times. She was the 2012 French Grand Prix Champion and represented France at the 2012 Olympic Games, 2013 European Championships and 2014 World Equestrian Games. As of January 2018 Michel-Botton has been working part-time for Mr Marie and is now dedicating 50% of her time as an independent rider and trainer, based at Haras de Hus, with her own clients and horses.
Don Juan de Hus and Poetin's Legacy Live On
The highly popular and praised KWPN breeding stallion Don Juan de Jazz (by Jazz x Krack C) was ready to become her new Grand Prix star but that dream abruptly ended when the chestnut stallion died unexpectedly from an intestinal poisoning in August 2017. Don Juan de Hus, who posthumously tested negative to WFFS, was Haras de Hus' leading dressage breeding stallion. His legacy now lives on in the yard's most celebrated breeding product: Dorian Grey de Hus
The 5-year old Dorian Grey de Hus is by Don Juan out of one of two Poetin clones Haras de Hus proudly has for breeding. Xavier Marie acquired World Young Horse Champion and Bundeschampion mare Poetin in an executorial sale in Holland for 900,000 euro back in 2005, but the mare suffered from severe laminitis and passed away later that year. Marie had two clones produced from Poetin's DNA and they are now the top dressage broodmares at the farm.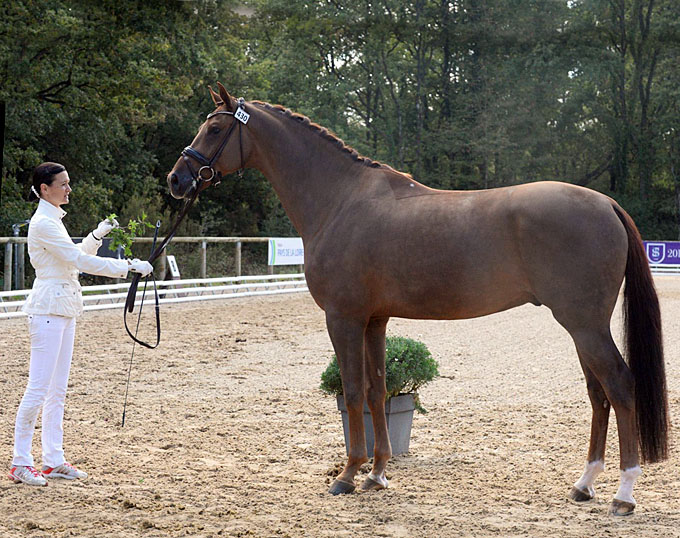 "The clones are unique in their own right, but genetically they have Poetin's potential. These mares are the best at Haras de Hus," Jessica Michel-Botton explained. "The first year Don Juan stood at stud, he was immediately paired to the clones. It would have been unthinkable not to test this magical cross! And we were convinced as soon as we saw the first foal born.  Dorian Grey's one-year older brother sold to Helgstrand Dressage when he turned four."
Dorian Grey, a New Prospect for Michel
Jessica Michel-Botton saw Dorian Grey de Hus being born at the yard and has followed the chestnut on a daily basis. The gifted mover was broken in as a 3-year old by Sébastien Jaulin and showed promise from the start.
"He has always been a very willing horse with an extreme desire to do well," said Jessica. "Because of that, he has always been very alert and sensitive to what happens around him. Jaulin took all the time he needed with him. Because of the horse's incredible character, which he got from his sire, he always wants to please. Once the initial newness of a situation passes, he relaxes completely."
Jessica praises Dorian's character and rideability as his greatest assets as well as the most important quality for a competition horse.
"It is very moving for me to ride Dorian, because he reminds me so much of Don Juan when it comes to character," said Jessica, who still emotionally struggles over the loss of her Grand Prix ride. "Don Juan was always a horse who wanted to please me and give me happiness. He always asked me if he was doing enough for me. I find exactly the same qualities in Dorian."
"I feel extremely connected to Dorian, who we call Dodo at home," she continued. "He's very attached and loves humans. You can only fall in love with him. Of course he has much charisma and a magnificent conformation with long legs, but it's his face that reminds me of his dad; those eyes and that look. He also has that 'chique' quality of his dam. It's a perfect mix of two incredible parents."
Young Horse Star of France
Jessica Michel-Botton and Dorian Grey de Hus have only competed sparingly as the rider is careful to save the young horse's strength. She wants to nurture his qualities for the future.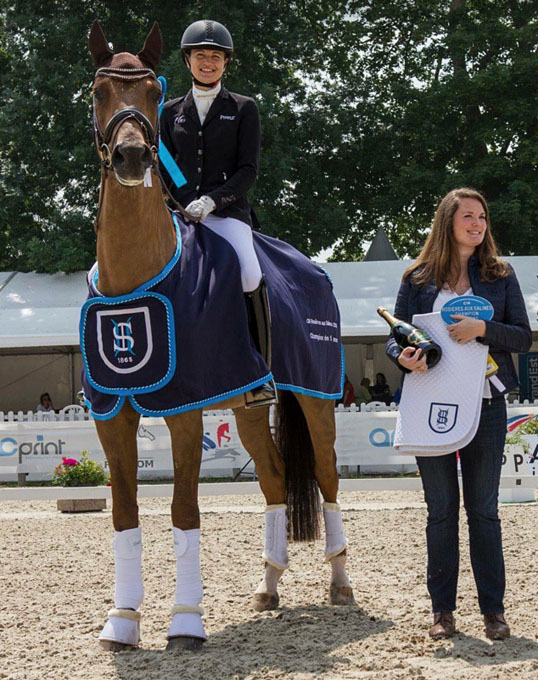 The pair dominated the 2017 French Young Horse Championships in the 4-year old division, winning both the warm up and finals round with whopping scores. Dorian Grey got 92.2 for presentation and 93.2 points in his Finals test for the overall victory and National Young Horse title.
In order to qualify for the 2018 World Young Horse Championships, Jessica had to compete Dorian Grey de Hus at the national show in Rosières aux Salines, which was a 10-hour journey on the lorry for the youngster.
"It was a good first experience to have him travel for that long, as it's important element to take into consideration for his preparation and form at shows," said Jessica. "The judges panel there was very good and it included 5* judge Isabelle Judet. I really appreciate having the chance to be judged by someone with so much experience and expertise, as she has also judged at the World Championships in the past."
In Rosières the pair scored a winning 87.20 points in the warm up round and a winning 86.00 points in the Finals test, qualifying for the French team for Ermelo as the strongest scoring duo.
"The competition went really well. I didn't want to take any risks in the qualification test. Dorian was a little tired from the long journey, but he behaved well in an arena where there was much to look at," said Jessica. "We had done one warm-up show in April where he got 93% in the same test, but with a much shorter journey to travel to."
On the Road to Ermelo and More?!
In preparation of the 2018 World Young Horse Championships, Jessica developed a very minute training plan in which basic gymnastics and mental health are paramount. 
"What is most important to me is to preserve his good mood and his pleasure to work," she said. "I'm not training harder for Ermelo, but I pay attention that he's physically ready to be at a competition for five days. On a technical level I have paid attention to incorporate the advice that I got from Isabelle Judet at the selection trial."
"For the past 10 years I have been working with my beloved coach Hans Heinrich Meyer zu Strohen, assisted by Ariane Pourtavaf. They both came to the stable in the middle of July. On the first day we worked on the quality of the basic work and to optimize the gaits. On the second day we rode the preliminary test and fine tuned the presentation."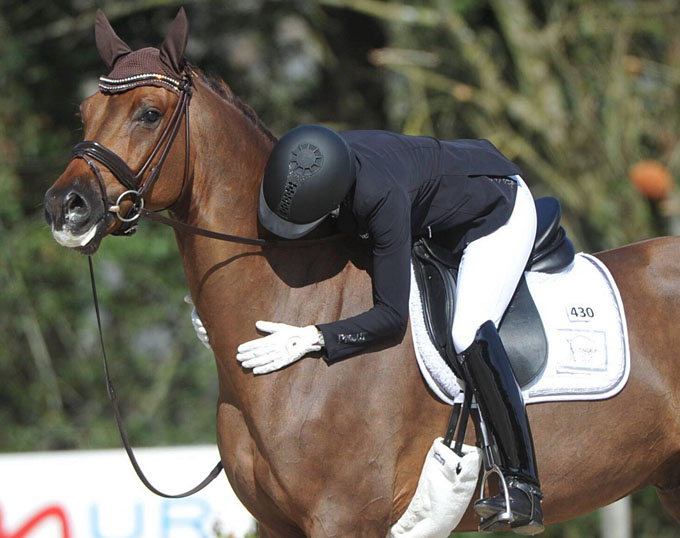 Michel-Botton will take Dorian Grey de Hus to Holland a week earlier so he's fully fit and rested for the Championships. Meyer zu Strohen will be back on the weekend before Ermelo to work with the pair on the final touch-ups as well as coach them at the show.
Ermelo is not the ultimate goal for Jessica and Dorian. The rider of course dreams of more and maybe another Olympic Games are in the cards.
"In all reality I don't really have a long-term plan with this horse, but I would like to say FEI level or even Olympics," said a careful Jessica, who has felt the pain of dreams smashed with the untimely death of Don Juan. "I was enormously hit by the loss of Don Juan and I still am. It's hard for me to look at photos of him without crying. He was the horse of a lifetime. He had such a big heart and gave me his all.  When I recovered from losing him, I had a fixed target which helped me to continue riding horses: to remember Don Juan by honouring him through what he gave to his sons and daughters."
Because Haras de Hus is a breeding, sales and training facility, Jessica is not sure about the future of her horses.
"I just try to do my best with the horses every day. I am not the owner of Dorian Grey and can understand if Mr Marie would accept an offer for sale. It is my job to sell the horses that I train. I'm already incredibly grateful to him that he lets me ride such an exceptional horse. It's a unique opportunity."
Related Links
Jessica Michel-Botton to Expand her Business at Haras de Hus, Welcoming New Clients
Dorian Grey de Hus, First Step Valentin, Flair Royal Win 2017 French Young Horse Championships
Don Juan de Hus Died Unexpectedly
Haras de Hus: Strength Lies in Calmness
Jessica Michel's Riwera de Hus Retired from Competition
Jessica Michel Officially Selected for 2012 Olympic Games
Quaterdance, Kojak, Hermes de Hus Win 2014 French Young Horse Championships
Kojak, Hermes de Hus, Django de Charry Win 2013 French Young Horse Championships
Don Juan de Hus, Danciero de Hus, Dona Primera Win 2012 French Young Horse Championships
Blacktime, Grand Passion, Socrate de Hus Win 2010 French Young Horse Championships
Jessica Michel Wins 2012 French Grand Prix Championships
Jessica Michel, Triple French Champion with Prime Time, Noble Dream, Riwera