2018 Belgian Young Horse Championships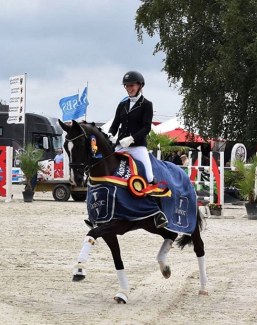 The 4-year old San Lora, the 5-year old Irish Coffee, the 6-year old Belaggio, and the 7-year old Go on Top became the winners of the 2018 Belgian Young Horse Championships which were held in Gesves, Belgium on 13 - 15 August 2018. 
The Belgian Young Horse Championships follow the concept of the World YH Championships except that the finals is open to 10 horses instead of 15. The 7 highest scoring riders in the qualification round move on directly to the final and the 3 top scoring pairs in the consolation finals can also contest the finals. The top three in the finals are the medalists. 
In the 4-year old division Flore de Winne and San Lora (by San Amour x Fürst Heinrich) took the gold medal after scoring a winning 83.80% in the finals'. They edged out Katrien Verreet on the Oldenburg bred Seigneur Biolley (by Sir Donnerhall x Florestan), who is the full brother to the Oldenburg licensed Grand Prix stallion Bailamos Biolley. Seigneur received 83.400% from the judges and scored silver. Dutch born Dominique D'Hoore-van der Horst rode Wolfshoeve's Dana Vita (by Danone I x Abanos.) to bronze with 83.000%.
In the 5-year old division last year's 4-year old champions Larissa Pauluis and the KWPN bred Irish Coffee (by Winningmood x Cabochon) were in a tight battle with the German Andrea Muller-Kersten aboard Elizabeth Tepper's Oldenburg stallion Di Magic (by Del Magico x Canaster). Irish Coffee, however, aced the finals with 85.60%, while Di Magic finished with silver on 85.000%. The bronze medal went to Nick van Laer on the Italian bred Hanoverian Conan di Fonte Abeti (by Apache x Sir Donnerhall) with 83.600%.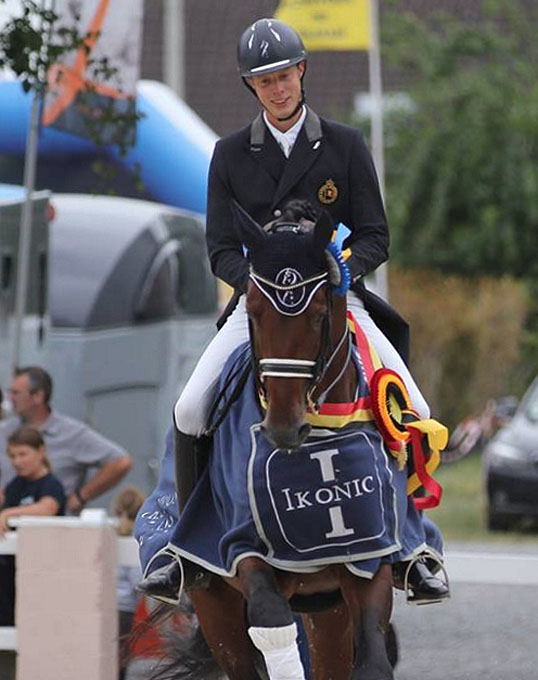 In the 6-year old category, Andrea Muller-Kersten did take the highest step of the podium on her 2016 and 2017 Belgian young horse champion Belaggio, a Hanoverian gelding by Belissimo M x Ehrentanz which is also owned by Belgian based American Elizabeth Tepper. The pair scored 80.60% that earned them gold. Larissa Pauluis returned to the show ring with the Westfalian bred and SBS licensed stallion First Step Valentin  (by Vitalis x Fidermark). The pair competed for Belgium at last year's World Young Horse Championships but were strikingly absent from this year's young horse circuit. They were back at the Nationals and finished with silver on 79.600%. Nick van Laer added a second bronze to his collection with a third place finish on the 6-year old Oldenburg bred Just a Gigolo (by Johnson x Werther). They scored 77.80% in the finals' test.
Just six pairs contested the 7-year old finals and Brecht D'Hoore topped the board on the KWPN stallion Wolfshoeve's Go On Top (by Danone x Welt Hit II) with 77.614%. The pair competed for Belgium at the 2017 World Young Horse Championships, but this year they combination refrained from riding the Belgian WCYH selection trials due to the new regulations which gave preference to Belgian bred and registered horses. This year's Belgian WCYH team members in Ermelo, Loranne Livens and the Rhinelander bred Aragon L (by Aaron x Lord Loxley), finished second far behind the gold medalists. With 72.700% Livens secured silver and edged out Grand Prix rider Sophie Van Lent-Baetens on the Oldenburg mare Nea's Jacky O (by Johnson x Donnerhall) who got bronze with 72.650%
Results - 2018 Belgian Young Horse Championships - Gesves
4-year olds
1. Flore De Winne - San Lora - 83,800 % 
2. Katrien Verreet - Seigneur Biolley - 83,400 %
3. Dominique d'Hoore van der Horst - Wolfshoeve's Dana Vita - 83,000 %
4. Larissa Pauluis - Jordy hbc - 83,000 %
5. Pieter Vermeire - Iron Man - 82,800 %
6. Suraya Hendrikx - Oleni v't Amaryllishof - 82,000 %
7. Naomi Nouwen - Je suis SpÈcial - 81,600 %
8. Deborah Proost - Oliviera vd Kempenhoeve - 81,000 %
9. Julie van Ranst - Jivahno - 80,800 %
10. Kizzy Halkett -  QC Flambo - 80,000 %
5-year olds
1. Larissa Pauluis - Irish Coffe - 85,600 % 
2. Andrea Muller Kersten - Di Magic - 85,000 % 
3. Nick van Laer - Conan Di Fonte Abeti - 83,600 % 
4. Tom Franckx - Quanto Curo V/h Bloemenhof - 82,600 %
5. Lore Vandeborne - Explosion-Pia van de Berg - 81,600 %
6. Shana de Ben - Ivanow - 80,600 %
7. Peter de Mulder - Indian Summer - 79,600 % 
8. Francoise Hologne Joux - Furst Dior - 79,200 % 
9. Laurent Paquot - Everdeen - 78,600 %  
Suraya Hendrickx - Benicia - RET
6-year olds
1. Andrea Muller-Kersten - Belaggio - 80,600 %
2. Larissa Pauluis - First- Step Valentin - 79,600 %
3. Nick van Laer - Just A Gigolo - 77,800 %
4. Katrien Verreet - Thorgal Biolley - 77,000 %
5. Brecht d'Hoore - Wolfshoeve's Hard to Beat - 75,000 %
6. Klaartje Dumon  - Secret Agent Amour -  74,600 %
7. Amandine Prevost - Ragtime - 68,60 %
7-year olds
1. Brecht D'Hoore - Go on Top - 77.614
2. Loranne Livens - Aragon L - 72.700
3. Sophie Baetens van Lent - Nea's Jacky O - 72.650
4. Flore de Winne - Basali - 71.321%
5. Ine Vandecapelle - Generaal - 69.350%
6. Flore de Vos - ? -  68.157
Related Links
Irish Coffee, Belaggio, Aragon, Kastar Hof ter Zeedycke D Win the 2017 Belgian Young Horse Championships
Belaggio, Genie, Barroso, El Corona Texel Win 2016 Belgian Young Horse Championships
Basali, Die Wette, Dolce N Win 2015 Belgian Young Horse Championships
Quaterdance, El Capone, Double Dutch Win 2014 Belgian Young Horse Championships
El Capone, Dolcherie and Sir Donovan Win 2013 Belgian Young Horse Championships
Roberto Cavalli, Zunora, First Junior Win 2009 Belgian Young Horse Championships
Weltmann, Saros and Rosantica, 2000 Belgian Young Horse Champions
Sentio, Rockefeller and Quavarotti win 1999 Young Dressage Horse Circuit