2019 Global Dressage Foundation Meeting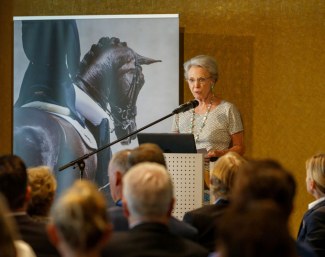 Dressage trainers, riders, judges and stakeholders of the sport are invited for the second stakeholder meeting of the Global Dressage Foundation on Friday afternoon July 19th during CHIO Aachen.
FEI representatives will present new developments, rules and future planning to be discussed with the active participants of the sport. Professor Rachel Murray will contribute with a scientific view on recent developments and rules on the use of the noseband. This meeting will also be dedicated to a discussion of horse welfare.
Noted scientists such as Janne Winther Christensen (ISES President), David Stickland (Senior Research Physicist), Prof. Rene van Weeren, (Equine sciences Utrecht), Roly Owers (World Horse Welfare) and Jenny Hall (FEI vet director), will discuss the question  'What can science tell us about dressage, welfare and our sport?.
 Her Royal Highness Princess Benedikte of Denmark, President of the Global Dressage Foundation, will open the meeting.
Draft program:
13.00 – 13.30     Registration
13.30 – 13.35     Opening by the President HRH Benedikte of Denmark
13.35 – 13.50     FEI update by Bettina De Rham / Frank Kemperman (FEI)
13.50  - 14.10     Update on projects, as discussed during the meeting in 2018
14.10 -  14.15     Science studies explained - a whistlestop tour by Inga Wolframm, secretary general of the IDRC
14.15 – 14.45     Research studies relevant to noseband pressure Prof. Rachel Murray
14.45  – 15.05    Questions & Answers
15.05 – 15.25     Break  
15.25 – 16.15     What can science tell us about dressage, welfare and our sport? (panel discussion with scientists)
16.15 – 16.35     Questions & Answers
16.35 – 16.55     Summing up, decisions and action
17.00                  End of meeting
The second GDF Stakeholder meeting will take place on Friday 19th July 2019 from 13.00 hr in the Tivoli lounge of Eurogress Aachen. Discussion leader will be Richard Davison.
The internal meeting is restricted to invited riders, trainers, judges and stakeholders only.
Email address of the GDF is info@globaldressageforum.com
Related Link
Global Dressage Foundation Stakeholders' Meeting during 2019 CDIO Aachen